SEMINAR & LUNCH TRADE-USA DR 2019
Description
Join us on Monday, April 8, 2019 and learn financing opportunities for your business. The U.S. Small Business Adminsitration and the U.S. Department of Agriculture have programs that assist businesses like yours. Take advantage of the benefits and learn from the experts. Ms. Tammy Youst, Sr. Vice President of SBA & USDA Dept. Manager of the Centennial Bank in Lutz, Florida is coming to Miami to present these important programs to our local community; her presentation will start at 9:30 am and a second presentation at 10:30 am by the Export-Import Bank of the United States of America (Exim Bank), represented by Elena Mendez, Director of the Eastern Region for the Small Business Group will cover trade financing solutions for your export success. One-on-one business meetings with presenters will be available after lunch.
A business networking luncheon is scheduled from 12:00 noon to 1:30 pm with special guest speakers, Hon. Jose "Pepe" Diaz, Commissioner District 12, Miami-Dade County; Hon. Juan Carlos Bermudez, City of Doral Mayor and Mr. Manny Mencia, Enterprise Florida, Sr.VP Intl Trade & Business Dev. will welcome the XXII Delegation from DR under the TRADE-USA Program and a special presentation from the Port of Rio Haina, DR on Benefits and Opportunities of the Dominican Republic's Logistics Hub in the Caribbean Region.
Cost of Lunch is $33 for Members of the Alliance to Promote International Trade Organizations and for Non-Members is $37 the seminar is included and free of cost.
The event will take place at the Doral Park Country Club located at 5001 NW 104 Avenue, Doral, FL 33178.
Dominican Republic Delegation will have one-on-one business meetings with US companies in Miami on Monday and Tuesday April 8 & 9 and on Wednesday April 10th, they will visit Port of Tampa for additional business meetings with local companies.
More information call 305-471-0737 or email us at: tradeusa@ffta.com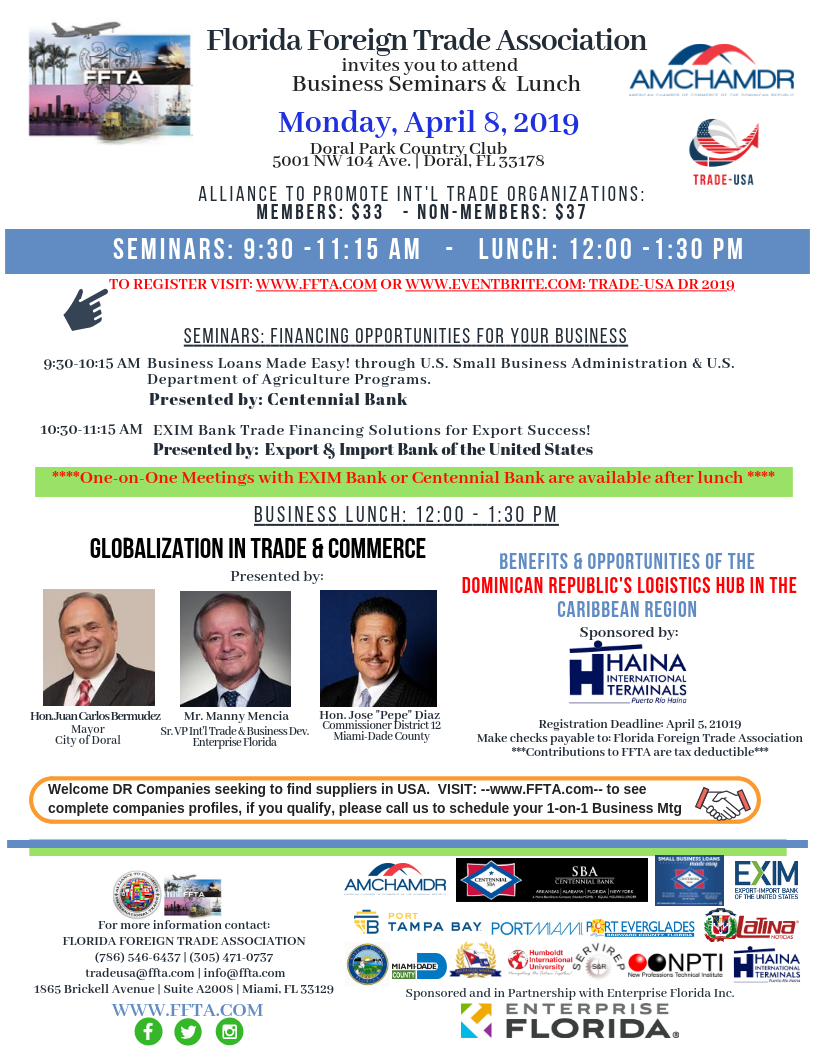 Organizer of SEMINAR & LUNCH TRADE-USA DR 2019
The Florida Foreign Trade Association (FFTA) is a non-profit trade organization incorporated in July 1985 that represents the most diverse group of individuals and companies in the foreign trade.
FFTA is an effective networking organization that provides everyone an opportunity to expand their business by visiting new markets, safely and economically through its outbound trade mission program.   In addition, the association holds workshops and seminars designed to train beginners and executives in import/export, franchise opportunities and other related topics. FFTA is also known by its successful business expos and other after-hour networking events.
FFTA created the inbound trade mission TRADE-USA program in 2000. The target foreign markets for several years have been countries in Latin America and the Caribbean all part of Miami's Top 50 Merchandise Export Destinations.  TRADE-USA's objectives are to increase U.S. exports, bilateral trade, sustain/expand current key export destinations, business and investment opportunities, and the development of products/services into new markets by offering free one-on-one business meetings with foreign prospects.
For more information visit: www.ffta.com or call 305-471-0737.
Florida Foreign Trade Association
1865 Brickell Avenue | Suite A2008 | Miami, FL 33129
Phone: (305) 471-0737 | Fax: (305) 471-7636
www.ffta.com | info@ffta.com | tradeusa@ffta.com