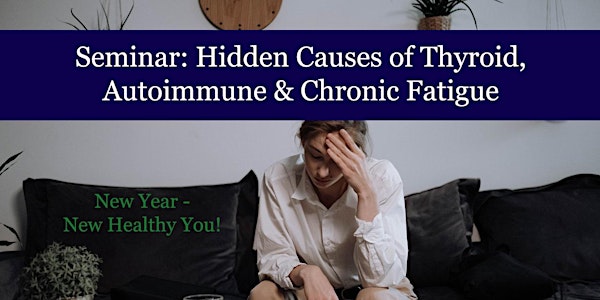 Seminar: Hidden Causes of Thyroid, Autoimmune & Chronic Fatigue
Location
Total Health Nutrition Center
Total Health Nutrition Center
N82W15485 Appleton Ave.
Menomonee Falls, WI 53051
Explore Natural Thyroid, Weight Loss, Fatigue, and Autoimmune Solutions
About this event
The REAL CAUSES for most Autoimmune Disorders, Plus Actual Natural Solutions! No medications providing only a bandage fix.
Join the small percentage of the population that actually knows... the TRUTH about what causes Autoimmune Disorders.
This seminar is for anyone suffering from Thyroid Imbalance, Chronic Fatigue, Diabetes, Weight Loss Resistance, and other Autoimmune Disorders plus the below symptoms:
- Chronic pain in general
- Chronic fatigue or low energy
- Thyroid problems
- Rheumatoid Arthritis
- Weight gain despite being on medication
- Weight-loss resistance (inability to lose weight despite diet & exercise)
- Difficulty focusing or memory loss
- Tingling and numbness, or cold hands and feet
- Achy body and Leg swelling
- Chronic constipation
- Itchy skin or fungal/yeast infections
- High blood pressure and cholesterol
- Irritability
Shocking Answers!
The root cause is often the same for all these health challenges, and is the root cause of most health issues.
This is information people typically haven't heard from their regular practitioner.
Learn in this Seminar:
- The root causes of these health conditions, to treat the causes instead of the symptoms.
- Why some continue to suffer, get run in circles taking the wrong test, and put on multiple medications that only treat the symptoms.
- Why it is widely unknown that the condition may be reversed!
- Why people never heard what the correct tests are!
Receive reference guide to the Top 5 Toxins that impact Thyroid Function!
The KNOWLEDGE gained in this class is life changing!
At Total Health Nutrition Center, to find SOLUTIONS we look for the ROOT CAUSE as to why people became sick in the first place. Then, we provide ALL NATURAL TREATMENTS that give the body the chance to heal itself. We help people to live a healthier life, the one they deserve!
Register today!! No Charge.
Note: We also have a Clinic in New Berlin.
Not sure if this seminar is right for your specific health condition?
Please call (262) 251-2929 with questions regarding this seminar. More information is available on our website: http://www.totalhealthinc.com