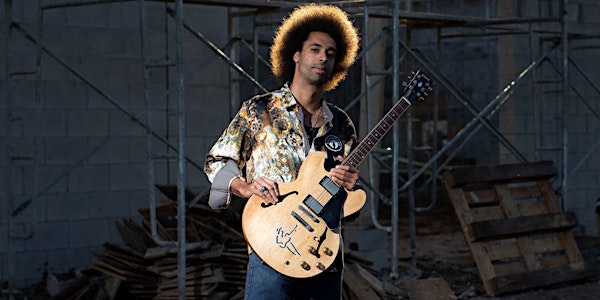 Selwyn Birchwood
ALL AGES
PROOF OF COMPLETE VACCINATION REQUIRED FOR ENTRY
Selwyn Birchwood appearing at The Tin Pan in Richmond, VA
When and where
Location
The Tin Pan 8982 Quioccasin Road Richmond, VA 23229
About this event
PROOF OF COMPLETE VACCINATION REQUIRED FOR ENTRY.
Please bring your CDC issued vaccination card (physical or digital copy is acceptable)
Seating: We assign seats in order of when you purchase your tickets. All reservations are subject to a food and drink minimum of $13 per guest.
COVID-19 Policies: As live music reopens across the country, we, along with other venues, are prioritizing the health and wellness of our guests and staff while closely monitoring all government guidelines and recommendations regarding the spread of infectious disease.
Box Office: The Tin Pan charges lower fees for box office versus online sales. Our box office is open Mon-Sat12PM-5PM. Please visit us during those hours or call 804-447-8189.
"A remarkable, contemporary bluesman...a powerhouse young guitarist and soulful vocalist. A major player...highly recommended" –Rolling Stone
"Rising blues star Selwyn Birchwood is the real deal. Birchwood puts his own fresh spin on the blues, taking the tradition and making it into something new." –Guitar World
"A skilled, energetic and original artist...His songwriting is observant, clever and pointed. His voice is smooth; his singing on target. His guitar fluency generates new licks and rhythmic surprises. Expectations have been high for Mr. Birchwood—and he lives up to them." –Wall Street Journal
"With my music," says groundbreaking young blues visionary Selwyn Birchwood, "I tell my stories in my own way, with my own voice. You won't ever hear me on stage telling someone else's stories. Muddy Waters, B.B. King and John Lee Hooker all told their own stories. That's what I'm doing." The young guitar and lap steel player calls his original music "electric swamp funkin' blues," defined by raw and soulful musicianship played with fire-and-brimstone fervor. His soulful vocals draw his audience deep inside his unforgettable tales of love, passion, pain and pleasure. Living Blues says, "Selwyn Birchwood is a master storyteller—both lyrically and musically. He's an impressive, hard-crunching, modern blues guitarist. His fretwork is high-energy, raw and vivid...knife-edged leads and roadhouse-rattling grooves. He is graced with a depth and maturity that would be impressive in a grizzled veteran, let alone a fresh-faced young man."
No other band on the current blues scene is built quite like Birchwood's. In addition to Selwyn's electrifying guitar and lap-steel playing, the other featured instrument is Regi Oliver's baritone sax. The group is rounded out by bass, drums and newly added keyboards. "With the keyboards," Birchwood says, "it's like we're a whole new band with a bigger footprint—I can really stretch out on guitar while still featuring the baritone." With his band feeding off his energy, the 6'3" musician with his trademark Afro roams the stage (often barefoot), ripping out memorable guitar licks with ease, his soulful, rocks-and-gravel vocals firing up the crowd, making them feel as if they were in his living room. His ability to win over an audience—any audience—is proven night after night on the bandstand. With his warm, magnetic personality, Birchwood is as down-to-earth as his music is thought-provoking and vital.
Now, with two previous Alligator Records releases and countless performances under his belt, Birchwood is riding high. Wanting to capture the power of the larger band, Birchwood brought in Tom Hambridge (Buddy Guy, Christone "Kingfish" Ingram, Susan Tedeschi) to produce his new album, Living In A Burning House. Recorded in Birchwood's home state of Florida, the album features 13 songs written and arranged by Birchwood. From the rocking opener I'd Climb Mountains to the sweet soul of She's A Dime and One More Time to the hair-raising Revelation, Living In A Burning House features some of the most striking and original writing on today's blues scene. Birchwood's voice and vision are clear, his sound is edgy and compelling, and his stories are memorable and timeless.
Birchwood, his father from Tobago, his mother from the UK, was born in 1985 in Orlando, Florida. He first grabbed a guitar at age 13 and soon became proficient at mimicking what he heard on the radio. But the popular grunge rock, hip-hop and metal of the 1990s didn't move him, and he quickly grew bored. And then he heard Jimi Hendrix. "He was larger than life. What he did was mind-blowing. When I realized Hendrix was influenced by the blues, I found my path," he says. By 17, he was deep into the blues, listening to Albert King, Freddie King, Albert Collins, Muddy Waters, Lightnin' Hopkins and especially Buddy Guy. As luck would have it, just as Birchwood was discovering Guy, the blues master had a concert scheduled in Orlando. Birchwood was there, front and center. "I was floored," he recalls. "I completely connected with the blues. I knew I had to make this music."
At 19, Selwyn met and connected with blues guitarist Sonny Rhodes, who was instantly impressed by the enthusiastic young guitar slinger. Within one month's time, Rhodes asked Birchwood to pack his bags and join him on the road. Rhodes took the young man under his wing, teaching him not only guitar and lap steel, but also how to conduct business, how to run a band, and how to reach an audience. "Sonny always said, 'Play what's in your heart.' I've never lost sight of that," says Birchwood.
Birchwood treasured his time with Rhodes, but was adamant about completing his college studies. Rhodes, as a tribute to Birchwood's drive and talent, made it clear to the young musician that he would hold the guitar spot in his band open for Selwyn whenever he was available. Birchwood—through hard work and scholarships—received his MBA from The University of Tampa. Combining the musical lessons learned from Rhodes and his business acumen, Birchwood created The Selwyn Birchwood Band in 2010, featuring seasoned, veteran musicians choosing to play with the new kid—a testament to his talent and leadership skills.
In 2011 the self-released, self-produced FL Boy helped the band land gigs outside of their Florida base, where they were becoming local heroes. After winning the 2013 International Blues Challenge in Memphis (beating 150 other bands), Birchwood found doors swinging open. He emerged in 2014 with his Alligator Records debut album, Don't Call No Ambulance. Rave reviews ran in publications from Rolling Stone to The Wall Street Journal, from The Chicago Tribune to The San Francisco Chronicle. The album won both the Living Blues Award and the Blues Music Award for Best New Artist Debut. He followed in 2016 with Pick Your Poison. DownBeat said, "There's a deep-seated power about Birchwood's singing and six string/lap steel guitar work...and there's an unmistakable emotion and honesty linking him to forebears like Muddy Waters. Thoughtful, persuasive and rugged."
The Selwyn Birchwood Band tours virtually non-stop. They have performed at The Chicago Blues Festival, Portland's Waterfront Blues Festival, The Mississippi Valley Blues Festival, The Tampa Bay Blues Festival, The North Atlantic Blues Festival, The King Biscuit Blues Festival as well as on The Legendary Rhythm & Blues Cruise and Joe Bonamassa's Keeping The Blues Alive At Sea. Internationally, they have appeared at The Great British Rhythm & Blues Festival, Jazz a Vienne in France, the Rawa Blues Festival in Poland, the Moulin Blues Festival in the Netherlands, the Ottawa Blues Festival and the Montreal Jazz Festival in Canada, the Montreux Jazz Festival in Switzerland, as well as playing concerts in Spain, Norway, the Czech Republic, Ireland, Belgium and Mexico.
"I write and sing what I know," says Birchwood, whose musical innovations are as expansive as his influences are deep. With Living In A Burning House, Selwyn Birchwood is looking forward to winning over thousands of new fans. "They say everything is better when it's made with love," says Birchwood. "That's how we play our music and that's how we made the new album. I want my audience to say, 'I know exactly what that feels like,' when a song hits them. Because that's when it stops just being music and starts being medicine. After all, we are all stricken with the condition of being human."