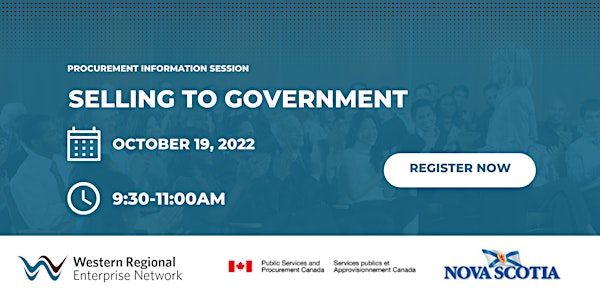 Selling to Government-Procurement Information Session
On October 19, 2022, the Western Regional Enterprise Network is hosting an informative virtual session via Microsoft Teams, exploring the to
About this event
On October 19, 2022, the Western Regional Enterprise Network is hosting an informative virtual session via Microsoft Teams, exploring the topic of procurement and selling to both the Provincial and Federal Governments.
Presenters and presentation topics include:
Alexa Vodicka, Project Coordinator-Procurement Engagement, Service Nova Scotia and Internal Services
The types of goods, services, and construction the Province of Nova Scotia procures;
The different procuring methods that are used, under and over threshold spending;
How to access online learning materials and use different procuring systems (e.g., Ariba Discovery and Flextrack);
How to receive auto-notification of relevant tender opportunities;
Who to contact for specific questions.
Paul Gérin, Outreach Officer, Procurement Assistance Canada (PAC), will guide you through procurement and various resources to help you decide if selling to the Government of Canada is the right strategy for your business. Topics covered will include:
How the government buys goods and services;
The range of opportunities for Businesses;
Tips and tricks to make it easier to find and bid on contracts; an
How to access resources, tools, and free support available to small businesses.