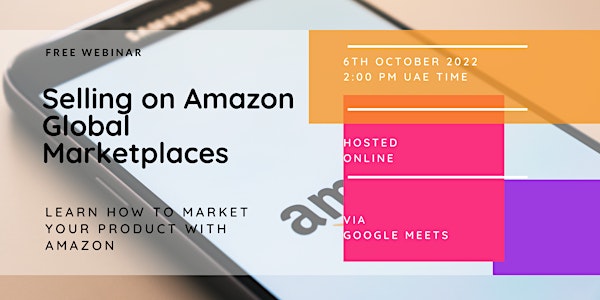 Selling on Amazon Global Marketplaces
Selling via Amazon: From Product Research to making your First Sale
About this event
Do you want to test the waters for your online retail business? Amazon is the best platform that will allow you to test the market. This creates a great opportunity for everybody who's interested in selling something online.
So, let's get together to share knowledge, thoughts, and skills and tap into the potential that Amazon offer globally.
The following points will be covered during the workshop:
1. Introduction to selling on Global Amazon
2. How to find trending products?
3. What type of products perform the best?
4. Registering as a seller in Amazon
5. Listing products on Amazon
6. Applying for product barcode exemption
7. Product Photography
8. Shipping your products: available options in the market
9. Handling Returns
10. Calculating your profit margins
11. Conclusion
12. Q&A and Networking (Till the end of the event)
Suitable whether you're an experienced Amazon Seller or someone who's interested in the business model/opportunity.
This FREE event is organized by The Co-Spaces, which is a network of business incubator centers based in Dubai & London. We've incubated over 100 startups & SMEs in the last 7 years since our inception.