What do you have to gain? During this free webinar, you will learn to avoid the top 5 selling mistakes people make.
About this event
Discover a simple way to build immediate credibility and authority.
Feel more confident, natural and authentic, not sleazy, as you learn what to say and when to say it when selling.
Stop making the 5 massive mistakes business owners make & instead, start doing things right.
Learn when you should talk price and how to easily overcome the price objection.
Discover a simple 3-step system to create impact and engage people so they ask for more.
Start getting more yes's instead of no's & create more sales so you can sell more, serve more and make more money!
REGISTER NOW BY CLICKING HERE.
About the Speaker
Award-winning sales expert, facilitator, and sought-after international speaker, nicknamed THE RAINMAKER by her peers, Jackie Rainforth achieved enormous success as one of the few outstanding, professional saleswomen to make it to the top of the male-dominated construction industry. She is the founder and CEO of the nationally acclaimed Rainmakers Business Solutions.
After a near-death scuba diving incident in 2016, and three days clinging to life in intensive care, Jackie's personal career success became hollow, prompting a pivotal change.
Now, this magnetic GLOBAL Thought Leader and Influencer, LinkedIn Allstar Influencer and RBC Woman Entrepreneur of Canada award nominee is a much sought-after trainer and international speaker, shares her proven 'SELLING MADE SIMPLE Sales Success' system to help you grow your business.
Author of The Badass Guide to Superstar Selling, and The Badass Guide to Selling During Covid – Social Selling Skills & Strategies to Sell More, her superpower is your SALES EMPOWERMENT, helping sales professionals, entrepreneurs, and business owners alike generate more leads, close more deals and earn more income, as you take your sales from stalled to unstoppable!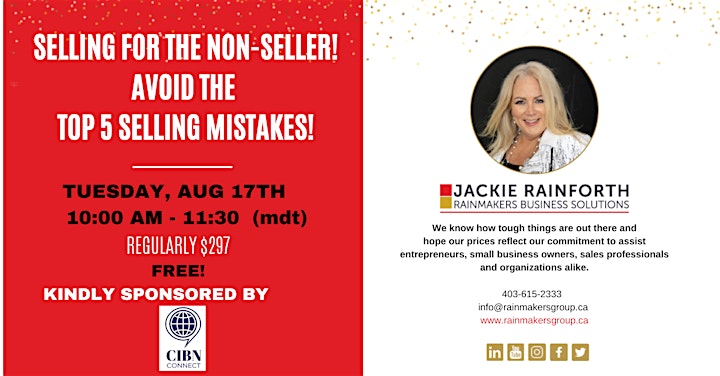 Organizer of Selling for the Non-Seller: Avoid the Top 5 Selling Mistakes!