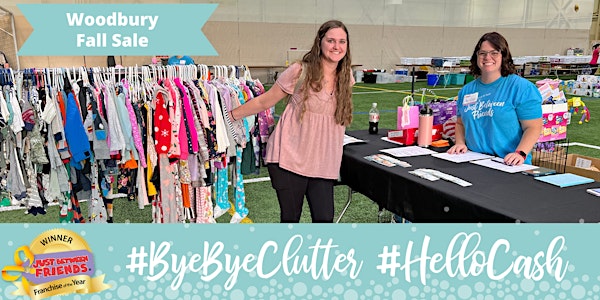 Seller Registration - JBF Woodbury - Fall 2023
Kids outgrow everything so fast! Sell what they are no longer using and turn that kiddo clutter into cash at our award-winning sale!
By Just Between Friends Woodbury
About this event
Families that sell with us typically earn over $400 dollars at each sale and so can YOU!
We are the East Metro's & Western Wisconsin's award-winning consignment sale.
You make up to 70% for your sold items.
We do the selling for you - no frustration and wasted time with online selling, no haggling with strangers at a garage sale.
Register to sell today and we'll guide you every step of the way to bringing home a big check! 
All you need to do is:
Register here to secure for your seller spot
Get your items ready to sell and drop them off at the sale
Cash your check after the sale!
#ByeByeClutter #HelloCash!
FAQs
Where is the sale event held? 
M Health Fairview Sports Center: 4125 Radio Drive, Woodbury, MN, 55129
When is seller drop-off? 
Monday, Sept 11, from 9:30am - 8pm (you'll reserve your time when you register)
What percentage do sellers (consignors) earn at JBF?
Sellers earn 60% on your sales if you choose to be paid by check.
Sellers earn 70% on your sales if you choose Smart Pay (in-store credit that never expires and can be used at any JBF Woodbury future sale).
What if I have questions about how to sell with JBF?
How do I get my seller check?
Seller checks and Smart Pay are sent via email within two weeks of the sale end.
How do I get the reduced seller fee? 
You can get our Triple Play by marking ALL your items for Reduce and Donate. The Triple Play gets you the highest percent of items sold, reduced seller fee* and Express Drop-Off! *You will pay the full seller fee to reserve your spot, but we will give you a credit in the form of a $5 JBF gift card when you check-in at seller drop-off :).
Should I mark my items for Reduce & Donate to get Express Drop-off and the Triple Play? 
It is completely your choice to reduce or donate your items. The choices are independent of each other and can be done differently for every item. Here are some things to consider when making your choices.
* Marking reduce simply means that if your item hasn't sold before the half-price sale begins, it will then be available at half of the tagged price.
* Allowing your items to reduce means that they will be seen by shoppers for the full sale. If you do not reduce, you'll miss 1/3 of the shoppers that visit the sale.
* Marking donate on your tags means that if your item is unsold by the end of the sale, it will be donated to our charity partners. Starting at 1pm on the last sale day, it may be chosen by a foster family, or used in our charity shopping fundraiser to support the financial needs of our charity partners. If not sold or chosen by 4pm it will be donated to one of our charity partners. Bonus - you do not need to come to seller pickup if you choose donate for all of your items.
* Our charity partners include New Life Family Services, Open Arms Native Missions, and foster parent families in Washington & St. Croix counties. Your donations would be a great blessing to them!
* Bottom Line: Our sold tag analysis shows that sellers that mark all their tags to reduce and donate get the largest checks!
When is seller pick-up for unsold items? 
Sunday, May 17:
2:00 - 3:00pm: Consignor #'s N - Z
3:00 - 4:00pm: Consignor #'s A - M
Is there a second drop-off? 
Yes, the mid-sale second drop-off is Thursday, Sept 14 from 5p-6:30p. This drop off is for yellow ticket items only. This drop-off is only for sellers that have a seller ticket. No appointment necessary.
How do I know which ticket type to register for?
Here's a page that explains the three different types (Express, High-Volume and Standard).
Are seller tickets refundable? 
Seller tickets are NON REFUNDABLE. If you decide not to sell, you will lose this fee.
I'd rather just drop-off my items and get paid on the spot. Do you offer that? 
Yes - that's our Quick Cash Seller program! You can see details and register here.
Where can I find more information?
For a complete sale schedule and more details go to our website - woodbury.jbfsale.com.  
Have questions? Click here to join our facebook smart seller group or Email Sue at SueEndle@jbfsale.com.
You're going to love turning your kiddo clutter into cash  at our award-winning sale!
Sue & the JBF Woodbury Team
About the organizer
Kids grow so fast and keeping up with their growth spurts is expensive!  Shop our HUGE children's consignment event loaded with high-quality items.  Thousands of moms find all they need for their growing families at 50-90% off retail!

Choose your ticket type below - Early Access, FREE General Admission, or Half-Price Sale First Dibs.  
#ShopHappy and get way more for less!