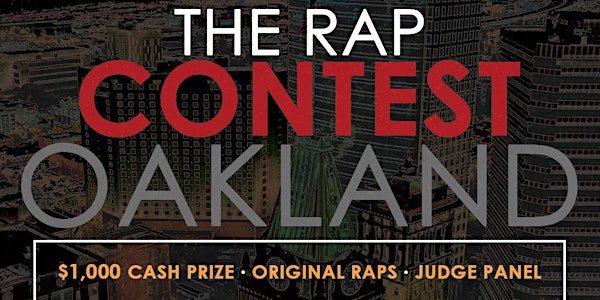 Sellassie's The Rap Contest Oakland
When and where
Location
The Uptown Nightclub! 1928 Telegraph Avenue Oakland, CA 94612
Refund Policy
Contact the organizer to request a refund.
Description
The Rap Contest is one of the most exciting live hip-hop shows in the country! The Rap Contest is a single elimination contest, where 16 contestants compete for a cash prize of $1000! Performing (1) minute and (30) thirty seconds each round, with a total of 5 rounds. The winner who eliminates 5 opponents after five rounds, wins the $1000 cash prize live on stage!! The Rap Contest is judged by a panel of (3) three music industry professionals. Ranging from radio personalities, A rappers Rapper, print, media and social media personalities to a local hometown favorite!
The Rap Contest promotes, markets and exposes new rappers to new audiences city to city and state to state! Where the most lyrical, creative, progressives raps come to life on stage from some of the coolest artists that you just haven't heard about yet! The Rap Contest is fast paced, exciting, entertaining and most of all FUN!!! All genres of rap music are accepted…. EXCEPT (Negative, Violent or Gang Banging rap) PERIOD!!
Sellassie & The Rap Contest have produced The Rap Contest in;
Washington DC, Manhattan, Brooklyn, Hartford, Atlanta, Orlando, Houston, Providence, Los Angeles, Seattle, San Francisco, Berkeley, Oakland, Austin, Chicago, Costa Mesa, Riverside, Carlsbad, San Bernardino, Santa Ana, Anaheim, Santa Barbara, Ventura, San Diego, Pomona, Sebastopol and Las Vegas! With new dates and cities everyday!
The Rap Contest has given away over $99,375 in cash prizes to our fellow independent hip-hop community to date. The Rap Contest is $625 away from our grand prize total of $100,000 paid to the winners! The Rap Contest has had 127 winners since November 10th 2010, over 2,500 artists have graced our stages, in over 20 cities and 10 different states!
Click and see some RAD videos of past winners, cities and venues we've played, the judges and the winners!!
http://therapcontest.com
About Sellassie:
Press:
SELLASSIE is a social justice activist, entrepreneur, event producer and bay area conscious hip-hop pioneer.
SELLASSIE
has graced the same stages as:
Rakim, Saul Williams, Michael Franti And Spearhead, Ziggy Marley, Alanis Morissette, Raekwon, The Indigo Girls,
KRS-One, The Goodie Mob, Mos Def, Sly and Robbie, Vieux Farka Toure, Dead Prez, Radio Active, Rebelution, Warren Haynes, Goapele, The Hieroglyphics, Mister FAB, Camp Lo, Pharoahe Monch, Ise Lyfe, Namkha Rinpoche, Lyrics Born, Kev Choice, Aceyalone, GhostFace Killa, Martin Luther, Silk-E, The Mighty San Quinn, The Jacka (Mob Figaz), Bayonics, Zion I, Rah Digga, Rappin 4-Tay, Jelly Bread, Vinnie Paz, Keith Murray, Richie Rich, 2Mex, Medusa and Jennifer Johns.
Sellassie carved his niche in the Bay Area Hip Hop scene, primarily, as a leading progressive voice in local hip-hop from 2003 to 2014. Performing and protesting at hundreds of rallies and demonstrations; demanding social justice for the black and brown communities of the San Francisco Bay Area. Now living in LA, Sellassie has been focusing on bringing independent artists together with his Rap Contest, setting the example for his peers to listen to each other's music and support one another's movements.