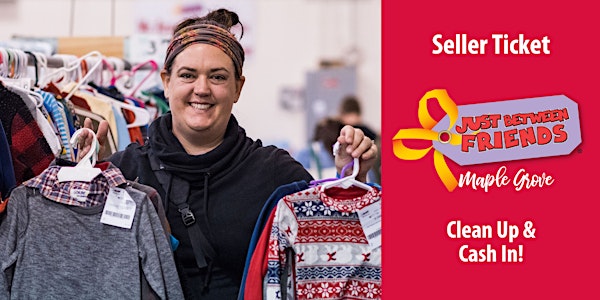 Sell Your Outgrown Kids' Stuff at the JBF Maple Grove Spring 2023 Sale!
Kids outgrow clothes and toys quickly. JBF allows you to sell your kids' gently loved items and earn cash at our huge community sale!
By Just Between Friends Maple Grove
About this event
1 day 5 hours

Mobile eTicket
Join other moms and dads across the Twin Cities who sell their outgrown kids' items to other families and shop for their own kiddos at Just Between Friends Maple Grove.
At the Maple Grove/Brooklyn Park Spring Sale, April 19-22, shoppers will be buying toys, games, puzzles, books, summer sporting goods, spring jackets and raincoats, shoes and puddle boots, baby equipment, strollers and more!
Located at 6731 Boone Ave. N. next to the Home Depot (just off Highway 694 & Boone Ave.), this huge retail store will be filled with gently loved and new kids' items.
**Follow the SPRING sale guidelines in our JBF Tagging Guide to see what items we will be accepting!**
Consignors earn 60-70% on sales, pay $12 to participate and get to shop early (before we open for public shopping)!
There are 2 steps to sell with us:
1. Visit twincities.jbfsale.com and sign up as a consignor.
2. Purchase your consignor ticket and choose your drop-off day/time here on Eventbrite.
Consignor tickets are NON REFUNDABLE. If you decide not to consign or need to cancel for any other reason, you will lose this fee.
Pictures showcase our events best and throughout the sale we will be taking pics to use in print, on our website and in our social media. As a consignor, you agree to give permission for photos taken at the sale to be used in future advertising, either in print or on social media.
FAQs
What percentage do consignors earn at JBF?
Consignors earn 60% on their sales (paid via e-check, which you then print and cash at your bank just like a standard check). If you choose SmartPay (in-store credit to use at a future JBF Coon Rapids or Maple Grove sale) for your consignor payment, you will earn an extra 10% on your sales―making your total 70%! Before checks are sent, we will email you to ask which payment option you'd prefer.
When do I drop off my items?
When you purchase your consignor ticket, you will choose the drop-off time that works for your schedule. We have drop-off times every 15 minutes on the following days:
Bringing 300 or MORE total items: Sunday, April 16th at 11am-4pm
Bringing LESS than 300 total items: Sunday, April 16th at 4pm-8pm AND Monday, April 17th at 10am-4pm
How do I get my consignor check? Consignor checks are sent via email one week following the sale.
What if I have questions about tagging?
View our seller's page for the JBF Tagging Guide and other information: https://twincities.jbfsale.com/how-to-sell
Join our JBF Maple Grove & Coon Rapids Savvy Sellers Facebook Group for lots of helpful hints on tagging and pricing: bit.ly/JBFsavvysellers
We look forward to seeing you at drop off and the sale!
About the organizer
Just Between Friends Maple Grove is the largest children's consignment sale in the Twin Cities metro area.   With 500+ consignors and 35,000 square feet of bargains, this is a twice yearly event that you don't want to miss!  At JBF you will make every dollar spent stretch farther.