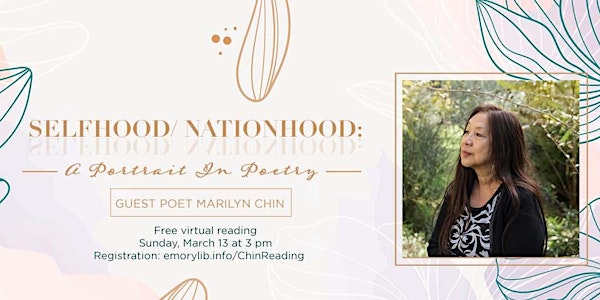 Selfhood/Nationhood: A Portrait in Poetry with guest poet Marilyn Chin
Raymond Danowski Poetry Reading by Marilyn Chin
About this event
Reminder that the time will "spring forward" on Sunday, March 13. Please make a note so you don't miss the reading!
Award-winning Chinese American poet Marilyn Chin will deliver a virtual reading at Emory University on Sunday, March 13, at 3 p.m
The reading is open to the public at no charge. Part of the Raymond Danowski Poetry Library Reading Series, the event also celebrates Women's History Month.
A self-described activist poet, Chin says her work both laments and celebrates her "hyphenated" identity. Her widely taught poems have been alternately referred to as funny, fearless and feminist, and have earned her an array of prestigious literary honors.
Her tonal range, one reviewer wrote, "can move quickly from playfulness, to deep sorrow, to in-your-face-anger, to humor, to hot sex, to comic absurdity, to didactic finger pointing, to Zen stillness, to the macabre."
Born in Hong Kong and raised in Portland, Oregon, Chin is the author of five collections of poetry, including "A Portrait of the Self As Nation: New and Selected Poems" (2018). Her book, "Hard Love Province," won the 2015 Anisfield-Wolf Book Award for poetry, which honors books that confront racism and examine diversity.
Among her many honors: She won the 2020 Ruth Lilly Poetry Prize from the Poetry Foundation, and she was named a Chancellor of the Academy of American Poets in 2018.
Praise for Marilyn Chin:
"I can't imagine a more compelling collection of poems centered on the difficult gift of racial and cultural 'double consciousness.' " – June Jordan
"I praise Marilyn Chin's poetry wherever I go." – Gwendolyn Brooks
"Marilyn Chin is bad-ass, and that's good." – Sandra Cisneros
Chin's visit is hosted by the Stuart A. Rose Manuscript, Archives, and Rare Book Library (part of the Emory Libraries) and sponsored by the Hightower Fund. It is co-sponsored by the Emory University Office for Racial and Cultural Engagement (RACE).