Self Transformation - Experience the Yoga of Knowledge
Description
The Center for Inner Resources Development of North America (CIRD-NA) is pleased to offer several upcoming programs that provide an opportunity to understand the spiritual truth on a deeply personal level. We are delighted to invite you to a 3 day discourse series by Swami Nirviseshananda Tirtha in Chantilly, VA.
According to ancient scripture Bhagavad Gita, the three gunas (Inter-Dependent Modes or Qualities) constitute Nature. Learn how this model can be used to get elevated and transcend the gunas through bringing about spiritual changes in our personality and thus be untouched by circumstances as well as situations. Take refuge in this knowledge! It's a rare opportunity to listen to Swamiji's unique, scientific, and precise exposition that illustrates how Bhagavad Gita is purely sadhana for everybody in any field of activity.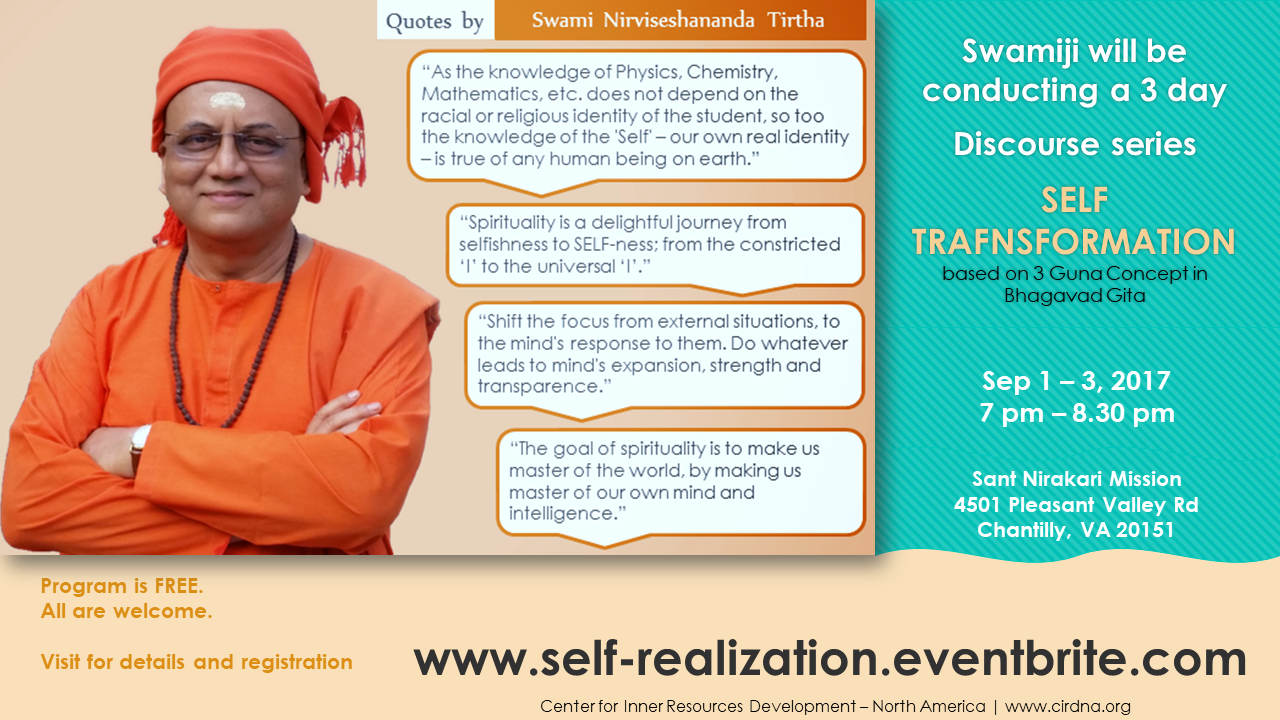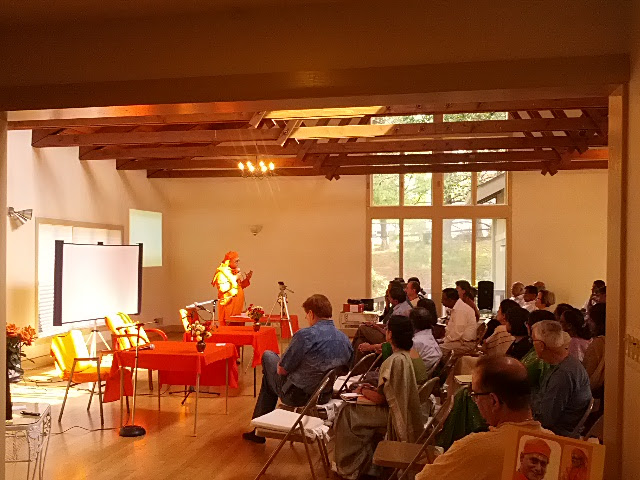 Swami Nirviseshananda Tirtha, a Ph.D. in Physics, was a scientist and assistant professor at the Indian Institute of Technology (IIT) Kharagpur in India. In 1987, he transitioned from his professional life and dedicated himself wholesomely to the spiritual pursuit and societal welfare under the guidance of Poojya Swami Bhoomananda Tirtha. Swami Nirviseshananda Tirtha explains the subtle truths of the Upanishads and the Bhagavad Geeta in a rational but profound and traditional manner. His exposition, coming from deep experiential knowledge of spiritual saadhana, has helped people to apply spirituality in all life situations. Comprehensive understanding, striving for perfection, gentle humor and universal love evinced by Swamiji, is a source of inspiration and guidance for all seekers. Swamiji's deep and powerful chanting touches the core of the listener's heart.
The program is FREE. All are welcome!
Bharat Govindani, Program Coordinator
Tel: 703-861-4230 | Email: events@cirdna.org
---
Programs will give an opportunity for participants to understand the spiritual truth at a deeper personal level. Attendees will find how spiritual wisdom enriches and empowers their inner personality in every walk of life, enabling each to assimilate all impacts from the world and thereby get elevated and expanded every time. This will be an excellent opportunity for householders, executives, young professionals, managers, students and entrepreneurs to learn about applying spiritual practices to empower and enrich one's personal and professional lives. All programs are free and everyone is heartily invited to attend.