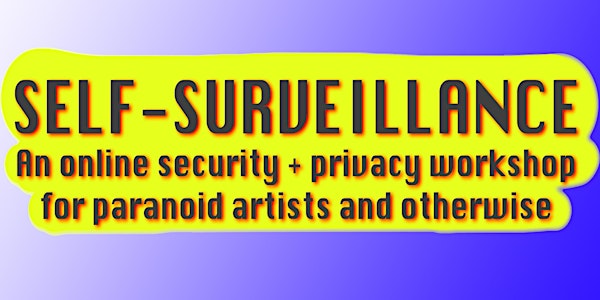 SELF-SURVEILLANCE: An online security + privacy workshop for paranoiacs
An online security and privacy workshop for paranoid artists and otherwise led by artists Melanie Clemmons and Zak Loyd.
When and where
Location
ex ovo 414 Fabrication Street Dallas, TX 75212
About this event
ex ovo, in partnership with Carolyn Sortor's exhibition common ground, at the Meadows Museum is pleased to offer Self-Surveillance, a workshop with artists Melanie Clemmons and Zak Loyd. Clemmons and Loyd will teach participants the basics of protecting their web security, including how to use privacy software like TOR, and how to harness personal data stored by online platforms. Participants are encouraged to bring their laptops and smartphones. Self-Surveillance is free, and accessible to computer-users of all technical abilities.
Sunday, December 15th from 2 - 4 PM at ex ovo.
With her exhibition common ground, Carolyn Sortor seeks to create a space for conversation about the hard and soft infrastructures that support and control our physical and virtual public squares, how they shape our individual and collective lives, and how we might come together to further our common interests and restore or re-create our public commons. More at c-cyte.com/common_ground or email commonlygrounding@gmail.com with "common ground" in the Subject. common ground, is on view at the Meadows Museum at Southern Methodist University (SMU) in Dallas, TX, through December 15, 2019.
Who are our fearless leaders?
Zak Loyd is a multimedia artist and educator interested in the mystical ramifications of archaic and contemporary video technologies. He works primarily in installation, performance, and network-based composition. He has exhibited work regionally and internationally at The Museum of Contemporary Art, Denver; Rhizome at The New Museum; Upfor Gallery, Portland; Casa Maauad, Mexico D.F.; and Videofag, Toronto. More at iremembertheinter.net and ig: @zakloyd
Melanie Clemmons is a media artist interested in the effects of technology on society, culture, & the environment. She makes videos, net art, installations, & VR experiences. Clemmons toured with Pussy Riot doing visuals during their first North American tour & has collaborated on several of their music videos. Her work has been shown at, among others: HeK, the Whitney Museum of American Art, Gene Siskel Film Center, & Echo Park Film Center. She is an assistant professor at SMU in Dallas, TX. More at melanieclemmons.com and ig: @auraquartz
Founded in 2019, ex ovo is a project space and gallery located in west Dallas run by curator and writer, Allison Klion. ex ovo provides support to emerging and mid-career artists working both locally and nationally. With an emphasis on prioritizing the vision of artists, facilitating relationships between peers, and creating educational opportunities, ex ovo provides an ongoing program of exhibitions, projects, talks, artist books, screenings, and events.
exovoprojects.com