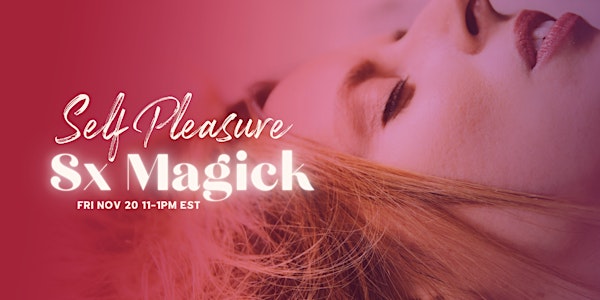 Self-Pleasure Sx Magick
Reclaim Your Divine Assignment Through Self-Pleasure
About this event
Hi love!
How exciting! You've landed here on this page because you're interested in Sex Magick through Self-Pleasure! Woohoo!
I wanted to put together an epic, embodied experience for you that would solve the biggest block that leaders face in birthing their ideas into the world:
How to create massive, lasting impact and epic wealth through ease, pleasure, and divine alignment (without having to "work hard" or burn yourself out getting there).
Our world is tired of leaders who are disconnected from their bodies, from pleasure, and from love. It's time for the new leaders - the ones who are fully embodied in their intuition and pleasure - to craft a new Earth.
I've been working very closely with these epic artists (we're all artists!) and the results have been amazing. Many of these creatrixes have been:
- turned on ALL DAY LONG, especially during work hours!
- enrolling incredible clients or landing beautiful partnerships with leaders who see their value and easily gift them with 10K and up deals
- launching groups and communities that fill overnight with SO much ease, joy, and fun!
- working with deep inner clarity on why they're here on the planet and unwavering commitment to their passion
- having the most epic sex of their lives... with their own two hands!
- publishing books and new content in a matter of a few weeks and easily receiving speaking gigs and PR because people WANT their magical, pleasure-filled joy all over their platforms!
These creators are playing with all different types of industries:
- coaching and leadership
- writing and publishing
- public speaking
- music and entertainment
- visual art and photography
- non-profit and community service
- tech and computer products
It's been so incredible to see them become fully alive in their creations through their self-pleasure sx magick rituals - I can't wait to show this tool to more people!
Here are the most common questions I get around self-pleasure sx magick:
I think I know my vision, but every time I set out to begin "work," I don't feel turned on or excited by it. Why is that happening and how do I move through it?
My body and mind are in a lot of pain from past traumas - do I just push through those to create or is there another way?
How much longer will it take before I can actually birth my visions out into the world? Is it okay if they feel impossible?
How do I stop from feeling burned out whenever I'm in the middle of creating something epic?
How do I speak to others about my vision without feeling like I'm wasting their time?
Whenever I focus on work, my sex life dies. Can I really HAVE IT ALL?
We are absolutely going to answer all of these questions (and better yet, you'll FEEL these answers in your body) at the Self-Pleasure Sx Magick Salon!
Celebrations from People Who Practice Self-Pleasure Sx Magick Daily:
"I literally [spent] the whole time not knowing what was coming. And then all of a sudden it was like boom! Birth. And then it just was like fast. And then it was just riding a wave and the right people came in and it just grows. Being in that birthing process and doing it through my orgasm was super, super fun. It was a really fun way to access what to do next. Like super, super fun! It was like a brilliant way to play this. I'm very proud of myself." - Lisa
"I feel more at ease about things. It's not as much as a hustle or a game, it's like 'alright, this is cool & easy.'. Pleasure is an energy I want to keep playing with - not just the energy of unconditional love or the energy of surrender but the energy of PLEASURE." - Josh
Self-Pleasure Sx Magick Salon
A 2-hour, immersive, interactive online experience to connect you to the wisdom beneath your skin and birth your creations into the world with ease and pleasure!
WHEN: Friday, Nov 20 11 - 1pm EST on Zoom (link sent to your email within 48 hours after registering)
Here's a breakdown of the flow of the salon:
If you haven't been to one of these salons before, here's what you can expect:
- Genevieve and team will begin with a short Pleasure experience and settling you into your nervous system
- You'll discover the Arc of S3x and Sales: 5 Steps to 3rotic Awakening (Intrigue, Direction, F*ck Yourself Open, Artistry, Being-ness)
- From there, you will move into a 30-45 mins guided embodiment practice to feel this arc deeply within your bones, ending with a clear vision of your divine assignment
- We'll share within our communities and celebrate the epic creations that will already be underway
- At the end of the salon, we will hear from some Self-Pleasure Sx Magick Masters, you can ask questions, and there will be an opportunity to dive deeper into the journey
---
So many of us have these incredible contributions to the world that we tell ourselves are too big, too lofty, too difficult to achieve.
We may also tell ourselves that we're not ready yet, that it's going to be incredibly hard work, that it isn't the right timing, that we need to do more or be more in order to really make it manifest into your reality.
These dreams and visions are appearing, and have been appearing, as a wake up call.
They are pointing to your full power, to the true essence of what's possible, and your conditioning has stopped you from believing it.
As you begin to decondition your body, the visions will become clearer, and your instinctual nature and fearless leadership will begin to develop.
Creating will become fun again. Money creation will become hilariously simple.
All of this appears once you reclaim your own inner magick and tap into what's already there, but you've been neglecting to let shine.
It's time to reclaim your brilliance and let your creations out into the world.
Join us in this 2-hour salon to tap into your full potential and start making the waves that you've been wanting to, releasing what's blocking you and eradicating any fears that are stopping you from becoming your truest, fullest, most pleasure-filled self!
Investments
**If you've completed the self-pleasure challenge, this is a gift to you. If you haven't, the energy exchange is $111.
I cannot wait to see you there and celebrate your creations!
It's time to own your fullness. The playing-small game is over. The burn-out culture is done. Time for a new, pleasurable, wild experience. Let's go!
xoxo,
Genevieve