Self Love Summit - TonyaTko LIVE Seminar: Bulletproof Self Esteem

Saturday, September 14, 2013 from 9:00 AM to 9:00 PM (EDT)
Who's Going

Loading your connections...
3 of your friends are going.
Share it to get more people on board!
Share

Sara Haughty
San Francisco, California

Luke Picard
London, United Kingdom

Rick Vespucio
Florence, Italy
Event Details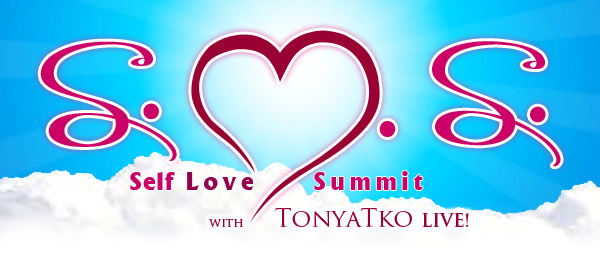 What Is Self Love? TonyaTko on Esteem, Worth, Esteem
S. <3. S
SELF LOVE SUMMIT
An Intensive Full Day of Healing
Sat September 14, 2013
New York City
LIVE!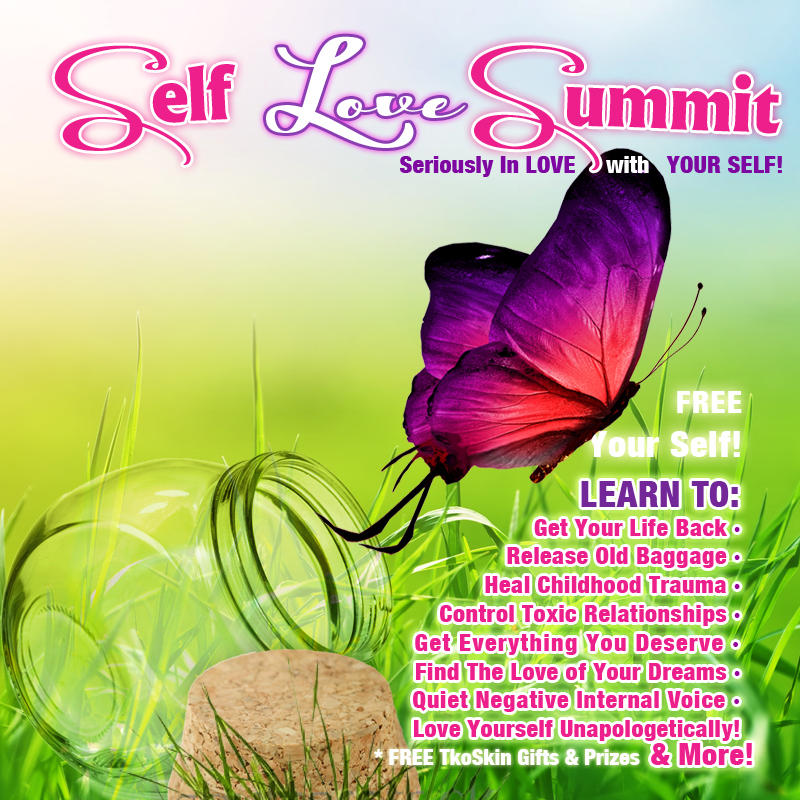 Finally, TonyaTko Shares her Step-by-Step Secrets To Bulletproof Self Esteem
An Intensive Full Day of Healing
Feel Confident, Happy & Powerful
Live Your Dreams with Love & Bliss!
TonyaTko
Sept 14, 2013
Ripley Grier Studios 
New York City
9am-9pm
LIVE! 
(NO RECORDING)
We are holding a very sacred trusted space in the room. For Privacy, there will be absolutely NO Recordings. 

The Self  Love Summit  is  a full day of  intensive healing, deep freeing & releasing  of  pains, patterns & beliefs which no  longer  serve  us.  We will be doing powerful & proven mental reprogramming techniques & exercises employing the power of NLP (Nuero-Linguistic Programming), Transcendental Meditation and  much more!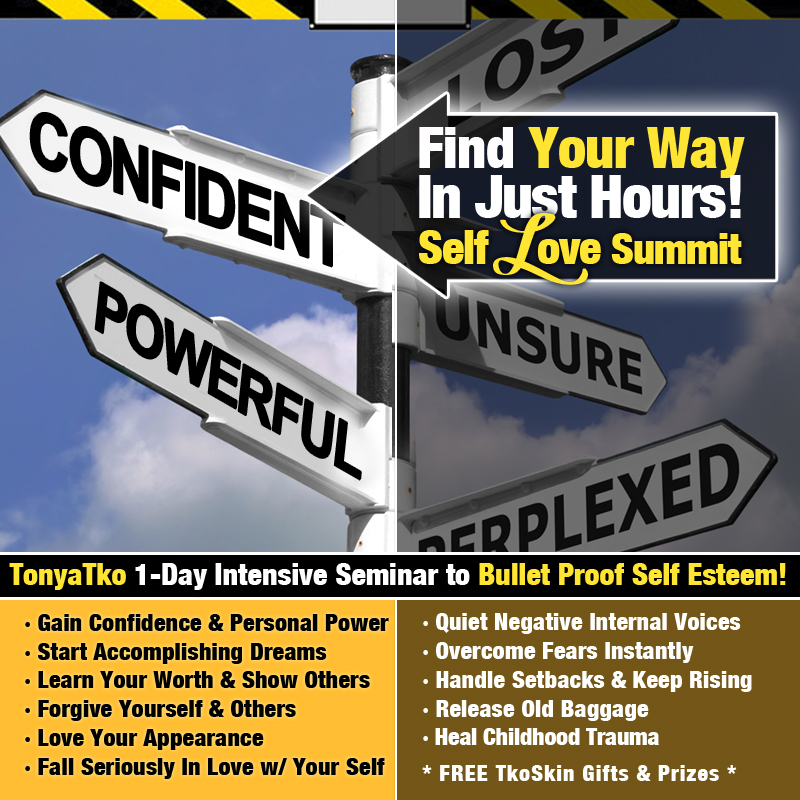 Perhaps you:
Struggle with maintaining positive self image feeling deep down you're not living up to  your potential/ In a mediocre existence?

Find yourself comparing yourself to others, wishing you could either be somebody else or  have what others  have? 

Sometimes Lie, show-off  or put up fronts? Or avoid others because you don't want to lie?

Feel anger, sadness, or strong emotion because of things which happened to you in  your childhood?

Feel Misunderstood, Isolated, Lonely?

Feel small, invisible, insignificant, hopeless, unworthy?

Get used, disrespected, taken advantage of?

Have trouble speaking up for yourself, saying "NO!" or Commanding Respect?

Repeat unhealthy relationship patterns? Confused by the term "You teach people how you want to  be  treated? You're a  nice   person,  but people continue to treat you cruel  or mean?

Have sleep problems because of things on your mind

Sometimes avoid going  out  or social  functions because of Negative thoughts about yourself or others?

Dislike  others, or think others don't or won't like you?

Numb  yourself  with food, alcohol, drugs, television or distractions?

Afraid  of  Sex  or  are promiscuous?

Feel discomfort looking in the mirror, at pictures of yourself  or  hearing your  own voice?

Feel guilt, blame, have a hard time forgiving yourself or others?

Have  a  negative voice in your  head which discourages or  defeats you?

Suffer from childhood trauma or abuse?
If you're having any of these experiences or yearnings, the good news is that you're not alone. I suffered from poor self image, childhood abuse, obesity, violent ghetto, being a minority & much  more. Then in the height  of my adolescence, my mother suddenly died.  I was depressed, hopeless & contemplated suicide.  So how did  I  go  from  a  poor kid from the Bronx, victim of  circumstance, to a confident world-traveled woman who speaks 2.5 languages, owns my  own business, commands  respect wherever I go & am truly HAPPY & Grateful to be Alive? I'm going to be  honest, it took work. The
Great News is that I CAN SHOW YOU HOW!!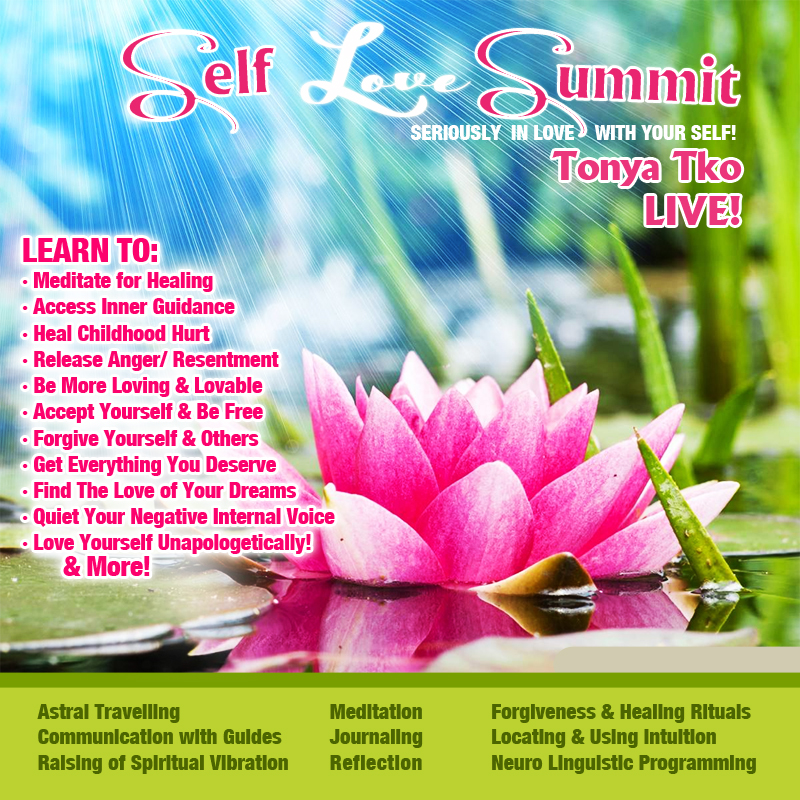 Reveal my step-by-step secret to  my esteem. -  Exactly what I did,  the complete exercises, letters, worksheets, diagrams & dialogs which cleaned out my  emotional baggage & left me FREE to Be Free & Be ME!
 
The powerful transformative meditation which healed  my childhood abuse in a way therapy couldn't
 
The exercise which  freed me of my old broken hearts & actually had me thanking them!
 
Reveal how the Laws of Attraction brings us our Dreams like Magic! (We really are in 'the Matrix').
 
How to communicate with both sexes effectively verbally & non-verbally. 
 

 

Finally conquer that negative voice in your mind which steals your confidence & Joy
 

We will  do  a lot more,  but  Most  importantly, I will help  you fall hopelessly,  madly & blissfully in TRUE Unconditional LOVE with Your SELF  - No Pretense,  No Ego. Just LOVE. Wake up each day in Ecstasy. HAPPY! People  wondering  why You  are so  Happy!  And I  will equip you  with the Bulletproof  self esteem to  keep you  in your Power! Ward off negativity & Remain in a cocoon of  Love.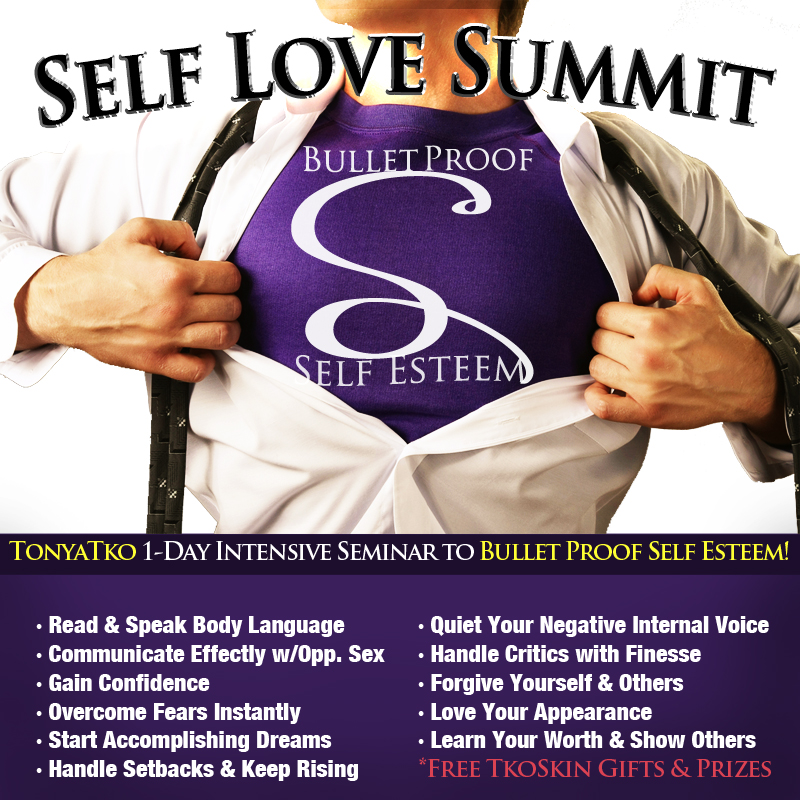 You don't  have to spend another  moment feeling bad, confused, unhappy, ugly,  stepped-on, kicked-down, used or disempowered.  
Take control.  Choose LIFE!
What  would it  be worth to finally:
LIVE! Not just 'be ALIVE'  But to  LIVE. Truly LIVE! 

To feel Sexy & Desired.  

To attract new  people, get rid of old abusive, dysfunctional stagnant or painful relationships? 

To travel the world? with others or with Yourself

To feel Good Naked? 

To be a Mate not a Mat?

To get Better not  Bitter.

To realize your Best Years are Ahead of You!!

Find out  who you REALLY are & live your Truth!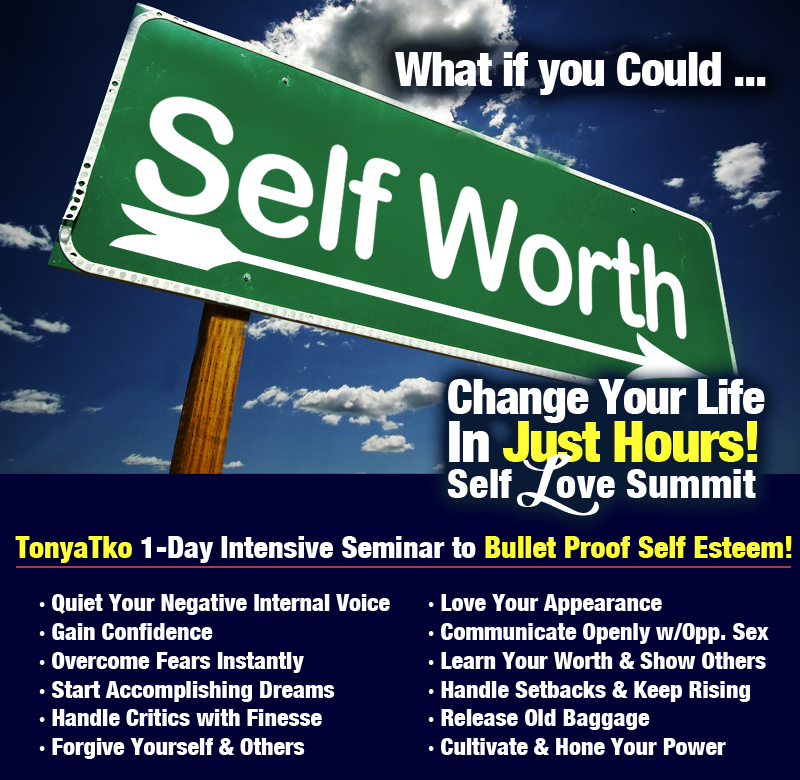 The Self  Love Summit  is  a full day of  intensive healing, deep freeing & releasing  of  pains, patterns & beliefs which no  longer  serve  us.  We will be doing powerful & proven mental techniques which are most powerfully experienced in person.
5 Ways to LOVE Yourself, OVER / OVER! TonyaTko on Self Esteem & How to Self Love Pt 1 
The Self  Love Summit  is  a full day of  intensive healing, deep freeing & releasing  of  pains, patterns & beliefs which no  longer  serve  us.  We will be doing powerful & proven mental techniques which are most powerfully experienced in Person.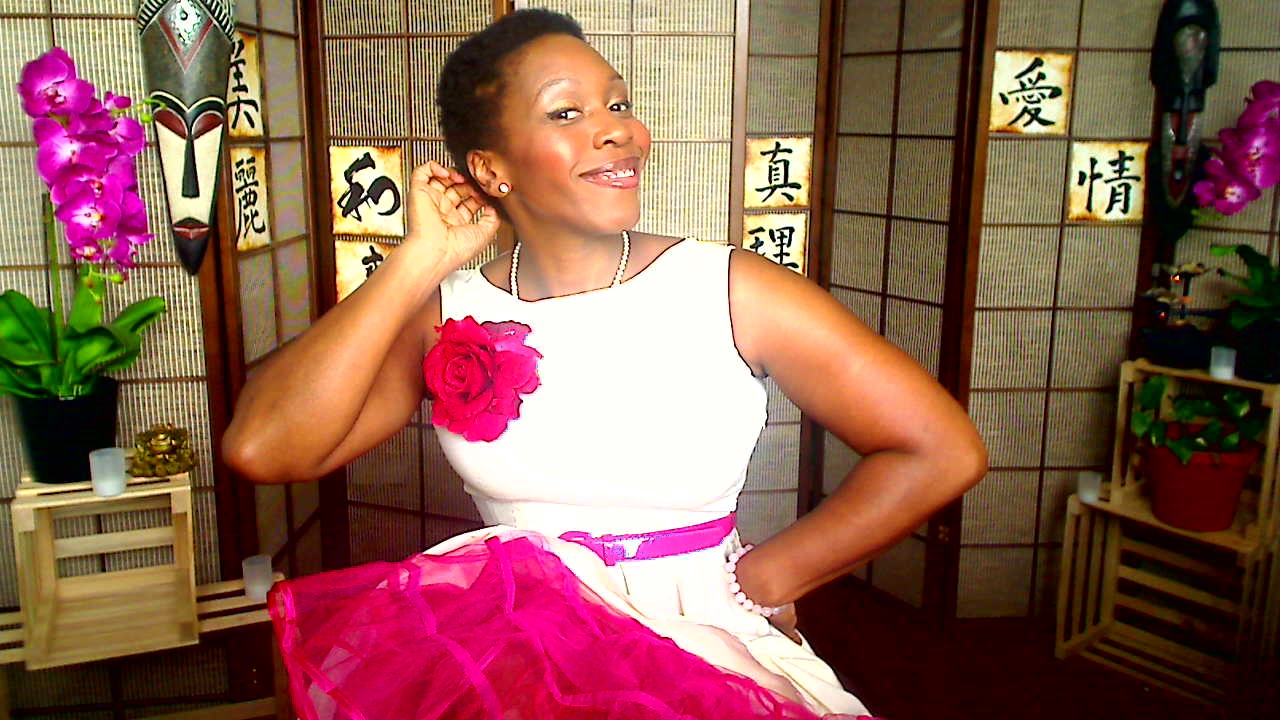 I've dedicated my life to helping people. I make videos online about loving yourself & each other. My speciality is: Self-Love, Esteem, Knowing your Worth & Attracting your Dreams. My videos have been seen by more than 26 Million people worldwide and I give them away for FREE! 
I've recently begun one-on-one telpehone coaching, and meeting with small groups of subscribers & clients. Everyone has a different learning style, some people are more visual, some more sensory/feeling, and some people need to to the physical work! With a topic like self esteem, sometimes the motivation to do the work is not there... then time passes by and the predicament perpetuates. I'm doing the Self-Love-Summit to get you out of your seat and from behind your screen. I want to surround & infuse your with my loving vibration & energy. We are going to be doing some intensive healing exercises and you are going to be held accountable. In regular life its easy to get sidetracked, by chores, errands, family, work, life, doubts, the negative voice in your head, procrastination, the way the wind is blowing, any number of things! On June 29, 2013 all excuses get put aside. We will be together ALL day, and the work on yourself will be done, and healing can finally come in.
NO MORE!
No More!: Years passing by while you live unhappy

No More!: Being abused while you sit idly by & "take it."

No More!: Abusing yourself

No More!: Living small, shrunken & mediocre

No More!: Being controlled by the negative voice in your head

No More!: Attracting people who won't love you the way you deserve

No More!: Feeling "Too much this" or "Too little that"

No More!: Wishing & dreaming for things you think you'll NEVER get
Its time we WOKE UP TO WHO WE REALLY ARE & WHAT WE'RE DOING HERE! If you Knew who you REALLY were you would Never allow some of the things which are taking place, or have taken place.
 We are Gods & Goddesses in human form!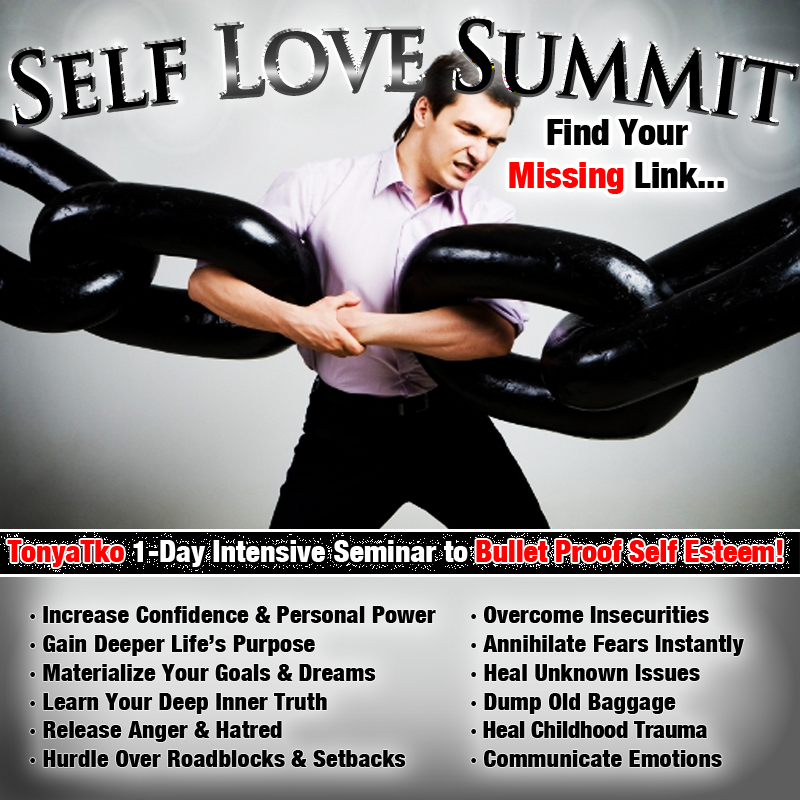 ITS TIME!:
Its Time!: Take your rightful place in this world

Its Time!: Honour, love & cherish your Self

Its Time!: Love the Person and the body you inhabit

Its Time!: Feel WORTHY & Deserving of Greatness & Go Get it & Receive it!

Its Time!: Remember WHY you're here on earth!

Its Time!: Feel GOOD! Abundant! Blissful & Jubilant!

Its Time!: Get & Feel the LOVE you deserve

Its Time!: Make the Money You DESERVE!

Its Time!: Let go of old baggage & stand Tall & Strong. FREE & Light!

Its Time!: Feel the Ecstacy the Truly Happy Feel!

Its Time!: Take Control!

Its Time!: WAKE UP!!
I'm here to Wake You UP! Its time to live the life you should be living! We are going to work together non-stop, hour after hour, digging out those old hidden dead idea corpses stagnating & funking up your life and planting fresh new seeds which will continue to bloom in fragrant beauty. No more being inexplicably angry, or feeling out of control. We're going to close the old book & start a new one. In life we all have an area of expertise... self love is my forte, and Spirit moved me in such a way to have the platform to share the joys bestowed upon me.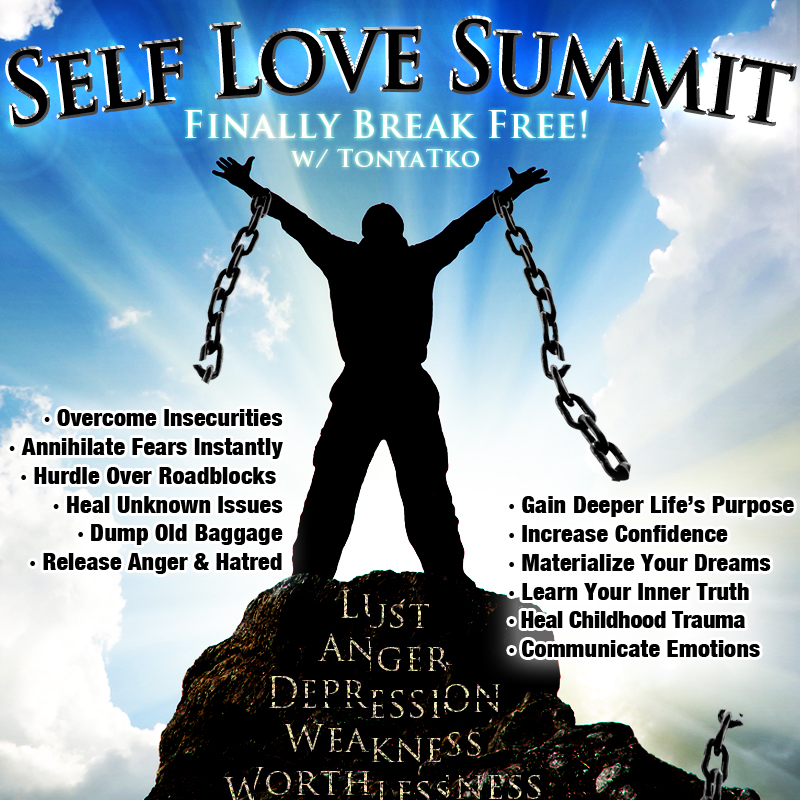 Tired of the old way of doing things

Ready to get to the next level

Ready to free yourself to receive

Curious about whether High Self Esteem is even possible

Sick & tired of being sick & tired

Ready to feel HAPPY to be alive

Ready to REMEMBER Who you are!

Wanting to get what I have in my heart uploaded into YOURS!
There are some things which just can't be transmitted in video... which you have to be in person to feel & witness. Come out to the Summit. Dive into your self land into the divine. Meet new friends. Hug me in person! Be in a safe sacred space where the vibration & intention of everyone in the room commands the attention of assistance from Beyond! Come and Feel Change! Look at what trying, truly trying & giving your ALL can Do.
(Wear Comfortable Clothes. Sweater in Case its Cool. Bring Pen & Journal. Bring a Yoga Mat. Bring Open Heart & Mind)
We've made excuses.
Now We Can Make a Change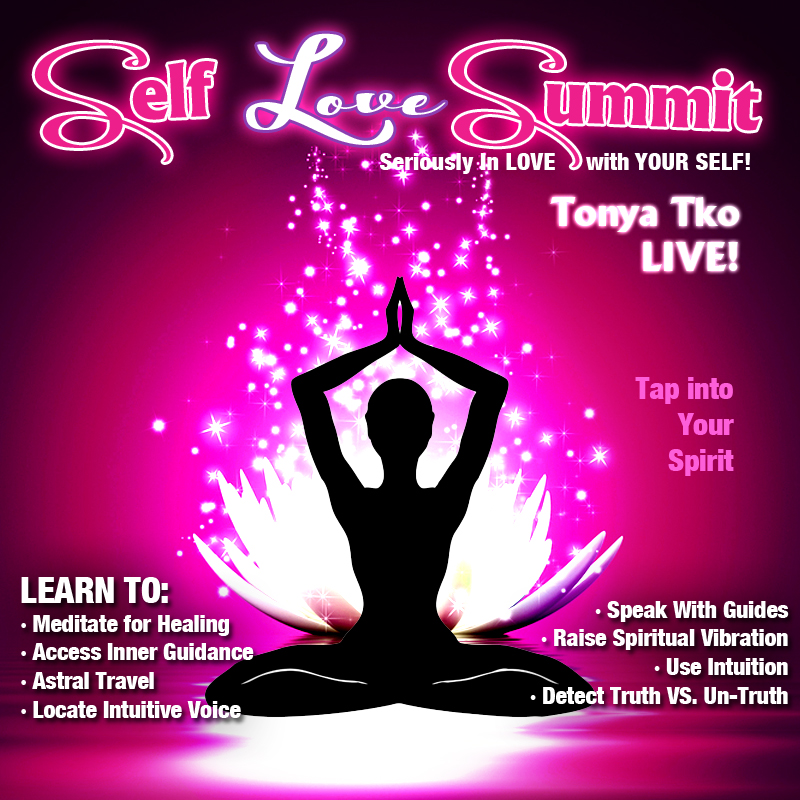 With All the Love in My Heart xoxo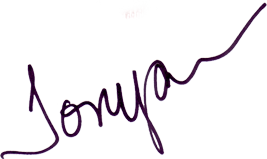 TESTIMONIALS
NEVER GIVE UP, PLANT SEEDS
" I would describe the summit like a blind date, except the other person who shows up is your inner self.. the one with all the issues and baggage. I was quite surprised to see myself in that light, but then through the course of the night and all the exercises, I learned that both sides of myself, the one with the steely facade as well as the one with the open wounds, are VERY lovely and deserve love. it was interesting at first because just when I thought I was falling out of love with myself in the summit, people in the group said, "hey, I love you sis" and gave me a big hug until I felt better. expect tears, ugly truths, ugly memories, reality checks, and lots of food for thought. if you feel like you've hit a plateau but are not happy with it or yourself, come to a seminar and meet cool people and in turn you will meet a new side of yourself. I learned that I held myself responsible for things that had nothing to do with me and that's where a lot of my inner anger and depression came from. everyone has fears, insecurities and doubts, but not everyone knows where they come from and how to make them go away. if you give yourself the time and energy to explore the source, then you may be able to rid yourself of them. I think everyone can benefit from learning about all aspects of their being. 

DO NOT GIVE UP! try! even if you aren't feeling 100% just try! that 35-45% is better than nothing! 

its a start! it'll be the seeds of change and help you get where you want to be."
-- Melissa M, Brooklyn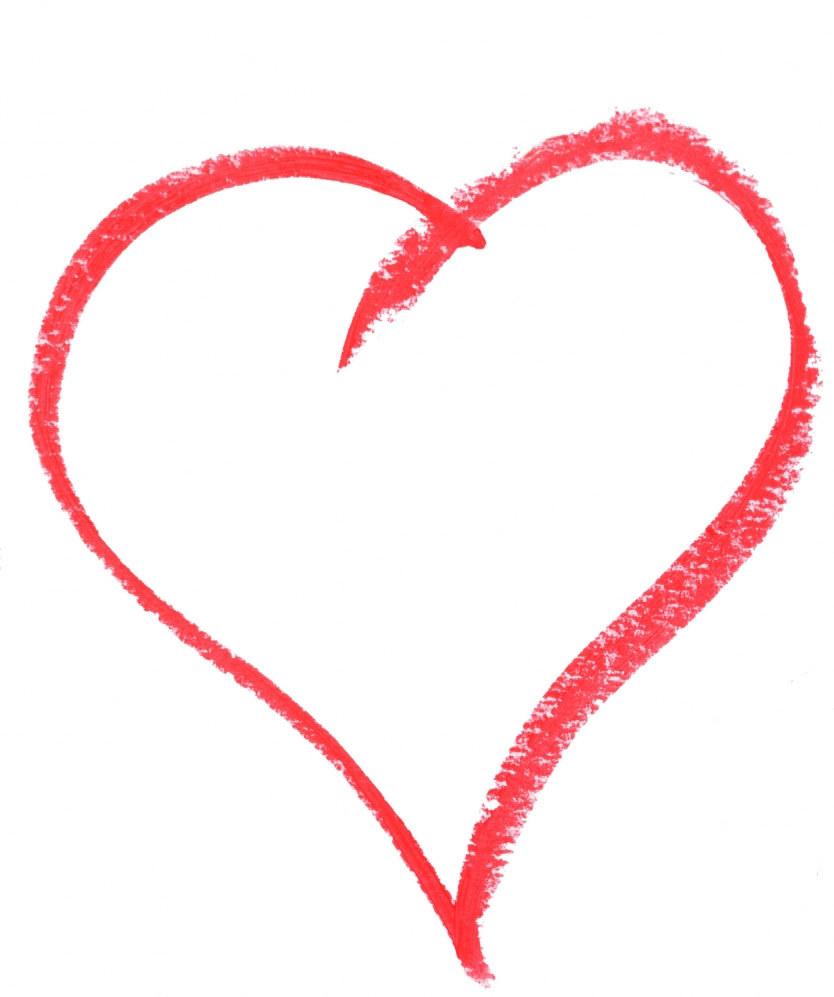 INVEST IN YOURSELF
"I decided to attend this event for a variety of reasons. Meeting Tonya in person was great! She really is the same person you see in her videos, and she brought the same energy to this event. I did come to this event with a specific purpose; to heal a great childhood hurt. I received even more than this healing. I was able to find forgiveness for people I never thought I would be able to forgive, and I have found strength within myself that I know in my heart to be endless.

We participated in a variety of activities from coloring to dancing to writing to talking and sharing and connecting. While every activity on its own did not create its own breakthrough for me, it was an opening experience to see others have breakthroughs at different points throughout the day. Every new activity went just a little bit deeper. I was honored to have a great exercise in compassion watching my sisters confront their individual sticking points. Near the midway point I was beginning to confront the issues of my childhood and the idea of forgiving what seemed to be unforgivable. The process of traveling back to those awful moments, removing them, and forgiving those who created the situation... I have never shed more tears than I did in those moments.

I came out of this event feeling so much love for myself, my sisters, and this beautiful world we all share. Even now as I return to the life that my hurt self created, I find the negativity of those around me to be irrelevant to how I feel. I am also finding it much easier to connect with anyone, even total strangers, even those that I previously thought I had no love for. I do not hesitate to speak the truth of my heart, and this is where I find my greatest strength.

If you are at a point where you desire something better for yourself, this event is for you. No matter where you are in your own self-improvement journey, this event is worth investing in. Be sure to do the homework and follow instructions and take it all seriously. This is more an investment of your time and effort and spirit than it is your money, I am certain of this.

This event is just as valuable for men as it is for women. I was the only man to attend this first event, and I can assure any man who is thinking about attending this event that there is nothing to fear and much to gain. All judgment is left at the door.Show up prepared and respectful of the space, and do not attempt to suppress anything. You will earn the benefits of witnessing the true emotional state of women; my interacting with women has improved dramatically since I have gained a much deeper understanding. You will also be giving these same women the opportunity to feel the energy of a man who desires to better himself, giving them a good example to remember and take into their own future relationship decisions.

At the end of the day this decision is yours to make. Do you want this enough to make the commitment? I did, and I have no regrets! I can only hope these words have helped you to gain an understanding of what you have to gain. So what are you waiting for?"

~~~Roy S.~~~ Boston, MA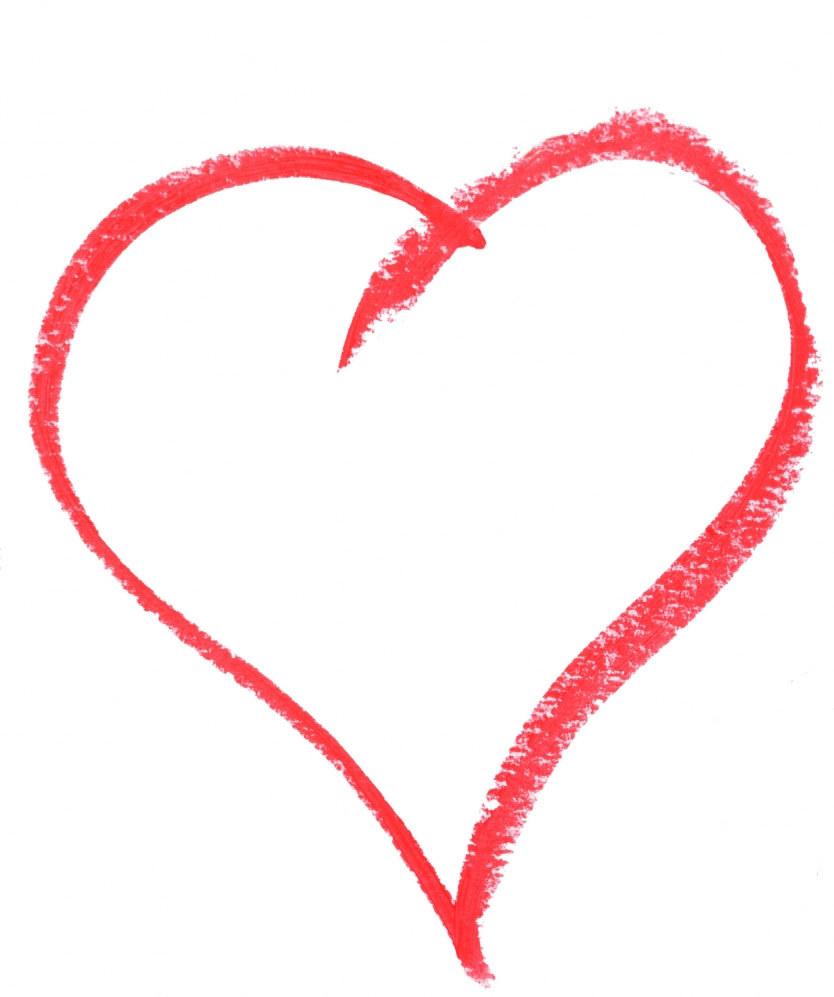 ONE DAY CAN CHANGE YOUR LIFE
"The summit for self love in manhattan on June 29th was truly a life changing experience for me. Everyone is at different levels in our own journey of self discovery. I think everyone has something under the surface that keeps us from being as fulfilled in our lives. That is only if we are lucky. Some people never even know enough to know there is anything wrong. 

When I got the email about the "Self Love Summit" It immediately caught my attention. Unlike most of the people that was familiar with Tonya and her videos and writings. I didn't know until after I signed up for the summit that Tonya Tko was a motivational speaker of self improvement at all !!. I met Tonya in 2011 and 2012 at the Jacob K. Javits center. You see Tonya has a whole line of the best natural skincare products on the face of this earth. Natures Eraser! that is the slogan on her big sign and the 1st thing I noticed when I walked up to her booth at the "Circle of Sisters" conference that faithful day in October 2011 and there was a naked lady on the sign to prove it. (said to myself this lady is sure about her product ) so I bought as much as i could carry. 

So needless to say I was on her email list for the products. But the email this time was about a self love summit. The description listed on the page made me stop in my tracks. I had been looking for something like this for ever. I was so excited the day had finally arrived. I felt like a grownup as funny as that may sound. When we arrived i knew I could be honest, not feel judged and meet people who have something in common with me. We went through a series of exercises that were designed to bring out alot of deep emotional baggage that I did not know was bothering me. I have to stress this that there is something about physically going through the exercises that reading, hearing someone lecture, or talking on the phone cannot do. Physically going through the exercises Tonya has designed is truly freeing and so effective.

I would like to see more men involved I think this is a great thing for men as well.

Roy was our only male and I was grateful to see him healing. I also would like the weekend retreat like Tonya mentioned. I think you are a fabulous and a courageous woman Tonya. Please know everyone I met made a footprint in my heart forever."

Love you all, 
Wilma aka Strong and Destiny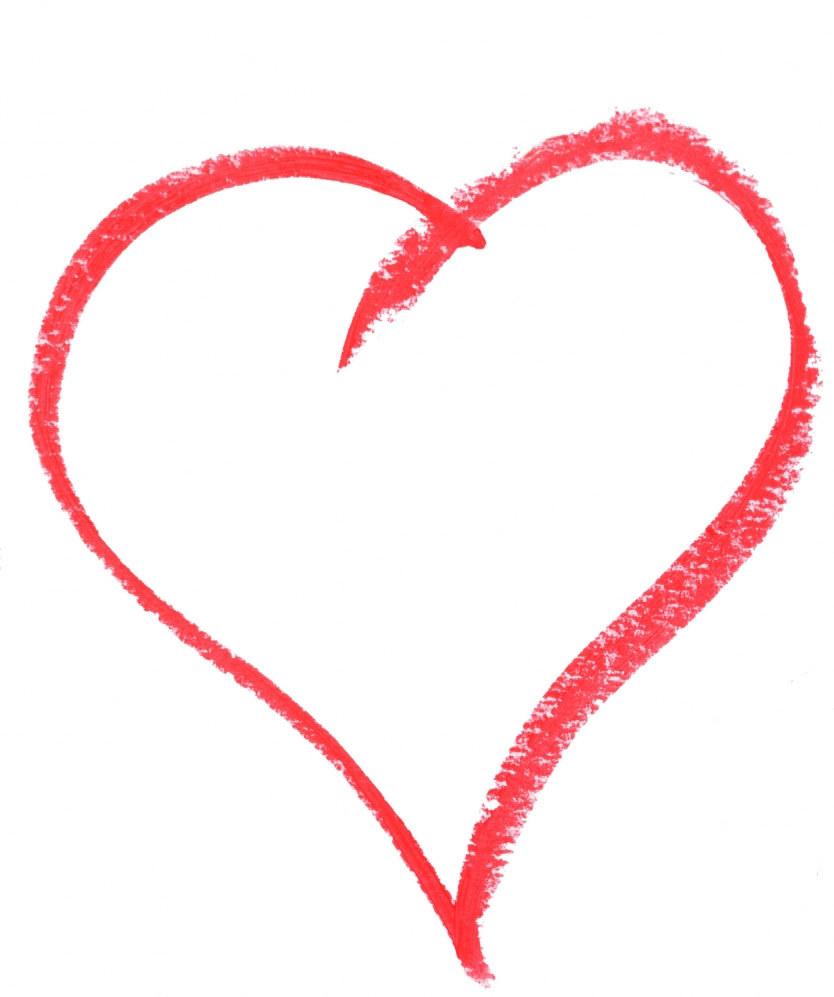 DISCOVER UNKNOWN BLOCKS HOLDING YOU BACK
"I attend the Tonya TKO Self Love Summit with very little expectations. I thought at most it would be a meet and greet composed of her many YouTube subscribers. I imagined a day of chat-chat and endless advice from the big sister of the internet, basically a live Q & A version of the Tonya TKO Show, and by all means I was more than fine with that.

Upon arriving at the event venue located in Midtown Manhattan I immediately knew the day would more than exceed my expectation. Simply due to the fact that the event was held in a chic studio instead of a conference hall I knew that it was more than just a summit. The space was set up like a mini spa oasis, adorn with fresh cut flowers, satin table cloths, velour and statin drapery, and fragrant candles in an array of divine scents from white sage to patchouli. I found this gesture very nice, it provided for an ultra-relaxed feel in the room.

Now this event is not designed for the person who wants to go sit and listen all day. I did more work that Saturday than I have done in a life time, all the "work" I refer to was tailored to improving myself and my quality of life. Before attending the event I thought I had a good idea of who I was and that I was long away on the road to my personal spiritual journey to awaking. Tonya's summit was like throwing a bucket of ice cold water on me and awaking me from a deep slumber that I did not realize I was in.

The summit was more of a workshop. During the day we did many interactive activities that where designed to get to the core of our being. We did activities that bought forth issues that I did not know I had, but have clearly shaped the person that I am today. I resolved some underlying issues that have had me in a stagnated state for years and have kept me from being ME and fulfilling my life's purpose. Tonya's unique interactive technique takes you on a journey from the moment you are born to your present day life, and the best part is if you are unsatisfied with the life you have lead this is the day you are able to reshape who you are.

I know it sounds too good to be true, that there has to be a catch. Well, there is and I am going to tell you the secret to getting the most out of you experience. The secret is YOU. Yeah, it sounds silly but very true. When you go to this event you must come prepared. Prepare means coming on time because Tonya gets it in as soon as you enter the room. Come with no expectations because your expectations may limit you to receiving the many life lessons that are presented. Come with your mind and heart open because you will leave with them full. Come willing to unlearn many concepts you have about yourself because when you leave you will see yourself in a new light. You must come willing to be truthful with yourself and willing to do the WORK. Oh, and come with a yoga mat I promise it will come in hand.

It has been a week since I attended the Self Love Summit and in all sincerity I feel different. For a lack of better words I say hopeful. I walked away from the summit renewed. I can't say all has changed in my life but I was given tools that if I use them I will see the change, I trust the process to know that the change is in evident.

I am sure everyone walked away with something new from the summit. I went to the summit without knowing I would walk away with so much wealth. Yes, wealth because the wisdom and knowledge I received is priceless. I am proud to announce that since the summit I am in a new courtship........with MYSELF. I am getting to know the real me, I am enjoying my own company, I am treating myself like the goddess that I am, and above all I am happy with me. 

Tonya TKO Self Love Summit introduced me to my true SELF"

Divine - from Bronx, NY
FAQ's
Q: Will There be a recording
A: We are holding a very sacred trusted space in the room. For Privacy, there will be absolutely NO Recordings for public view. 

A: Yes, we will have a 45 min lunch & two 7 Minute snack breaks. You may pack a lunch. We will be in Manhattan, so there will be many places nearyby to buy. Please bring 2 light snacks.
Q: What should I bring with me?
A: Bring a

Journal, 
a pen, 
a Yoga Mat, 
2 light snacks, 
& a sweater/ coverup in case you feel chilly during meditation.
Q: Can Men Attend?
A: Yes, of course, We encourage men to attend

Q: Should I bring my Mother? Best Friend? Lover? Etc?
A: We will be going into some very deep psychological layers. Whoever you come with, make sure its a person you feel secure speaking your TRUTH in front. Those who come willing to open up have the best healing experience.
 *Free TkoSkin Gifts & Prizes
(Register Early)
 How to Have GOOD Esteem /Self Love When You HATE Yourself: TonyaTko Reveals Painful Secret 

Travel Recommendations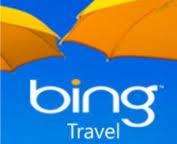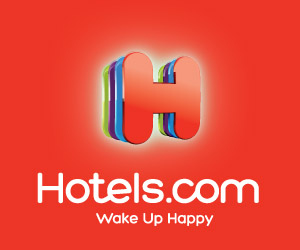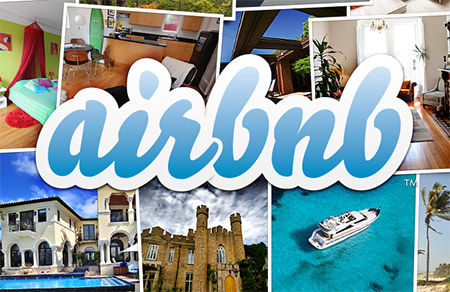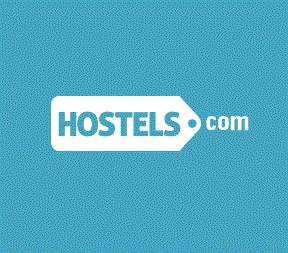 _
Have questions about Self Love Summit - TonyaTko LIVE Seminar: Bulletproof Self Esteem?
Contact Tonya Tko
Self Love Summit - TonyaTko LIVE Seminar: Bulletproof Self Esteem