Join us as we explore the theme of "Transforming in the Seasons of Self-Love" on June's Full Moon :)
About this event
ABOUT OUR CIRCLE:
In January 2020, the Womxn of Color Healing Circle was born from a simple yet powerful question, how do we heal together?
From there, the circle was co-created as a sacred and supportive space to see and be seen as we navigate our paths of healing, wholeness, and truth.
Learn more about past circles: www.lotusawakens.co/circle
JUNE's THEME: Transforming in the Seasons of Self-Love
Join us as we explore the theme of "Transforming in the Seasons of Self-Love" on June's Full Moon.
In this month's soul circle we will visit (or revisit) the sacred practice and ceremony of self-love. Through that lens we will explore questions such as:
What are the false narratives our shadow selves are teaching us about self-love? How does judgment, criticism and perfectionism limit us from experiencing self-love? And how might we cultivate self-love with our ancestry in the transformation of seasons?
Together, we will collectively access the wisdom of what being women, femmes, queer, and gender non-binary people of color mean as we reflect on the stories we are telling ourselves.
More about this full moon: Full moons are all about amplification, expansion and completion. This particular full moon in Capricorn comes at a time of culmination and fulfillment that was started during the Gemini New Moon on June 10th, an emotional moment of romance to prepare to plant ourselves to bloom in relationships with ourselves and others. We'll lean into this energy to do our individual and collective healing together surrounded by the loving, healing, heart opening magic of our beloved community.
We hope to circle with you soon!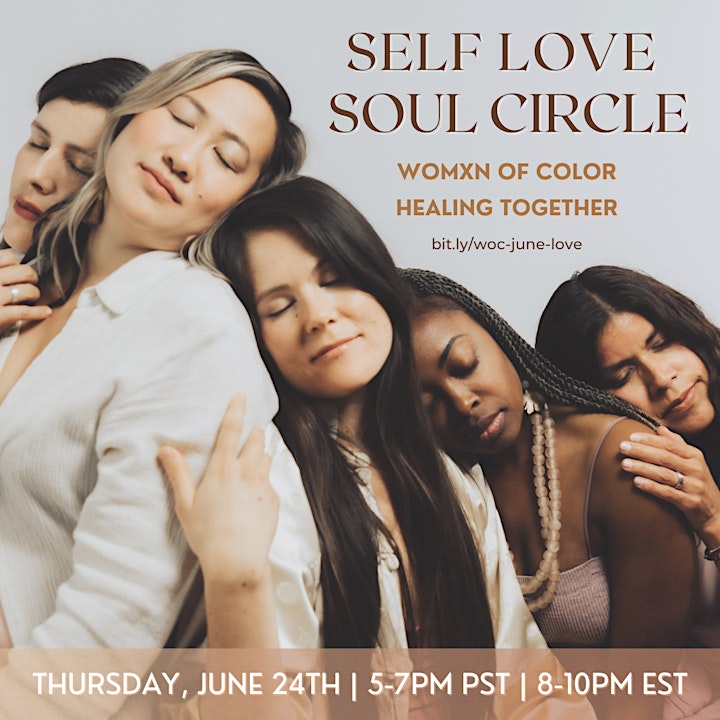 DETAILS:
Date/Time: Thursday, June 24th from 5:00-7:00pm PST | 8:00-10:00pm EST
Location: Zoom Meeting, register to receive info. Recommended to join via computer with video and headphones.
Attendees: This monthly circle is for BIPOC (Black, Indigenous, People of Color) women identifying, femmes, and gender non-conforming people. This circle is designed for up to 16.
Preparation: Bring a journal and be in a comfortable space to move and meditate in
Energy Exchange: Sliding scale of $15-40 paid via Eventbrite or Venmo @lotusawakens. Two scholarships available, please email lotus@lotusawakens.co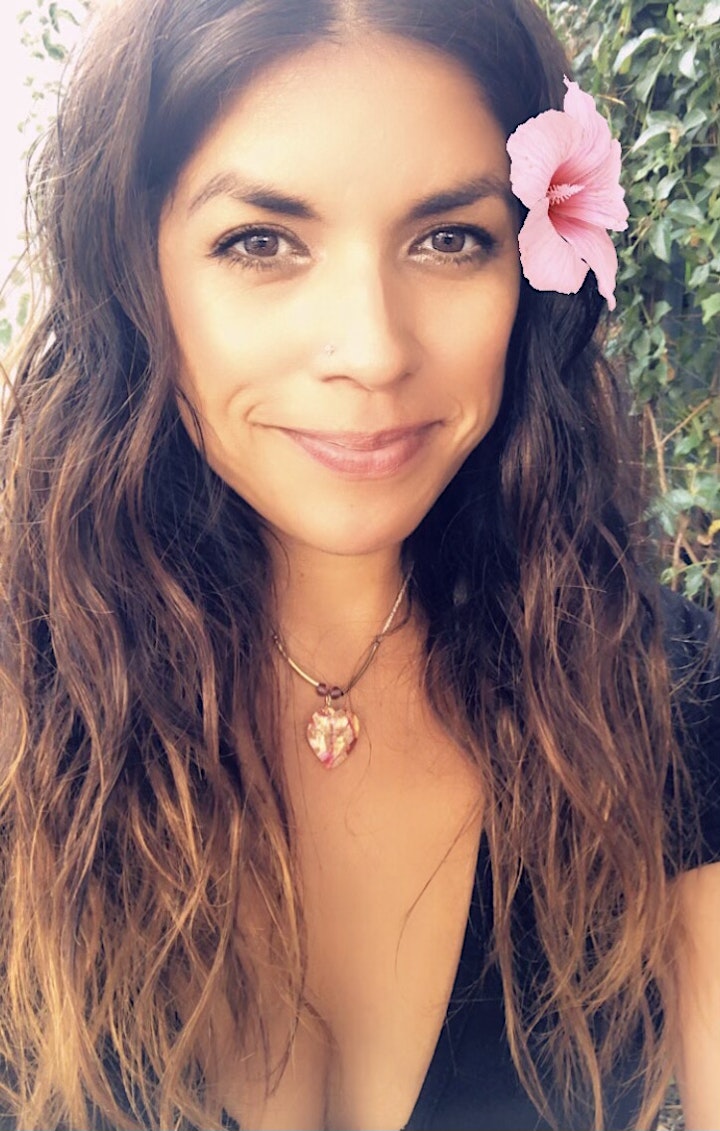 YOUR FACILITATORS:
Sonia Montoya (she/her/ella/they/their) is a movement teacher, educator, lightworker, holistic self-healer, and a fierce love warrior based in the East Bay. She received her RYT-200hr certified teacher training with Community Rizing: People of Color Yoga Teacher Training with core teachers - trainer/author Rolf Gates, RYT-500hr and meditation teacher/author, Spring Washam.
Sonia is a Chicanx/Latinx queer femme who honors her intersection of identities and desires to create inclusive brave spaces for all bodies and identities to practice movement through yoga and meditation. She returned to yoga through her own holistic self-healing journey while in recovery with a chronic illness that nearly threatened her life. In August 2020, she celebrated her two year remission milestone through healing the whole body integrating autoimmune/anti-inflammatory protocol, naturopathic medicine/acupuncture, shamanic healing ceremonies/rituals, emotional freedom tapping (EFT), talk therapy and hypnotherapy, and yoga/meditation. She gives gratitude everyday to her yoga and meditation practice for continuing to inform her healing journey and for saving her life - mind, body, and spirit.
Off the mat Sonia is a change agent in higher education with 10+ years of experience in student and academic affairs. In her former role, she incorporated holistic wellness in academic advising to first-generation, low-income, and disabled students to empower their own interpersonal development and holistic self-healing & self-care as a part of their academic wellbeing. Her current passion projects is writing her first book manuscript (nonfiction/memoir) about her journey breaking the cycle of historical generational trauma of her family's story and their contributions in Mexican American herstory in the early Civil Right era. Her second passion is creating her first blog Warrior Fénix Movement (coming soon!) to honor and celebrate her healing journey with a chronic illness, and to share the stories of womxn of color warriors. We are not alone and our healing journeys deserve to be witnessed and celebrated!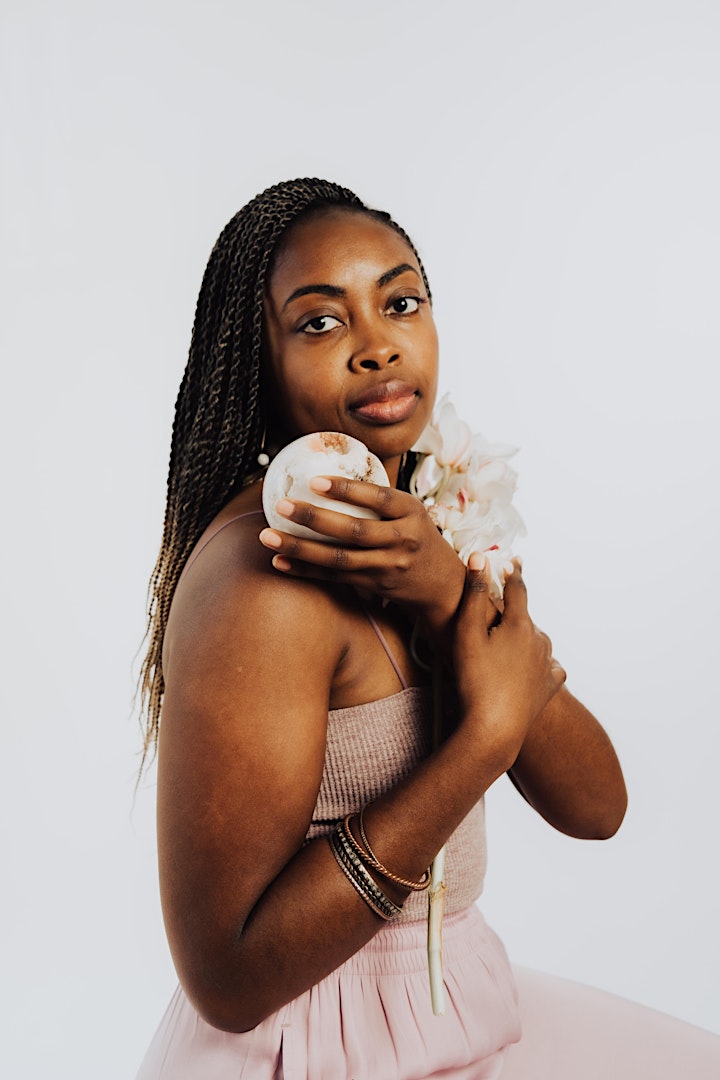 Mona Mabengi Williams is guided by and grounded in the power of her ancestors. As a Congolese-American raised by a single mother in Memphis, TN, she believes strongly in acknowledging the strength, grace and beauty of womxn, and in particular, Black African womxn. She is a life-long knowledge seeker, an attorney, educator and yogi.
Mona, who now lives in Oakland, CA, is an avid traveler that enjoys exploring the nuances of culture, language, and identity. She believes her outer journey of travel and exploration sparked her inner journey towards radical self-love and acceptance. That journey began in earnest when she started meditating in the Buddhist tradition at the East Bay Meditation Center and practicing yoga focused on holding space for, and nourishing, people of color.
A common theme throughout Mona's life has been her dedication to use her knowledge to unveil and invite positive change into the lives of those living at the margins of our society. As an attorney she has worked on behalf of immigrants of color and incarcerated people. As an educator, her work has centered on ensuring that immigrants and refugees enjoy a safe environment in which to learn English and acclimate to their new lives in the U.S.
Currently, Mona's interests are focused on dismantling systems that criminalize and incarcerate youth.
We looking forward to sharing space with you!
In love & solidarity,
For any questions, please contact lotus@lotusawakens.co
Organizer of SELF LOVE SOUL CIRCLE for Womxn of Color