Description
ONE DAY SELF-HEALTHCARE CLASS
LIFETIME TOOLS FOR

IMPROVED HEALTH AND WELLNESS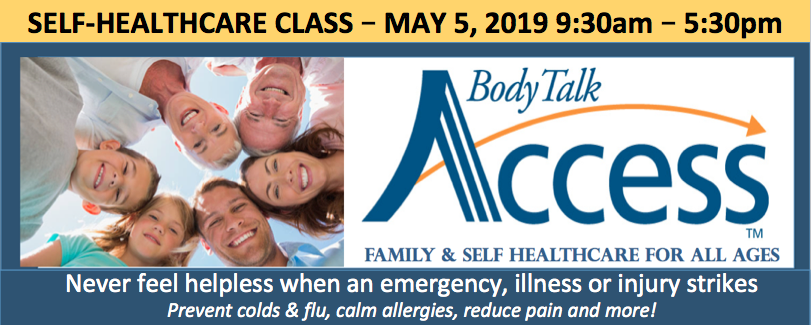 Imagine instead of reaching for over-the-counter medications, in 10 minutes time, stimulating the immune response to ward off a cold or flu
Imagine calming allergies and intolerances with simple techniques
Imagine saving a trip to the doctor because you have techniques at hand to address 60% of day to day health concerns on your own
Imagine healthcare that is available to you anytime, anywhere, that has zero harmful side effects
Imagine having life saving techniques at your fingertips in the event of the unthinkable emergency such as Stroke, Heart Attack or Injury
WELCOME...to BodyTalk Access
EMERGENCY, ILLNESS & INJURY FAST-AID
$225 Tuition Investment includes full color manual & certificate.
INSTRUCTOR: KAREN BETTEN, RN, NP, MSN, BAT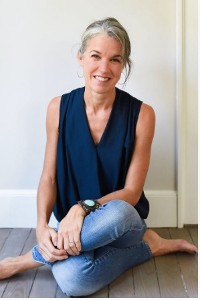 KAREN HAS AN EXTENSIVE BACKGROUND WORKING IN SURGICAL TRAUMA UNITS AT THE UNIVERSITY OF PENNSYLVANIA HOSPITAL AS WELL AS MANAGING AND WORKING IN A SURGICAL GROUP AT COLUMBIA PRESBYTERIAN.
KAREN SHARES HER LOVE FOR NON-INVASIVE HEALTHCARE IN HER OWN HEALTHCARE PRACTICE AND THROUGH TEACHING BODYTALK ACCESS
KAREN IS A CUTTING EDGE INSTRUCTOR, TEACHER AND PRACTITIONER KNOW FOR HER UNIQUE BUT RICH PRESENTATIONS THREADED WITH HUMOR AND SCIENCE.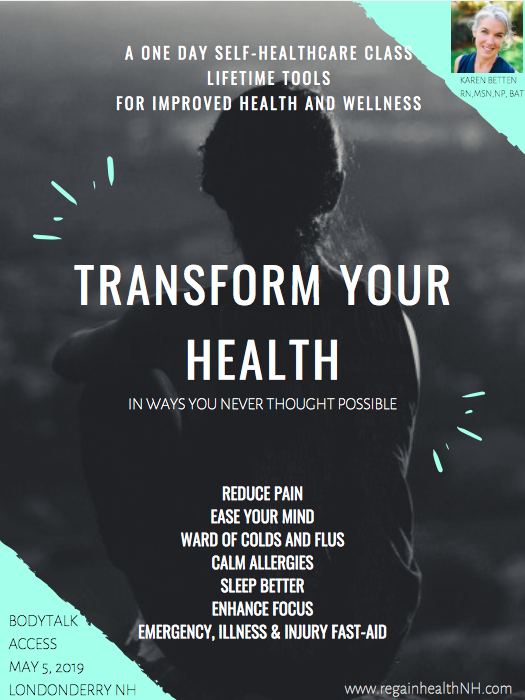 CLASSES PURCHASED THROUGH EVENTBRITE REQUIRE A ADDITONAL IBA REGISTRATION TO NOTIFIY THE INSTRUCTOR OF PARTICIPATION (Red Registrer Now button above). You may also wait to receive instruction from the class coordinator for IBA registation as well.
ARE YOU A REPEAT STUDENT OF ACCESS? IF SO CONTACT US
HERE
FOR SPECIAL 50% REDUCED TUITION PRICE