| | |
| --- | --- |
| Self-healing with Geometric Yoga Classes | |
Event Details
Natural Regeneration with Yoga, for Arthritis, Pain, Digestion Problems, Headache, Allergies, Cancer and more!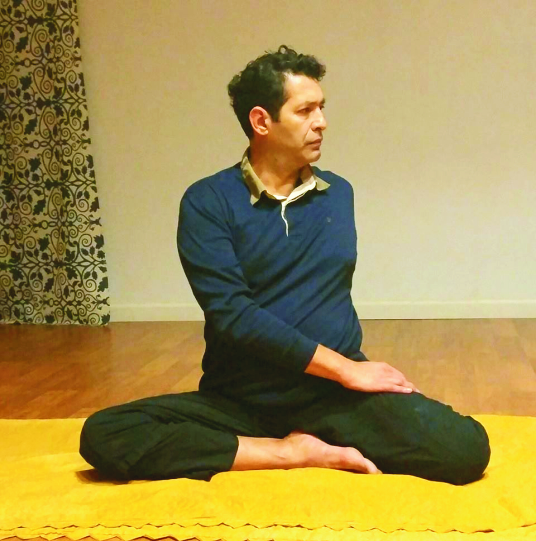 Geometric Self-healing Yoga with Horacio Roa.
GET YOUR HEALTH QUESTIONS ANSWERED!
After the class we welcome questions about Self-healing techniques.
With Reservation Only: For more information or to reserve contact Horacio at 530-790-5167
View full Calendar of Events at https://Holisticeye.com/calendar
Ask about: Self-healing Workshop Coming February 24rd, at 7pm, with reservation only. 
ABOUT HORACIO ROA, Director at Holistic Health Services and Focused in Self-healing Education and Coaching,
Horacio is Dietary Technician, Certified Massage Therapist, and Natural and Holistic Health Consultant. First session with Horacio includes Shiatsu Therapy, Emotional Counseling, and Holistic Healing Program.
/By Appointment: 530.790.5167 | info@holisticeye.com | https://www.holisticeye.com
/Pricing: First Session: 120 minutes, $150 | Sessions after: 60 minutes, price range from $70 to $90 discounted prices for # of sessions purchased in advance. Horacio also conducts Self-healing Health Coaching Retreats in Lake Tahoe 4 times a year to teach and assist people on the healing of chronic issues such as: Weight Loss, Depression, Chronic Fatigue, Allergies, Diabetes, Cholesterol, Headache, Skin Problems, Stroke Recovery, Tendinitis, Carpal Tunnel, Sports Injuries, Stress Management, Senior Health, Heart Health and more....Coming from a line of family healers from Guarani South American natives, and graduated in chemistry, and nutrition, Horacio is an +30 years experienced intuitive healer who combines Shiatsu, oriental techniques, herbs, food, and water therapy into powerful holistic individualized programs for self-healing. Over the past 15 years, Horacio has developed E.N.T.E.R (Endocrine-Nervous Tracks Exercise Reprogramming) which is a self-healing technique created to heal in a deeper level by properly connecting areas of our body for a more definitive pain relief. He has worked in clinics and private practice in Argentina, Spain and the United States, and has been praised for the creativity, humanity, and life-changing nature of his work. 



Request Information about Yoga Classes Online

HABLAMOS ESPAÑOL
Classes en Español Miércoles a las 5:30 en Inner Path
200 Commercial Street - Downtown Nevada City

FOR MORE INFORMATION ABOUT SELF-HEALING REFER TO OUR WEBSITE'S CALENDAR
https://holisticeye.com/calendar.html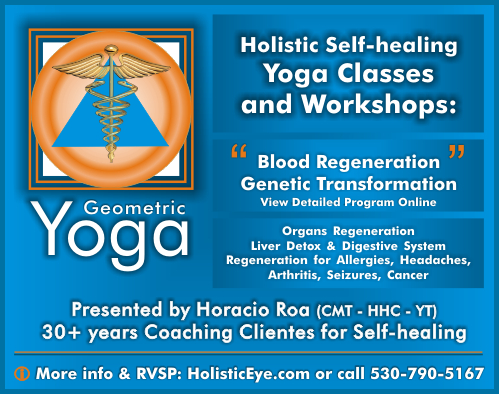 When & Where

Inner Path Yoga & Meditation Center
200 Commercial Street
Downtown Nevada City
Nevada City, CA 95959


Organizer
Read about Holistic Health Services by Horacio Roa at https://www.holisticeye.com/about-us
Read our testimonials online https://www.holisticeye.com/testimonials