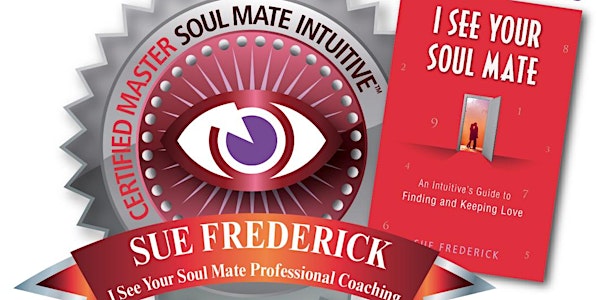 Self-Guided Soul Mate Intuitive Coach Training
Description
2192 days 3 hours

Mobile eTicket
Self-Guided Soul Mate Intuitive Coach Training
Congratulations! This Self-Guided course is designed for anyone whose schedule prevents them from participating in a live training. You'll earn your Certified Professional Soul Mate Intuitive Coach Certificate in as little as 10 hours - at your own pace and in the time frame that works best for you.

Based on the information in my bestselling book I See Your Soul Mate: An Intuitive's Guide to Finding & Keeping Love, this training teaches you to access your powerful intuition & use it to help yourself & others navigate love & relationships.
You'll master intuitive dating techniques and intuitive recognition to help you find YOUR soul mate. The process of learning this material will give you profound guidance for your love-life and for all of your relationships - including family!

You'll access your powerful intuition to help clients (and yourself!) identify and clarify the soul's great mission and soul agreements and align with this more empowered perspective - as a soul on an evolutionary journey in perfect divine order.

You'll become a Professional Certified Soul Mate Intuitive Coach and build a successful coaching business helping others. I look forward to sharing this great work with you!

Many blessings,
Sue Frederick
Author of Your Divine Lens; Bridges to Heaven; I See Your Dream Job; & I See Your Soul Mate. www.SueFrederick.com

Price: $299

We cover a lot of information quickly in this coach training webinar. It may be helpful (but not necessary) to read my other books including I See Your Dream Job & Bridges to Heaven which will help you become more familiar with the materials covered in this webinar training. Contact Sue@Brilliantwork.com if you have any questions.
About the organizer
Sue Frederick, lifelong intuitive, Past Life & Between Lives Soul Regression Therapist, and Ordained Unity Minister, is the author of Bridges to Heaven: True Stories of Loved Ones on the Other Side; Through a Divine Lens; Water Oak; I See Your Soul Mate & I See Your Dream Job (St. Martin's Press).
As an intuitive coach and master numerologist she's taught hundreds of workshops for grieving people; for people seeking meaningful careers and for those who seek a new story. As a student of numerology since 1980, she brings a deeply enlightened perspective to using numbers as navigational guidance tools for deciphering the soul's journey and connecting to departed loved ones. Sue has helped thousands of clients have healing conversations with spirit guides and loved ones on the other side. Her work has been featured in the New York Times, CNN.com, Real Simple, Yoga Journal, Natural Health and Complete Woman Magazines. http://www.SueFrederick.com
http://www.careerintuitive.org Her workshop venues include Omega Institute, Naropa University, Shambhala Mountain Center, Kripalu Center for Yoga & Health, New York Open Center, Loyola University, Crossings Retreat Center, National Career Development Association, Unity of Phoenix, Unity Center of Davis and Unity of Boulder.