Sales Have Ended
Ticket sales have ended
Thank you for supporting our events.
Sales Have Ended
Ticket sales have ended
Thank you for supporting our events.
Gain insights on how you can let the right people into your lives, leading to a greater chance at connecting with those who truly matter
About this event
We can never truly make other people change, but we can definitely improve ourselves. By doing this, we let the right people into our lives, leading to a greater chance at connecting with people who truly matter. And in order to do that, self-awareness must lead to personal growth.
Three things must happen. First, there must be a proper framework for reflection. We often mentally create meanings due to the behavior of other people. We interpret talkative people as extroverted, late people as irresponsible, and those who keep asking us for favors but never return them as manipulative. However, this way of thinking often causes us to give away our personal power. By knowing how to reflect, we can be gentler with ourselves and others, while having an effective focus on our improvement rather than our limitations.
Second, we need to learn to own our attributes, including our negative attributes. By confronting the truth, we can find ways to improve and change. When we change, we draw people of a similar mindset into our lives and utilize our interactions with others as mirrors to our own self-improvement.
In order to apply these two insights, we then need to implement these learnings utilizing a checklist of five keys to achieving our desired outcomes. By knowing these, we can train our minds to determine whether or not we have succeeded in achieving our outcomes. By learning the right mental conditions for the brain to move us toward our self-growth and improvement, our self-growth practices will lead us down the path of better communication and interaction with others.
Outline of the Online Talk
"Why don't they get me?"- Embracing self-awareness and self-growth.
Myths and Mistakes of Reflection and 3 Practices to drive Self-Awareness (Life Path – Past, Life Vision - Future, Somatic Conversation - Present).
Reflecting on and reframing personal attributes in conversations using the Ofman Model.
Structuring effective well-formed personal outcomes and building personal mastery.
Our Keynote Speaker
Stuart Tan
MSc., MBA, BA(Hons), SDGC, CATSM
Stuart is an international speaker, psychotherapist, and master motivational Coach. He has been a trainer since 1994 and trained over 500,000 individuals and dozens of organisations across 11 different countries. He holds an MBA from the Western Michigan University, and an Executive Master of Science in Organisational Psychology and Human Resources from City University Of New York (CUNY). He has been teaching aspects of neurological impact ever since his involvement with training, particularly in areas of resilience, mindfulness, leadership, and personal mastery.
Stuart is also a qualified counsellor and trauma therapist. He is a member of the National Center for Crisis Management and the American Academy of Experts in Traumatic Stress. Early in his career, he received his postgraduate diploma from the Temasek Polytechnic where he was trained under the late Mr. Anthony Yeo, widely regarded as the father of counselling in Singapore. His credentials in counselling allow him to support clients in their relationship challenges effectively.
His Inner ActivationTM model is the key to helping participants gain clarity in a world of vagary and uncertainty. Without clarity, motivation is irrelevant. As a keynote speaker, Stuart has challenged people in business and life to confront their limitations to create their desired future by activating their inner potential.
Organised by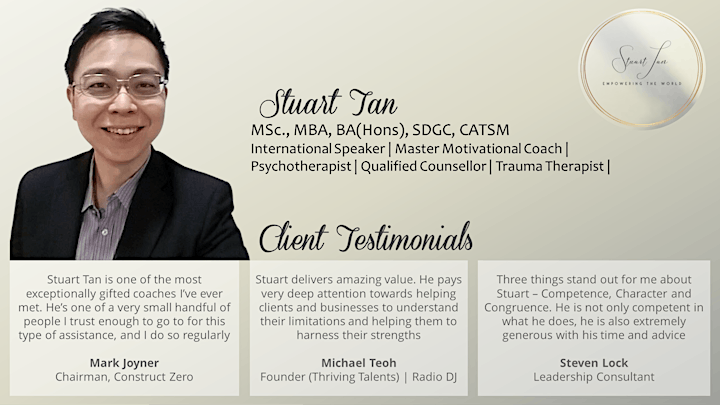 Organizer of Self-Growth Practices that Lead to a Better Life & Relationship - Online
Speed Dating Specialists | Meetup Organisers | Dating Company in Singapore | Social Platform Developer
True Love Compass was incorporated in Singapore in 2020. UEN: 53432879B
As Meetup organisers with 15,000+ members in our community, we are committed to bringing together more singles in Singapore via events hosted by True Love Compass, in collaboration with our expert Image, Branding, Relationship, and Personal Development partners.