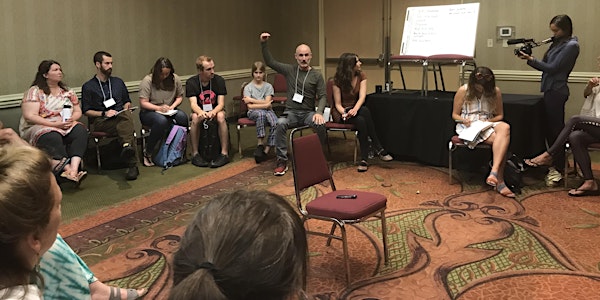 Self-Directed Education: Deschooling and rethinking partnerships with youth
Live online workshop series for homeschool parents and Self-Directed Education (SDE) facilitators. Four classes over four weeks.
Refund Policy
Contact the organizer to request a refund.
Eventbrite's fee is nonrefundable.
About this event
[Contact us for reduced class fee if needed. Sliding scale available.]
In this class we will explore Self-Directed Education (SDE), de-schooling, and how to be good partners with youth. What does it mean to be in partnership with a young person? How do you do this without letting power dynamics take over the relationship? How do you deal with goals you have for the learner, vs. the goals they have for themselves? What does it mean to "facilitate" SDE?
And critically, how do we "de-school" ourselves from the assumptions and beliefs about education and the role power plays in parenting and teaching, and find a new understanding that aligns our practices with our values and with the outcomes we want for our children and the world.
In addition to discussing the foundational concepts and principles of Self-Directed Education, we will leverage the experience of everyone attending to examine instances of success and instances of failure, and use those specifics to increase our understanding and improve our own practice.
There will be four 90 minute online classes using the Zoom platform (easy to use—nothing to install).
Class times are 5:00 PM - 6:30 PM, Pacific Time ($125 fee covers all classes)
Tuesday, September 1
Tuesday, September 8
Tuesday, September 15
Tuesday, September 22
This workshop was pure magic and was just what I needed during the times we find ourselves in." -Kamila, Parent
"Thank you so much Aaron. Honestly, don't even have enough words to thank you for this major shift in my thinking. This is priceless information and support and I feel it will help me not only with surviving and even thriving during the teenage years, but in many other parts of my life. -Alex, Parent
"Your workshop blew me away, again (last year too). It recalibrated my whole way of thinking." -Ken , Homeschool Parent
Who will benefit?
This class is designed and built for homeschool parents, parents of children in self-directed environments such as schools or learning centers, and other learning facilitators who are trying to pursue a Self-Directed approach to education and the raising of young humans. Really, though, any adult who interacts with children can benefit from this work. We all carry assumptions about how the adult-child relationship is supposed to go—the role we as adults are supposed to play in that relationship—and we can all benefit from reexamining that relationship, even if just to reflect on how we were raised and the effect it had on us. Therefore, any open-minded and self-reflective parent and teacher can benefit significantly from engaging in this process of guided examination and practice-building around how to support Self-Directed Education.
What you will get out of this class
You will come away with a better understanding of what it means to be in partnership with young people, and the knowledge to tackle the intricacies of rethinking, and changing, our relationships with young people.
"I am forever transformed by the experience and I look forward to continuing my dive into this co-creative learning space."
-Brandon S, Homeschool Parent
About the Facilitators
Aaron Eden is a prominent global catalyst for transforming education, working with schools, learning centers, and families (as well as businesses and non-profits) around the world to re-humanize how we work, learn, and live. Informed by restorative practices, non-violent communication, and applied mindfulness, Aaron's work focuses on co-creation as a means to transform how we relate to ourselves, to each other, and to our shared endeavors. He trains parents, teachers, leaders, and youth across diverse countries and cultures to shift from domination-based endeavor to a co-creative model, and to fully support and use Self-Directed Education principles in everything we do.
Bria Bloom grew up unschooled, and now is a passionate advocate for Self-Directed Education and young people's rights. Bria loves to work and play as an SDE facilitator, and has experience doing so from her work in free schools, alternative spaces, and her experience as a parent. She also organizes and supports people involved in the SDE movement all over the world, through her role as Managing Coordinator with the Alliance for Self-Directed Education. Bria has experience supporting parents and facilitators one-on-one, facilitating workshops about SDE and being good partners with youth, and facilitating frequent discussion and SDE support groups. She enjoys the energy and deep thinking that comes from working with parents and facilitators in SDE, navigating difficult questions, and examining and reassessing our ways of being and interacting with young people.
"WOW-The time I spent and the things I learned at the workshop are priceless! My life has been changed forever. I am so grateful!"
-Dani J., Homeschool Parent