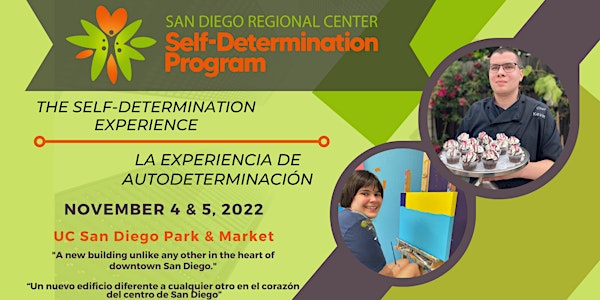 Self-Determination Experience/Conference For San Diego & Imperial Counties
The Local Advisory Committee to the San Diego Regional Center's Self-Determination Program presents: "The Self-Determination Experience"
When and where
Location
UC San Diego Park & Market 1100 Market Street San Diego, CA 92101
About this event
Haga clic aquí para obtener información en español.
What: The Self-Determination Program Local Advisory Committee for San Diego and Imperial Counties announces an exciting and informative two-day conference on self-determination and the self-determination program for people with intellectual and developmental disabilities.
When: Friday, November 4 & Saturday, November 5, 2022
Time: 8:30 am - 4:30 pm
Who Should Attend: The conference is designed to appeal to a wide audience. Self-advocates, advocates, family members, service providers, and others will find the content engaging, informative, and fun.
Attendees will develop a deeper understanding of self-determination, learn best practices in person-centered planning, gain knowledge in budgeting and spending plan development, and have opportunities to connect with service providers. Networking options will connect attendees to a supportive self-determination community.
The conference will feature Keynote Speaker, Diana Pastora Carson. The conference will have beginner and intermediate tracks and will include the following:
What is Self-Determination Program
What is a Person-Centered Plan
How to Create a Person-Centered Plan (in practice)
How to Build a Spending Plan (in practice)
Spending Plan Review
The Budget Document
Compliance & Regulations
HCBS Rule
Networking
One-on-One Sessions
Bonus Sessions
**Click HERE for Conference Schedule and click HERE for Parking Information.**
About Local Advisory Committee: Self-Determination Program Local Advisory Committees (LACs) were established by law to provide oversight of the Self-Determination Program and make recommendations for improvement to each local regional center and the Department of Developmental Services (DDS). Committee members are appointed by the regional center and the regional office of the State Council on Developmental Disabilities (SCDD). The committee members must include individuals served by the regional center, family members, the regional center clients' rights advocate, other advocates, and community leaders. It must also reflect the catchment area's multicultural diversity and geographic profile. The LAC for the San Diego Regional Center Self-Determination program has ten members and two ex-officio members. Joyce Clark, Family Advocate, chairs the LAC.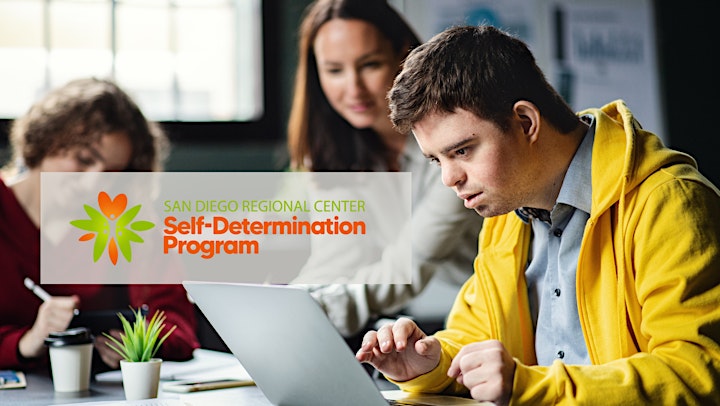 Click here to review available Sponsorship Levels. For questions and more information, contact Katie Dempsey at Kathleen.Dempsey@sdrc.org.
Katie Dempsey, M.A., Self Determination Program Manager, San Diego Regional Center / Kathleen.Dempsey@sdrc.org / 760-893-8000
David Drazenovich, M.A., Conference Event Manager, David Drazenovich Consulting / daviddrazenovichconsulting@gmail.com / 858-531-2999
Kellye Buchanan, CFRE, Conference Event Associate, Kellye Buchanan Fundraising Services / kellye@kellyebuchanan.com / 619-504-3374