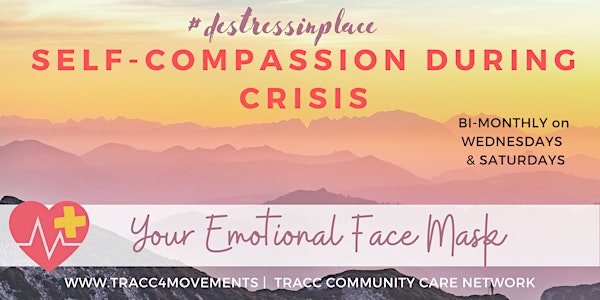 Self Compassion During Crisis: Your Emotional Face Mask
This peer support group will offer some experiential learning about what self-compassion is, what it is not, and offers space to explore.
Refund Policy
Contact the organizer to request a refund.
Eventbrite's fee is nonrefundable.
About this event
BI-MONTHLY SUPPORT GROUP: Self-Compassion During Crisis: Your Emotional Facemask
GROUP DESCRIPTION: Although self-compassion may seem like a luxury, especially during these times of crisis, it is actually critical protection and support for our general well-being. This peer support group will offer some experiential learning about what self-compassion is (being with ourselves with kindness inside of our suffering) and what it is not (feeling good about yourself when you do things you think are good); offer you chances to explore and cultivate a personal self-compassion practice and make some connections with others. We will incorporate the body, mindfulness and community connections to learn about and deepen our access to self-compassion.
"In terms of our bodies and our physiology - compassion and care are immunoprotective." - Dr. Diana Quinn Inlak'ech
WHO IS THIS GROUP FOR:
TRACC4Movements as a project centers on supporting BIPOC/QTPOC, activists and community organizers and frontline responders. We welcome you to join us for this group space to support your own wellness in this high-stress moment.
GROUP TIMELINE:
This group is BI-MONTHLY and running through JUNE on WEDNESDAYS & SATURDAYS.
*YOU HAVE TO REGISTER FOR EACH SESSION INDIVIDUALLY. So if you want to register for more than one, get your ticket for the first one and then each additional one individually and separately. They can all be found in the ticket section of this page.
HOW TO JOIN:
Once you register you will be sent an eventbrite email prior to the grop start time (the day of your group) with the zoom link and password for that group.
ABOUT THE GROUP FACILITATORS:
This group is facilitated by a rotating team of care providers from TRACC4Movement's Community Care Team. Thanks to the facilitation team for their work on this: Rachael Koesen, Karma Mayet, Elandria Wiliams and Lynette Davis. To learn more about each of these amazing facilitators check out our CARE TEAM BIOS here.
ABOUT TRACC4MOVEMENTS:
TRACC (trauma response and crisis care) for Movements was a project grown out of the stress and unrest felt within communities of community organizing, activism, and social change - which is also multiplied in marginalized communities. The original intent of this project was to mobilize to support community crisis and stress within and beyond social change. We believe in many ways this is a time of radical social change and deep community crisis.
We hope that the vision for which this project was born can be leveraged to support this kind of care for each other in this moment. We know that organizers, activists, marginalized community members and first responders (among others) are faced with a number of intersecting and growing stressors--from the personal, to the systemic, to the global. We hope to offer support quickly, not instead of other ongoing mental health, spiritual wellness, somatic healing work, etc, but as increased support in this moment where it is needed.
We are mobilizing community care and support across three dimensions for this COVID-19 moment: 1-1 virtual care, interactive webinars (for the general community & healing provider specific content), and practice groups offering community gathering space focused around meditation, stress-reduction practices, and rituals as well as specific healing practices such as EMDR.
We have also created a constantly growing #destressinplace RESOURCE MANUAL with various ways to gain support and information around healing and care services in this moment. For further details on TRACC and our support care in this moment please click HERE.
DONATIONS: While we are offering our series of interactive webinars for free we would be grateful for any donations towards our work and community care in this moment. Many of us are struggling but if you have anything to give, we appreicate your support.