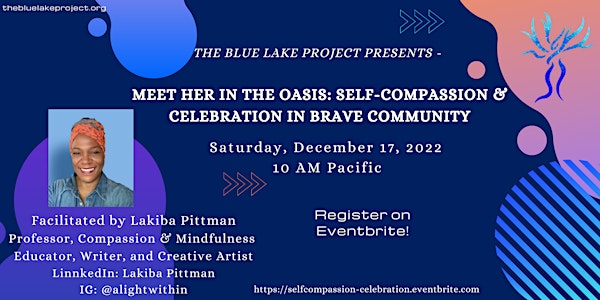 Self-Compassion and Celebration in Brave Community
Self-Compassion and Celebration in Brave Community is a guided expedition for black women through the oasis of Wellness-Care.
About this event
Self-Compassion and Celebration in Brave Community is a gathering for black women to rediscover and reignite ways of allowing wellness to flourish so that they may thrive.
Guided by self-compassion expert and educator, Lakiba Pittman, this expedition in wellness-care and celebration will support you in reconnecting with and building your own medicine bag of knowledge, mindsets, and strategies.
Ready for this expedition through the Wellness-Care oasis?
Ready to celebrate the end of 2022 and the start of 2023 with a fuller Medicine Bag?
Please Join us!
________________________________________________________________________________________________________________
Meet Your Guide:
Lakiba Pittman is an educator, business consultant and creative artist. She is a Professor at Menlo College where she teaches Diversity in the Workplace, Culture in Media and Race & Racism. She also designs and delivers specialized workshops on cultural sensitivity and competency, and on reducing bias through mindful practices. Lakiba teaches public and private classes and workshops on compassion, wellness, and self-care. She is certified by Stanford University's Center for Compassion & Altruism Research & Education (CCARE) and is a Sr. Instructor teaching Compassion Cultivation Training (CCT) workshops. Working with CCARE, the Compassion Institute and Compassion Corps, Lakiba develops and delivers classes, workshops, and culturally relevant compassion training throughout the Bay Area in person and on Zoom globally. Lakiba is a facilitator for Emotional Emancipation Circles sponsored by the Association of Black Psychologists and is also a trauma healing facilitator with Healing Together.
Lakiba is a sought-after public speaker, workshop leader and consultant. In addition to Stanford's CCARE – CCT training, Lakiba has trained with the Center for Mindful Self-Compassion, ART Mindful Programs, Mindful Schools, Mission Be, The Greater Good of U.C. Berkeley, The Center for Mind-Body Medicine, The Community Healing Network, The Dalai Lama Center for Ethics & Transformative Values @ MIT, Stir Fry Seminars, and Search Inside Yourself Leadership Institute (SIYLI). She was certified to teach 'Creativity in Business' through Stanford's Graduate School of Business & Insight/Out Collaborations and is a graduate from the HIVE Global Leaders program. Lakiba is currently a Trained Teacher for MBSR (Mindfulness Based Stress Reduction), Mindful Self-Compassion and Mind-Body Medicine. She holds a B.A. in Creative Arts, an M.A. in Organizational Development, and she graduated from the African American Leadership Institute at UCLA's Anderson School of Graduate Management. She is currently pursuing a Ph.D. in Psychology with specializations in Consciousness, Spirituality & Integrated Health, and Transformative Social Change.
Lakiba likes to attend live performances, likes to garden, watch documentaries, and has her own bookstore on Amazon: Lakibaz Books. She is currently working on the 2nd edition of her self-published book "Bread Crumbs from The Soul… Finding Your Way Back Home," which is a showcase featuring her original art, poetry, and autobiographical reflections. She has been a feature guest poet at the Museum of the African Diaspora (MOAD) in San Francisco and her art was most recently featured along with over fifty women at The Black Woman is God art exhibit at SomARTS, the African American Art & Cultural Center and San Francisco State.