Description
This presentation addresses the importance of self-compassion as a tool for promoting our own well-being. Research has shown that self-compassion boosts happiness, reduces both anxiety and depression, and actually improves our physical health. This workshop will cover tools that allow an individual to be more self-compassionate, loving, and kind to oneself, a practice often missing in our society today.

It will teach the following:

Definition of self-compassion
Why it is so difficult to be self-compassionate in our culture
How to defeat our inner critic, reframe our thoughts, and stop being so hard on ourselves
How to strengthen our inner voice and become more comfortable with difficult feelings
How to motivate ourselves to move forward in our lives with self-kindness rather than self-criticism
How mindfulness and gratitude enrich our lives
Additional tools to drive well being
This free event is sponsored by Maine Township's MaineStay Youth & Family Services and Chicago Behavioral Hospital. It is appropriate for social service professionals and includes 2.0 free CEUs for social workers, professional counselors, marriage and family therapists, psychologists, and nurses. Continental breakfast will be available from 8:30-9:00 AM. Advance registration is requested as seating for this event is limited.

We will be collecting donations at this event to support The Center of Concern's Caring for the Caregivers program. These senior companion volunteers are seniors that volunteer their time helping other seniors. Attendees are encouraged to bring any of the following items: Kleenex packs, hand sanitizer, toothbrush/toothpaste, Chapstick, new socks, throw blankets, crossword/word search/Sudoku puzzle books, adult coloring books and colored pencils, or gum/hard candy. The Center of Concern is a local nonprofit organization that provides housing solutions, support services and counseling for older adults, persons with disabilities and others in need, enabling them to live with dignity and independence.
About the Presenter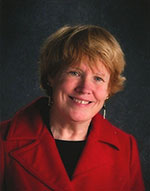 Dr. Liz Maloney
Dr. Liz Maloney, Psy.D. has over 40 years experience in the counseling and therapy field. She has a wide variety of experiences in the field including working in schools for 34 years with high risk children, adolescents, and families and teaching at the university level. She has a doctorate in psychology and has been a clinical supervisor for counselors working in school settings. She has conducted numerous presentations and seminars and maintains a private practice. And most importantly, she loves and has great passion for her work.


This program is recognized by IDFPR as providing CEUs for LPC/LCPC and LSW/LCSW under license number 159.001334, LMFT under license number 168.000223, LCP under license number 268.000070, and RN/LPN/APN under license number 236.000127.