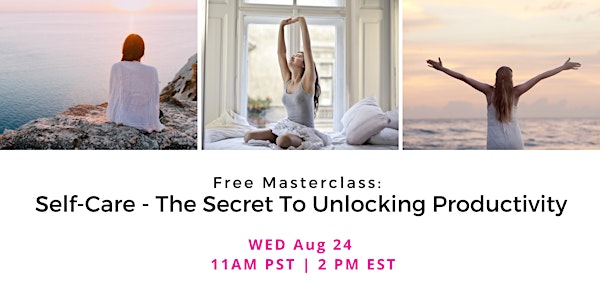 Self-Care - The Secret To Unlocking Productivity
Self-Care - The Secret To Unlocking Productivity
About this event
Most of us are paid and valued based on our productivity.
We want to be productive so that we can accomplish what we need to do and have lots of free time afterwards.
If this is you and you're a high achiever does this ring a bell...?
- You lack clarity and focus to manage your time and energy
- You're successful but feel stressed out
- You miss having YOU time but don't know how to fit it in anymore
Come join me in this masterclass to get your spark back!
In this self-care masterclass I'll be covering:
- the #1 non-negotiable you need to do everyday to 10X your energy levels
- identifying ways you self-sabotage your productivity unknowingly
- how to decrease stress while increasing productivity
- unique ways to recharge so you have more energy at the end of everyday
At the end there will be Q&A and guidance around how to create your own sustainable routine to boost productivity and prevent burn out.