Location
The Space at Norches
Hull Street Rd
North Chesterfield, VA 23235
Because Self-Care is NOT selfish!
About this event
Love & Intimacy 101 and Own Your Ish Sis! is so excited to welcome Self-Care Sundays to the ladies of Richmond, VA and our neighboring sisters. Beginning Sunday July 10th and every other Sunday, we will learn about and actively practice a variety of Self-Care activities.
As a mother, wife, educator and serial entrepreneur, I had to learn balance. That balance is supported by the practice of routine Self-Care. Understanding that Self-Care looks and feels different to all of us, I wanted to give the opportunity to explore them all! I also wanted to provide a safe space to meet other amazing women while exploring more about yourself.
Throughout this Summer/Fall series you will be introduced to some awesomely talented and informative professionals. Each Self-Care Sunday session will include refreshments, journal time, optional activities and self-care theme. We'll have special guests drop in on certain dates! If you are planning to attend three or more Self-Care Sunday sessions, see the multi-session discount pricing.
Check out themes and featured hosts below.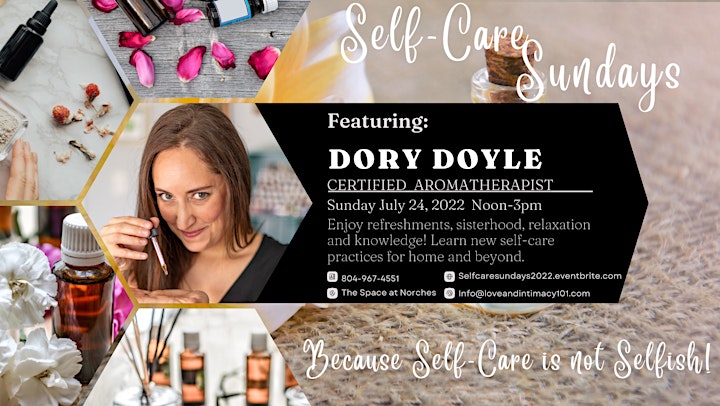 This week we will focus on mind clearing through aromatherapy. Enjoy the special work of our host and more!
Meet your July 24th featured Self-Care Sunday host....
Dory Doyle from The Oil Spot RVA is a certified aromatherapist and licensed spiritual health coach, specializing in helping you to clear out the emotional or physical blocks that are standing in the way of your body's ability to heal. Through hands-on techniques like the Raindrop and Neuro Auricular Techniques, empowering breathwork sessions with specialized essential oils, or emotional clearing techniques like Emotion Code, Dory specializes each session to match with your needs in that moment in time.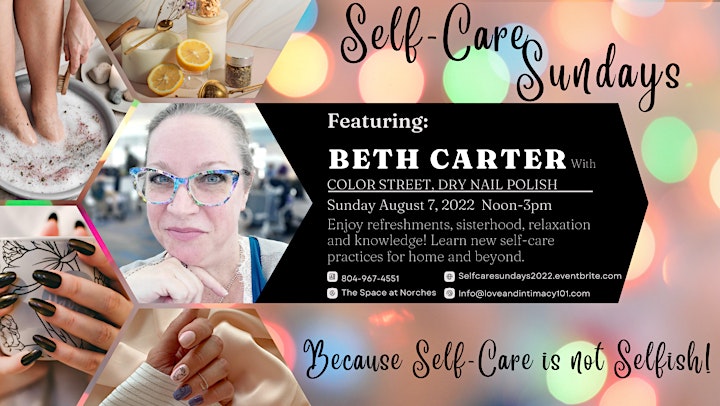 She's BBBBAACCKKK!
This week we will focus on hand/nail care! Enjoy a mini hand spa experience and more!
Meet your August 7th featured Self-Care Sunday host....
Beth Carter is a mom (of 3 grown daughters and 2 furbabies), an executive assistant and an entrepreneur. She has built a thriving network marketing business with Color Street, dry nail polish. Not only is she climbing the ranks of leadership, but she's already earned 1 all-inclusive vacation in Punta Cana, and is working towards the next!
As a woman wearing all of those hats and more, Beth knows what self-care looks like and how important it truly is.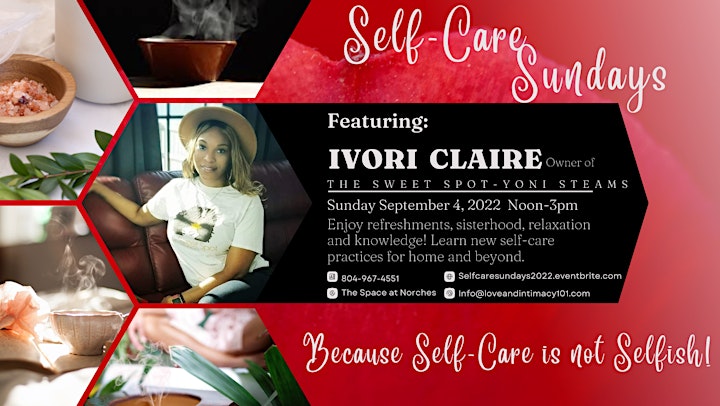 This week we will focus on womb/vaginal care!
Meet your September 4th featured Self-Care Sunday host....
Meet the owner, Ivori Locke, of The Sweet Spot-Yoni Steams!! She is a strong believer in self-care and establishing inner peace within yourself. The Sweet Spot thrives to create unorthodox healing space and experience for women in rediscovering their G-spot (God spot) through mindful meditation, Self-care, Awareness, and prayer.