Self-Care Resiliency COVID19: Helping Professionals' Online Wellness Groups
Sales Have Ended
Ticket sales have ended
Thank you for your interest in this Helping Professionals' Group. If you would like, add your name to the waiting list. More dates are being added. If you would like to be informed contact me. Thank you. Irene irene@irenegreene.com
Event Information
Refund policy
Refunds up to 1 day before event
Eventbrite's fee is nonrefundable.
Sales Have Ended
Ticket sales have ended
Thank you for your interest in this Helping Professionals' Group. If you would like, add your name to the waiting list. More dates are being added. If you would like to be informed contact me. Thank you. Irene irene@irenegreene.com
The Coronavirus has forever changed our lives and work as we have known it. This is a multi-layered traumatic time. Self-care is essential.
About this event
About this Event . NO ONE IS TURNED AWAY FOR INABILITY TO PAY.
Self-Care and Resiliency During COVID-19 and Beyond: Helping Professionals' Online Wellness Groups
One of the (fewer) things we do have some control over right now is how well we take care of ourselves. Any opportunities we have to safely connect with others are invaluable.
These psycho-educational coaching wellness groups are offered in a rotating schedule. When a 5-week session ends, the current members have the option to re-commit and continue, or end participation. As spots become available, new members may be added for the next 5-week rotation. | I also offer live online wellness group meetings to organizations and agencies and their staff.
As helping professionals, we are adjusting to new work routines, figuring out confidential office spaces in our homes, and making the transition to ethical telehealth systems. We are helping clients adjust to different ways of connecting with us and we with them. We are trying to calm and reassure clients as they navigate their feelings and challenges in these trying times of social distancing, shelter-in-place and the unknown. We are needing to get creative in our searches for scarcer services for our clients.
Whether in private practice or working within an agency, whether in Minneapolis or another part of the state, country or world, we are hoping our clients will be able to continue accessing and receiving the care they need. We are hoping they will stay healthy. We know some of them and their family members will fall ill, or already have, or worse.
Personally, we, just like our clients, are trying to adjust to this seemingly daily changing "new normal" of ambiguity that is driven by COVID-19. We have our own fears, worries and anxieties about the psychological and emotional wellness, financial security, and physical health of ourselves, our families, our colleagues, our communities, and the state of the world. We will know, if we don't already, someone who will fall ill, or already has, or worse.
As whole beings, especially during such uncertain times, it may become increasingly more exhausting for us to try to authentically compartmentalize our personal worries and fears from our professional stressors. Now more than ever, our collective risk of burnout, vicarious trauma, and compassion fatigue may be at an all-time high.
We will need extra fortification and intention to balance the traumatic and uncertain nature of these times, and also maintaining our professional and personal wellness.
Through this surreal long haul, we want to remain psychologically, emotionally and physically resilient.
We want to provide ethical and good service that adjusts to whatever challenges are yet to come.
We want to proactively minimize our professional loneliness and isolation.
We want to maintain compassionate and realistic expectations for ourselves, and honor our limitations and needs for replenishment.
We want to remain connected to our clients, ourselves, our family, our friends and our communities.
Caring for ourselves in a sustainable way means that we need to heed the advice we give to our clients every day.
Our needs are important.
Our self-care is essential.
It is imperative we take good, consistent, intentional care of ourselves.
It is crucial we stay connected to each other.
The specifics of these psycho-educational coaching and wellness groups:
These groups are an intentional opportunity for mental health and social service providers to unite our strengths, strategies and resources; receive coaching and consultation; share our concerns and wisdom, and simply stay connected.
Join this live 5-week online psycho-educational and coaching wellness group. It is offered in a rotating schedule. Members financially commit to 5 sessions. When a 5-week session ends, the current members have the option to re-commit and continue, or end participation. As spots become available, new members may be added for the next 5-week rotation.
Continuing Education Units (CEUs): In the USA, depending on your job or licensing requirements, you may be able to fulfill CEU credit requirements. Because these groups will include a combination of professional psycho-education, training, helping professional self-care strategy-building, ethics, and consultation, as well as support, it is likely that you may be able to receive CEU credits. These five 90-minute meetings could equal up to 7.50 Continuing Education Units (CEUs). Check with your state's board to assure CEU coverage. At the end of your five-week rotation, I will provide a certificate of completion for submission to your board. (I am not knowledgeable about CEUs in other countries. If CEUs are a possibility, I am happy to work with you and provide the required paperwork.)
Topics & Themes:
Mutually-support each other
Receive coaching and strategies to stay emotionally and physically resilient
Obtain psycho-education about stress, compassion fatigue, burnout and vicarious trauma symptoms and preventative measures
Learn how to identify and sooth our own moral injury
Identify professional boundaries and ethics when practicing from home
Receive consultation about telehealth ethical dilemmas
Exchange information about COVID-19, telehealth, shelter-in-place, etc.
Balance Work-Family-Self when working from home
Practice letting go of our perfectionism and what we can not control
Address our anxiety and worry about the uncertainty of the times
Identify fears around reduced income and loved ones getting sick
Come to terms with the guilt we may feel from not helping clients enough
Express the grief and loss from illness and death of clients, colleagues, community, family
Celebrate the positives of working at home
Gain strength and solace from connecting with others
Takeaways:
Concrete strategies for working at home or as an "essential" provider
Complete your "COVID-19 Impact Health & Wellness Assessment" (Designed by Irene.)
Gain resource lists, worksheets and handouts
I offer similar wellness group options to agencies and organizations: I also offer live online wellness group meetings to non-profit organizations and agencies and their staff. Contact me, Irene Greene, for more info.
When: The first 5-week rotation meets Mondays, April 6 - May 4 @ 5-630pCST. (Link to register)
Additional 5-week rotations:
~ Monday, May 11- June 15, 2020 @ 5-630pCST (Link to register)
More dates will be scheduled through the spring and summer.
Fee includes all handouts, resources, and worksheets, CEUs where applicable, as well as your personal "COVID-19 Impact Health & Wellness Assessment".
Fee: No one is turned away for inability to pay!!! Welcome.
Fee people who can pay: $40-$60 session . Whole series = $200 - $300.
Each rotation is limited to 10-12 people per group. If a group fills, add your name to the waiting list and you will be contacted if a space becomes available and notified of the upcoming rotation dates.
Logistics: We will use ZoomPro. Following registration and receipt of payment, Irene will email you the ZoomPro meeting links and the forms, handouts and assessments.
Register and pay through Eventbrite. To avoid Eventbrite's handling fees, contact Irene for the Coupon Code and then make arrangements with her to pay directly via ACH Bank Check.
About the Facilitator: Irene Greene MSED (of Greene Growth & Training in Minneapolis) has over 30 years as a group facilitator, counselor, wellness coach, educator and professional consultant. Her specialty areas include trauma-informed care, addressing and curbing compassion fatigue, oppression fatigue, political trauma stress, burnout and stress.
Irene approaches all of her work from a holistic backdrop that adheres to a fundamental consciousness for how the layers of cultural and systematic oppression and trauma influence personal, interpersonal and community health. And, conversely, how healing, empowerment, wellness and wellbeing are nurtured by human connection that is grounded in humanity, justice and equity (More information below.)
Contact Irene at irene@irenegreene.com | irenegreene.com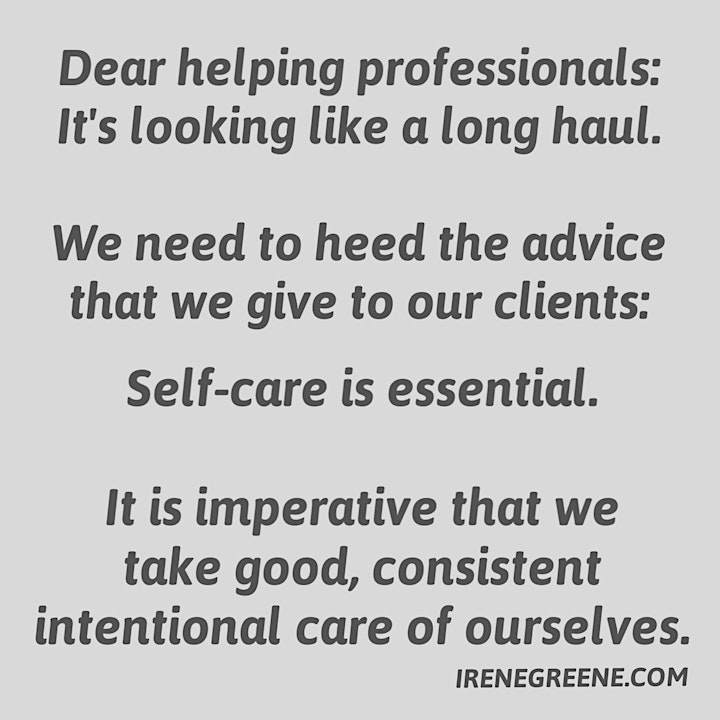 Date and time
Location
Refund policy
Refunds up to 1 day before event
Eventbrite's fee is nonrefundable.