Self Care, Coping and Managing Stress During COVID
About this event
Are you interested in learning more about Self Care while Coping during the COVID 19 pandemic? Join Sushanna Williams and NY Project Hope Crisis Counselors who are Mental Health trained and certified. Each week, facilitators will focus on one aspect of the Self Care, Mental Health, Wellness, Stress management, coping strategies, breathing techniques and provide and open ear, support, encouragement, and opportunities for interaction for participants as they find new ways towards wellness.
Our sessions are free, confidential, and anonymous, so anyone can feel comfortable to come.
Our Audience is not limited to Students, Essential Care Workers, Single Mothers, Teachers, School Faculty, Senior Citizens, Health Care Workers, Mental Health Population, Small Business Owners, Individuals with Disabilities, etc.
To register for this workshop, select "Select A Date" to choose the day you would like to attend.
• Eventbrite will then send you an email confirmation. If you don't get the email confirmation, check your promotions, spam, and junk folders.
In your confirmation email select "View the Event" and you will be given the Zoom link for the event.
Contact : sushanna.williams@nhcc.us or via-phone 1-917-361-9187, if you have any questions. We are more than happy to assist you.
Join Zoom Meeting
https://us05web.zoom.us/j/86260733508?pwd=cTRtbUNPclFkK05sNUt1Qmp2b1FRdz09
Meeting ID: 862 6073 3508Passcode: ye9tWP
We Look Forward to See You Attend this Event.
NY Project Hope is A program of the NYS Office of Mental Health.
Funded by the Federal Emergency Management Agency
Administered by the Substance Abuse and Mental Health Services Administration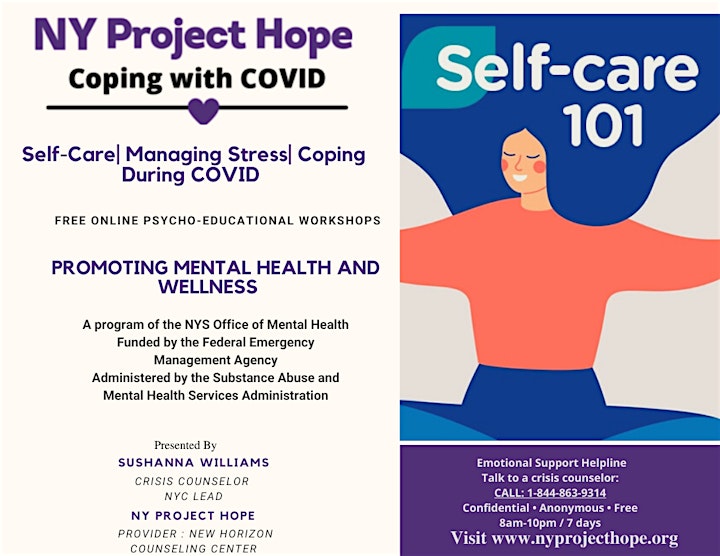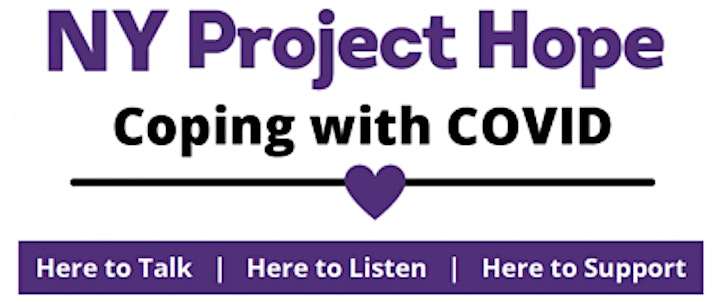 Organizer of Self-Care | Managing Stress | During COVID