Location
Simpson Bay Resort and Marina
Billy Folly Rd 37
Philipsburg, Sint Maarten No code
Sint Maarten (Dutch part)
1st Annual Selfcare is the New Sexy Retreat that will be held in beautiful island of St. Maarten Sept 29-Oct 3, 2022.
About this event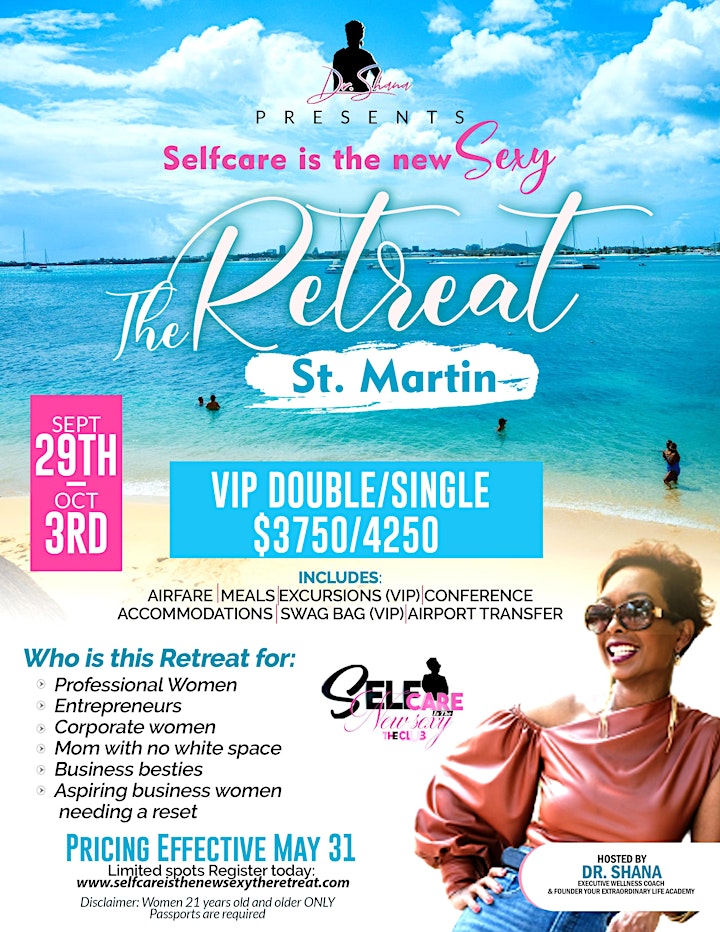 Can you say relaxation? Can you say Calgon take me away! 
It's time sis for you to finally stop pouring into everyone else and not yourself!! It's time sis for you to take care of you for once. It's time to stop saying--I don't have time to take care of me!
I know you are a beast at your business. I know you have everyone handled around you! But its time for you to fill your cup so that you can serve from your overflow! Your saucerlife awaits you on the sandy beaches of St. Maarten where you will connect to self & source, reprioritize your life by making self care a #1 must have, reimagine your businesses/career strategy so that it no longer over whelms you, design a plan that you can execute when you get home that will amplify your outcomes and have you feeling so confident & powerful you'll get your entire SEXY back!
It's time sis! So join me!
General Admission: Double $2750/Single $3000-- SOLD OUT as of 5/30/22
VIP admission: Double $3750/Single $4250
Reserve your seat with a 50% minimum deposit after July 1. 
Final payments due August 15th
Fees will be added to your order. To avoid fees and pay with alternative methods call or text 281-892-2380 for details. 
**All packages include Airfare**
Hear from some amazing speakers including (not a complete list):
Khaliah Guillory, Nap Bar
Dr. Jessica Mosely
Jenequa Eldridge
Tracie L James
Grace L Holden
Anya Hildreth
Dr. Toscha Dickerson
Shadawn McCants
Carmen Herrerra
Daphene Booker-Harris
Patricia Berry Jones