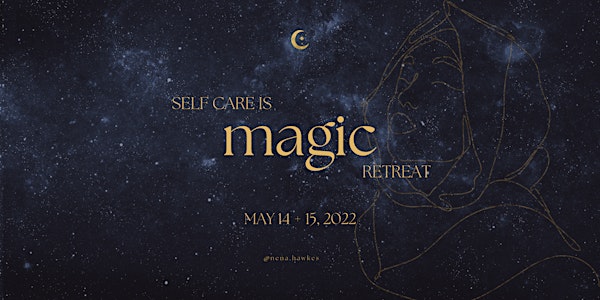 Self Care is Magic Virtual Retreat | May 2022
Two days of purposeful sessions designed to invite wellness and abundance into every aspect of your life.
About this event
What if self care holds the transformative power you need to step into the life of your dreams? Join us for two magical days of purposeful sessions designed to invite wellness and abundance into every aspect of your life.
Session Lineup:
The Power of Coming Home to Yourself with Michelle Saya | Saturday May 14 @ 11:00 am CST : What does it mean to be in full embodiment of your self-worth? In this workshop, we'll be breaking the barriers of our disempowering beliefs with a guided visualization & journaling experience on what it means to come home to yourself.
S.O.S. Session to Shift Our States with Julie Lowe | Saturday May 14 @ 1:00 pm CST : When we're up to big things in the world, we often push ourselves to our limits (and beyond). The ongoing stress can cause our bodies to get stuck in the fight or flight state. In this session, I will show you how to shift your state out of fight/flight and into a healthier state that will allow you to thrive, not just survive.
Self-Care for Happy Hormones & a Life in Flow with Sarah Blake | Saturday May 14 @ 3:00 pm CST : If you've ever experienced PMS, painful periods, or other hormonal issues, this session is for you. Sarah will discuss the basics of self-care for a happy, healthy cycle. She will also share how to harness the power of your cycle phases for more flow in your life and work.
Divine Manifesting with V. Readus | Saturday May 14 @ 5:00 pm CST : Join V., The Tarot BFF & Pleasure + Play Coach for a fun and inspiring masterclass on Mastering Your Destiny! Learn how to use the predictive power of tarot to cast your manifestations into the Universe and create a "step ladder" to climb to keep you stable and secure on your road to success! All you need is an open mind, your deepest desires, and a tarot deck; handouts will be available.
Self-Empathy is Key to Self-Care with Jodi Woollam | Sunday May 15 @ 11:00 am CST : Sustainable self-care is anchored in self-awareness that is coupled by reflection and sweet self-understanding. Join Jodi Woollam in this session, learn about the role that core needs (and their indicators: emotions and thoughts) play in identifying what is important and the root of an issue – as well as practice how self-empathy and understanding can transform, bring ease, clarity on what to do next.
You are the Masterpiece with Rebekah Alexander | Sunday May 15 @ 1:00 pm CST : An introduction to art + creativity for healing, you'll be guided on an inner journey to meet your creative muse and experience The Elements of Art to immerse in the insight of mind-body practices. It is recommended (and optional) to bring a journal or paper and something to write with during reflection.
Nourishment Beyond Nutrition with Nena Hawkes | Sunday May 15 @ 3:00 pm CST : When past experiences and trauma are keeping us sick we need to stop focusing on willpower, and start to reframe wellness to align with caring for our whole selves. Join Nena for an immersive experience designed to nourish you from the inside out.
Design A Self-Care System That Sticks with Meg Bonhomme | Sunday May 15 @ 5:00 pm CST : In this session, you'll get clear on how to ditch the "bubble baths and face masks" model of self care and discover a self care system that works for Y-O-U, discover what's getting in the way of you feeling calm, inspired, and joyful, and learn the EXACT steps you must take to set boundaries over your time. PLUS you'll learn exactly how to fit self care into ANY type of schedule even if you only have 5 minutes during your lunch break!
BONUS SESSION : Transform your Relationship with Money with Helena Lucia | Sunday May 15 @ 7:00 pm CST : In this bonus session we will explore why the root of your relationship with money has nothing to do with your ability to do the math, and why healing the money wound is not just about mindset, how to connect the dots between your childhood experiences and your relationship with money (and what science can teach us about that), and what you can do to start healing and caring for yourself right where you are.
About our presenters:
Michelle Saya (she/her) is an intuitive business coach & psychological astrologer helping soulprenuers create a prosperous business by unlocking the energetic codes to their natal birth chart. Michelle helps her clients ditch the one-size-fits all cookie cutter sales/marketing tactics and decode what makes them stand out as a David amongst Goliaths in how they share their work online.
Julie Lowe (she/her) is a certified Life & Success Coach and the founder of Socially Aligned, offering high-achieving women simple solutions to reduce stress before they burn out or burn it all down. She has helped thousands of entrepreneurs grow their businesses over the past decade.
Julie specializes in teaching nervous system regulation, stress management, self-care practices, and subconscious reprogramming to women so they can thrive in both life and business. Heartbroken by how prevalent stress and burnout are amongst high-achieving women, she became obsessed with helping women create holistic mindset and somatic practices.
Julie has been published on HuffPost and Highly Sensitive Refuge and featured on Female Entrepreneur Association, as well as podcasts such as the Business Building Rockstars Show, Secrets to Her Success, The Better You Network Radio Show, Agents of Change, The Women's Side Hustle Society, The Tabwoo, and was a speaker at MogulCon.
Sarah Blake (she/her) is a transformation coach and cyclical living guide who supports entrepreneurs and professional women shift from hustle into flow by harnessing body-based wisdom, the menstrual cycle, and subconscious reprogramming tools. Sarah is passionate about helping people recover from burnout and design a life of exquisite nourishment and freedom.
V. Readus (she/her) is the Tarot BFF behind RedLight Readings and a Pleasure + Play Coach! Delivering wisdom and insight through "straight-shot, no chaser" readings, her BFF clientele likens her reading style to that of a best friend - down to earth and practical, infused with humor and empowering tough love. As an internationally known Tarot Reader, Intuitive Counselor, and Teacher, V., has taught various classes on Tarot and Lenormand to students around the world and reads professionally at the Boston Tea Room in Ferndale, MI. She is social media savvy and LOVES to hang out on Instagram, where she hosts a weekly "power hour" called "Turnt Tea - Wellness Wednesdays".
Jodi Woollam (she/her) is passionate about fostering the development of skills in presence, empathy, and honesty with compassionate and healthy boundaries. Jodi has extensive background in intra-personal and inter-personal communications, project management, group and process facilitation, as well as over 25 years in corporate, media and strategic communications. With close to three decades in the vocation of dramatic arts, Jodi is also the Creation Director of Treeline Theatre which produces theatre by trusting and working with the benevolence of creative impulses. Jodi is a certified Integral Master Coach through Integral Coaching Canada, has a degree in Public Relations from Mount Saint Vincent University.
Rebekah Alexander (she/her) is a visual storyteller. Embodying art as a modality for healing. She is passionate about the power of creativity and owner of The Deconstruct Co., a sacred space for you to connect with meaning-makers, explore expressions, and awaken your intuitive artist within for well-being.
Nena Hawkes (she/her) is an embodied wellness coach and intuitive guide. What started as a personal journey to heal her chronic illness became a passion for helping people reframe the way they look at wellness, uncover and heal the past experiences and traumas that have settled comfortably into their body, and recode their limiting beliefs.
Nena is the founder of the Self Care is Magic virtual retreat and maintains a coaching practice where she utilizes her training in theatre and holistic nutrition to support clients on their journey using her unique, whole person approach.
Nena lives on Treaty 4 territory with her three children. When she finds a rare moment to herself, she enjoys playing (and collecting) board games, exploring the beauty of Saskatchewan, and instigating spontaneous kitchen dance parties.
Meg Bonhomme (she/her) : Professor, Insight Timer meditation teacher, Lululemon ambassador, and lovely human, Meghan has a mission to help you plan + prioritize your self care so you can feel lovely, see lovely, and do lovely things in the world. She founded an online school to help you learn to self-heal in a space that's safe. Whether it's Meghan's weekly self care club that supports entrepreneurs with accountability or her 8 week signature course that dives deep into the mindfulness practices + mindset techniques behind reaching your potential, Meghan teaches you how to heal and expand by making self care your superpower.
Helena Lucia (she/her), founder and CEO of SISU Journey, helps conscious entrepreneurs banish burnout, heal their money history, and unlock their money blocks so they can live their full financial potential and focus on solutions for the world.
After going from financial advisor to senior software engineer to trauma-informed money coach, speaker, and podcast host, Helena uses her personal journey to create experiences that support deep healing through nervous system regulation, epigenetics, energetics, and subconscious reprogramming. Now, as the Founder of SISU Journey, she teaches that money is so much more than math and healing the money wound is so much more than mindset work.
Helena is the host of the SISU Journey podcast: Science and Stories of Resilience, which was created in 2021 to help heal a wounded collective by telling diverse stories. For her expertise she's been featured on The Art of Online Business podcast, Pause on the Play podcast, Whatever Works podcast, Bursting with Happiness podcast, and Intuitive Intelligence podcast.