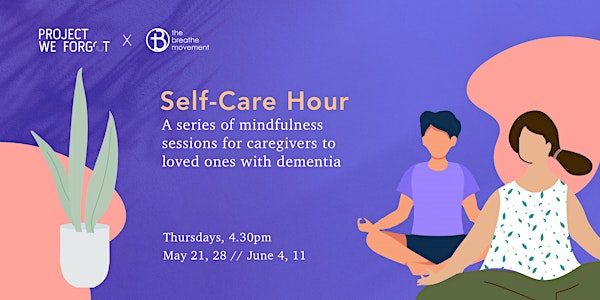 Self-Care Hour: Mindfulness Sessions for Caregivers to Persons with Dementi...
Description
Join us for our weekly 'Self-Care Hour' session for caregivers to persons with dementia. Focus and reconnect with your inner self.


The current Covid-19 crisis has introduced new challenges for many of us. Caregivers now find themselves working from home and caring for both children and a parent or spouse living with dementia - all while being isolated from extended family, friends, and resources like in-home companion care and adult day and activity centres. This can leave many individuals feeling stuck and isolated.


Weekly Self-Care Hour
Our weekly 'Self-Care Hour' sessions will allow us to take a breather from our busy work and caregiving schedules. We will learn mindfulness techniques such as movement and breathing exercises; providing us with the opportunity to focus entirely on our personal mental, emotional and physical well-being. Taking time to care for ourselves is essential as it rejuvenates and empowers us to keep up with any challenges that might come our way.
Session 1 - 21 May: Being Grounded and Calm

Session 2 - 28 May: Finding Balance and Getting Unstuck

Session 3 - 04 June: Exploring Boundaries and Self-Love

Session 4 - 11 June: Experiencing the Beauty in Imperfection


About the Instructor & Facilitator

Cheryl Tan
Cheryl is an imperfect human with an infectious laugh. She is the Festival Director of the Singapore Mental Health Film Festival, a ground-up initiative that seeks to challenge the social stigma that is attached to having a mental illness, and the discrimination faced by those affected by it. She is also the Founder of The Breathe Movement and a 2019 Obama Leader: Asia-Pacific.

Melissa Chan
Melissa is the founder of Project We Forgot (PWF), a community for caregivers to persons with dementia that provides peer support, knowledge resources, and access to relevant services in the journey of caring. Melissa also leads the steering committee for the World Young Leaders in Dementia (WYLD) Network, driving the development of innovative dementia solutions across disciplines and borders.
---
Sessions are free. Please note to register for the date based on the sessions you'd like to attend. You will receive confirmation and instructions on how to access the digital Self-Care Hour sessions.
---
Disclaimer: Opinions expressed through the mindfulness sessions are independent of Project We Forgot and The Breathe Movement (Organisers). Organisers are not responsible for and do not endorse any of the opinions expressed during the sessions. The information contained during the session is not intended nor implied to be a substitute for professional advice, medical or otherwise. You assume full responsibility for how you choose to use information obtained from the sessions. The organisers recommend that you always seek the advice of a qualified healthcare provider about any medical or mental health issues you may have.