Event Information
Refund Policy
Refunds up to 7 days before event
Description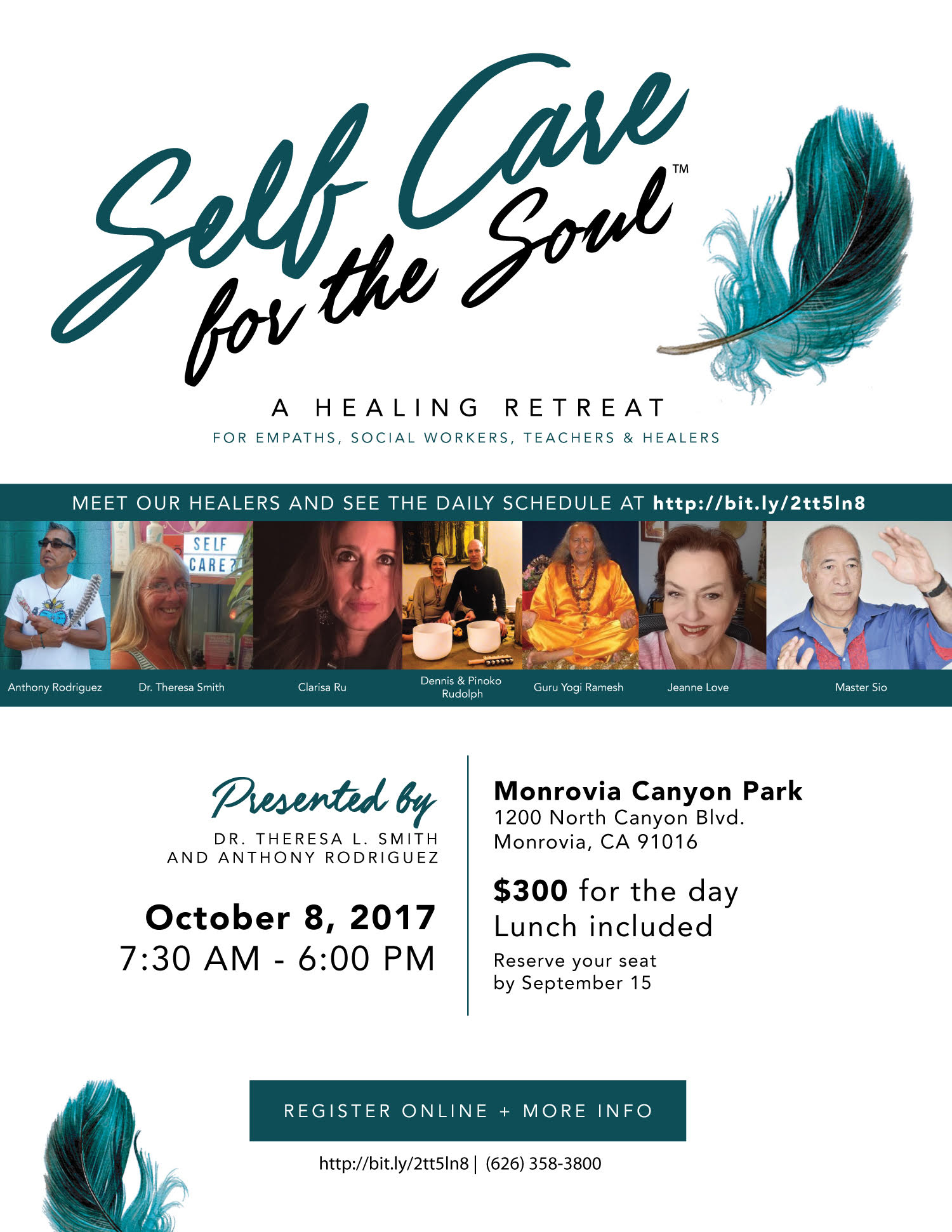 Imagine choosing to take a day to fill your soul, to fill your body, to fill your spirit! With yoga, Stick Yoga, Laughing Yoga, Drumming, Sound healing, and a Master Sio healing. Scumptious healthy food served. All in a rustic cabin in nature. Yummmmm.......
Join us and give yourself the gift of Self-Care for the Soul. One day just for you!
Anthony J, Rodriguez, Walking Crow is a Transformational Energy Healing Practitioner and Medicine Man with an emphasis on working with those in recovery from addiction. His work in private practice includes workshops that teach others how to be in their bodies and come to peace with life's traumas through the Chakra system and subtle energy.
As a Shamanic drummer Anthony uses a 27 inch Pow-wow Drum to help others journey into other dimensions to find their spirit guides, spirit animals, gifts, healings or to just find answers in an organic way. He also hosts the Transformational Sacred Drum Medicine Show, weekly on blog talk radio, and has created Men in Self-Care (Misc) from his own life experiences and healing journey. He facilitates this group and helps men in a sacred and safe non-judgmental environment, find their voice and have a platform to speak on difficult issues or any subject that men are affected by in daily life, past traumas or triumphs.
anthony@sacreddrummedicine.com sacreddrum24.weebly.com
Dr. Theresa L. Smith has been a chiropractor for 20 years and the founder of Hands 2 Health Wellness Center. She is dedicated to coaching people in their pursuit of health (and happiness). By using various tools, these goals can be met. Dr. Theresa utilizes PEMF therapy to oxygenate and energize cells, thereby allowing the body to heal. Dr. Theresa also does PEMF therapy, Reiki and myofascial release on horses. Dr. Theresa is a Functional Diagnostic Medicine Practitioner, Stick Yoga teacher and a gentle, non-force chiropractor. Another wonderful tool Dr. Theresa uses is Access Bars® which removes files that no longer serve you.
For more info, go to www.hands2health.com or call (626)358-3800.
Iyashirochi Sound Resonance (Dennis & Yumiko)
Joy and healing energy flow through Yumiko's sound bath sessions. Yumiko plays soothingly haunting crystal bowls, Tibetan bowls, bells, drums and chimes, while focusing lifeforce energy with carefully chosen crystals and essential oils. The results from such a session include relaxation, uplifted mood, and often spiritual healing which can create emotional and physical results unique to each person.
In addition, rhythm will take us to the twilight realms of Faerie, where we can connect and interact with our friends and allies in those realms...
Yumiko is the founder of Iyashirochi Sound Resonance,, leading ambient musical and energetic healing experiences for individuals and groups. ("Iyashirochi" means "Sacred Place" in Japanese.) Her sound moves people toward inner peace. Private sound resonance sessions are available at Waking Universe in Upland, CA.
Dennis George Rudolph is a Faery Initiate who has been working directly with the Other Realms for more than three decades. He presently works as an intuitive consultant as well as teaching Tarot Magick and Faerie Connection.
Find Iyashirochi Sound Resonance on Facebook!
Master Sio's signature group healing session will be included, free.
Normally, his group healing session costs $40.00 per person in his office.
Everyone's experience is different but most people will feel the classic signs of Spiritual/Kundalini Awakening – tingling, floating or heavy sensations, temperature changes, images, colors, blinding white light, etc. Healings range from subtle to dramatic, and are always positive.
**** The sessions were incredible and left me feeling invigorated and happy. My asthma had been bothering me. After the session I was able to breathe easier. I recommend Master Sio highly without reservation. He is simply one of the most powerful energy healers I've ever met. ~~~ Simmi Goyle, M.D.
Master Sio practices in Los Angeles at the Pacific West Medical Center, where he sees local clients and others who travel to see him from as far away as Europe, Australia, South Africa and all over the USA.
He offers private appointments, group healing events and long distance sessions via phone, Skype or webinar format.
For more info on Master Sio:
mastersio@mastersio.com,
ph: 424 744 6439 (Los Angeles, USA)
Guru Yogi Ramesh (The Laughing Yogi) began practicing Yoga at the age of five and has been practicing everyday since. He's the master of Body, Mind & Soul. He is a member of the Yoga Alliance, and the founder of Universal Yoga (a non-profit organization).
Yogi teaches Laughing Yoga, practiced by Yogi's for over 5,000 years. Modern research explains why laughing pumps pain-relieving mood-enhancing endorphins into the blood stream, while reducing stress-related toxins. Laughing Yoga also increases the lung capacity; improves circulation, reduces menstrual pain and insomnia.
Jeanne Love, Butterfly Woman Wisdom
Raised as a Quaker, educated at the University of the Pacific and Whittier College, Jeanne Love speaks and lives her training of peaceful co-existence. Feeling the presence of spirit as a very young child, Jeanne has spent her life seeking to know GOD; to understand this earth world, as well as to help herself and others manifest the flow of spiritual balance and expression of God's Love and Grace.
Jeanne has been studied by scientists in Palo Alto, CA, working on the phenomenon of channeling and subsequently written about in Jon Klimo's book: Channeling. She has participated in Native American ceremonies, written about the passages of those who have left this earth world, written songs to promote healing and awakening, held numerous workshops, private sessions and lectures to promote the awakening of consciousness to its higher purpose and potential. She is international in scope as she has worked in Europe, Japan and Canada.
Through her many and varied experiences Jeanne has remained true to her Quaker roots: that of God is within us all. Ms. Love is now moving forward with her latest offerings for spiritual mastery, through the use of various spiritual tools such as EFT and the Ho'oponopono. More importantly she has developed a specific set of tools to transform the energy systems of body, mind and soul…releasing past trauma, suffering and deep seeded concerns which seem to plague so many of us in this challenging world.
In Jeanne's own words: "There is nothing too big or small which cannot be overcome by the gentle willingness of one's spirit to seek understanding, guidance and a pure heart. It is all about the greatest power we have to claim our healing and in doing so eliminate the power of judgment, turning instead to the power of unconditional Love and Forgiveness. To live an inspired life one must release all that no longer serves our highest good…forgiving and releasing all the past which has captured us, keeping us prisoners of our own making. Through the Power of Love all things are possible."
Clarisa Ru, RYT-200, is the founder of Greenheart Yoga & Meditation Center in San Marino, California. With over 2 decades of practice and nearly 1O years of teaching she considers herself a yogaguide. It is her passion and her pleasure to introduce individuals to the many benefits of living "la vida yoga." Certified in Hatha and Therapeutic Yoga, Clarisa's teaching emphasizes the physical, emotional and spiritually healing aspects of the practice. She shares her enthusiasm for constantly reaching for your highest self and living your best life through her individual and group classes.
Date and Time
Location
Refund Policy
Refunds up to 7 days before event