Event Information
Location
RSVP FOR DIAL-IN INFORMATION
Conference Call
Description
How do you preserve your "magic" while caring for and empowering others?
With summer in full swing, we're checking in CaShawn Thompson, creator of BlackGirlMagic, about her self-care situation and how she prioritizes her wellness as a caregiver and while celebrating the accomplishments and beauty of Black women through speaking, writing, and advocacy.
About CaShawn:
CaShawn believes in the phenomenal power and skill that Black women and girls possess. She knows that Black women are the original influencers of culture around the world. Black women and girls make everything or make everything better. Black Girl Magic and those from whence it comes deserve to be revered, celebrated, exalted and protected. This is the message that CaShawn wants to spread as an advocate through her blogging, speaking, as well as social media engagement and making and maintaining space for other women like herself.
For more information: selfcarecheckin.com/live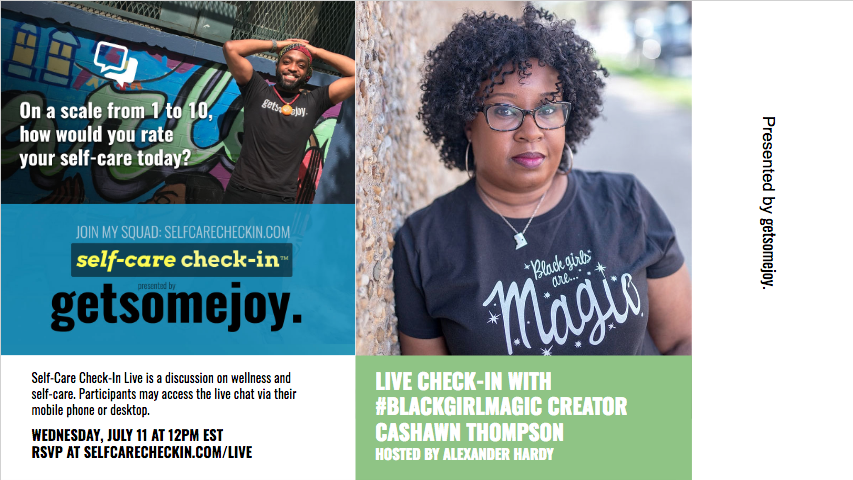 Date and time
Location
RSVP FOR DIAL-IN INFORMATION
Conference Call
Organizer of Self-Care Check-In Live with #BlackGirlMagic Creator CaShawn Thompson
getsomejoy is an online content network that promotes mental and emotional wellness among Black & Brown folks through fellowship opportunities, dynamic live events, powerful written and video content, wellness resources and education, and engagement through storytelling and therapeutic creative expression.