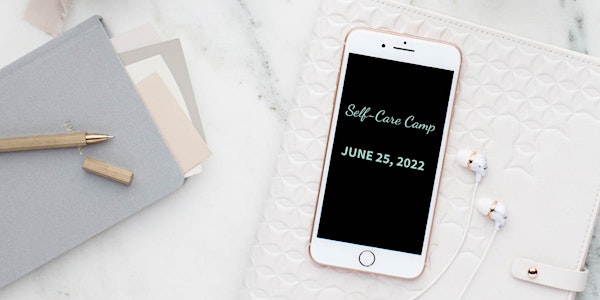 Self-Care Camp
Self-Care Camp is a retreat for ambitious, multipassionate women to take a break from #adulting for a day to nourish their minds and bodies.
About this event
Self-Care Camp is a retreat for ambitious, multipassionate womxn to take a break from #adulting for a day to nourish their minds and bodies while making meaningful connections.
This biannual event series reimagines all the things we loved about summer camp, field trips, earning Girl Scout badges, and YMCA programs.
Take a break from the stress of the daily grind and connect with other ambitious women who get it. Refuel your mind and body with three fun sessions: movement + wellness, productivity + mindset, and multipassionate lifestyle... plus games and giveaways!
The Details
DATE + TIME
Saturday, June 25, 2022
10am - 1:30pm ET
-
LOCATION
virtual (Zoom)
Can't attend live? No worries! The three main sessions (Movement + Wellness; Productivity + Mindset; Multipassionate Lifestyle) will be recorded and shared via email within 72 hours of the event.
Pro tip: Prioritize self-care and block off time to participate in the live workshops, games, and giveaways throughout the day.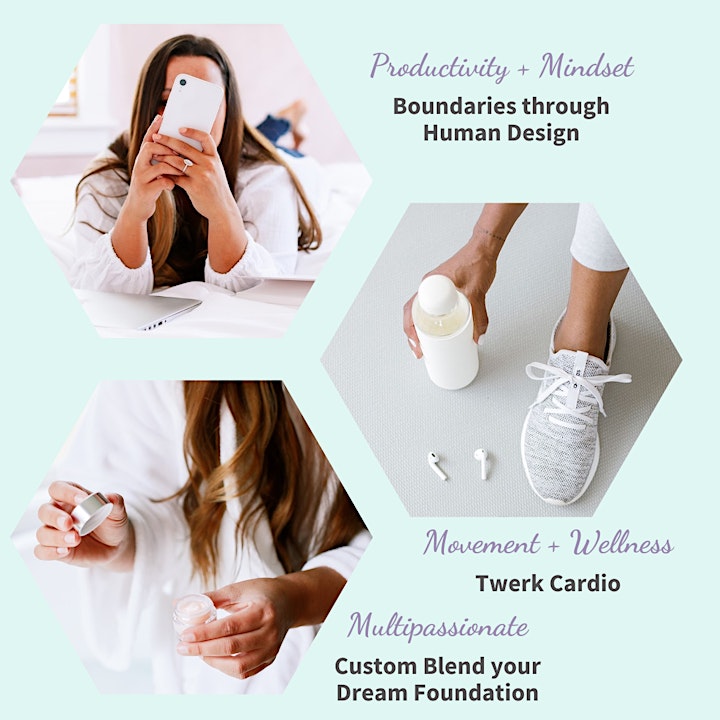 SCHEDULE
Welcome (10:00am ET / 9:00am CT)
-
Multipassionate Lifestyle (10:15am ET / 9:15am CT)
Custom Blend Your Dream Foundation with Renee Wadsworth @_findyourmotives @renee.wadsworth
In this session, Renee will help you feel more comfortable and confident in your skin. She believes makeup should be used to enhance the features we love about ourselves. That's why she began custom blending.
She will walk you through all the possibilities of a custom blend foundation. You can customize everything: shade, texture, coverage, and finish. The only limit is your imagination.
Renee is a beauty advisor and custom blend artist. Ever feel overwhelmed in a skincare aisle? Or struggle to find the right shade of foundation? Renee is your guide to feeling more comfortable and confident in your skin.
-
Productivity + Mindset (11:15am ET / 10:15am CT)
Boundaries through Human Design with Jennifer Greiner @thevitaljenn
Setting healthy boundaries with yourself & others is one the best ways to take care of yourself. Utilizing your Human Design can help you know where you may struggle with boundaries. In this workshop, we'll take a look at the Center that holds boundaries, how Energy Types relate to Boundaries & have questions to answer & reflect on to establish healthy boundaries in all your relationships!
Jennifer is a Vitality Coach with 10 years experience as a Mental Health Professional. She utilizes Human Design to help female entrepreneurs in relationships transform communication patterns for healthy boundaries & fulfilling relationships in all aspects of life.
-
Movement + Wellness (12:15pm ET / 11:15am CT)
Twerk Cardio with Latoya Alexander @toya.mepire
This dance fitness class features twerk cardio routines, strength training, and choreography. All dance levels are welcome!
Latoya has been an instructor of the Boss Chick Dance Workout® for the last 5 years. BCDW is a ladies only hip hop, dancehall, soca, and afrobeats twerkout rocking the dance fitness scene worldwide. The workout aims to empower all women to feel strong, confident, and sexy, inspire women to get fit, and provide a safe space for women to let loose.
-
Camp Bingo + Giveaways (1:00pm ET / 12:00pm CT)