Event Information
Refund policy
Refunds up to 1 day before event
Eventbrite's fee is nonrefundable.
Self-Care Camp is a retreat for ambitious, multipassionate women to take a break from #adulting for a day to nourish their minds and bodies.
About this event
Self-Care Camp is a retreat for ambitious, multipassionate women to take a break from #adulting for a day to nourish their minds and bodies while making meaningful connections.
This quarterly event series reimagines all the things we loved about summer camp, field trips, earning Girl Scout badges, and YMCA programs.
Take a break from the stress of the daily grind and connect with other ambitious women who get it. Refuel your mind and body with three fun sessions: movement + wellness, productivity + mindset, and multipassionate lifestyle... plus games and giveaways!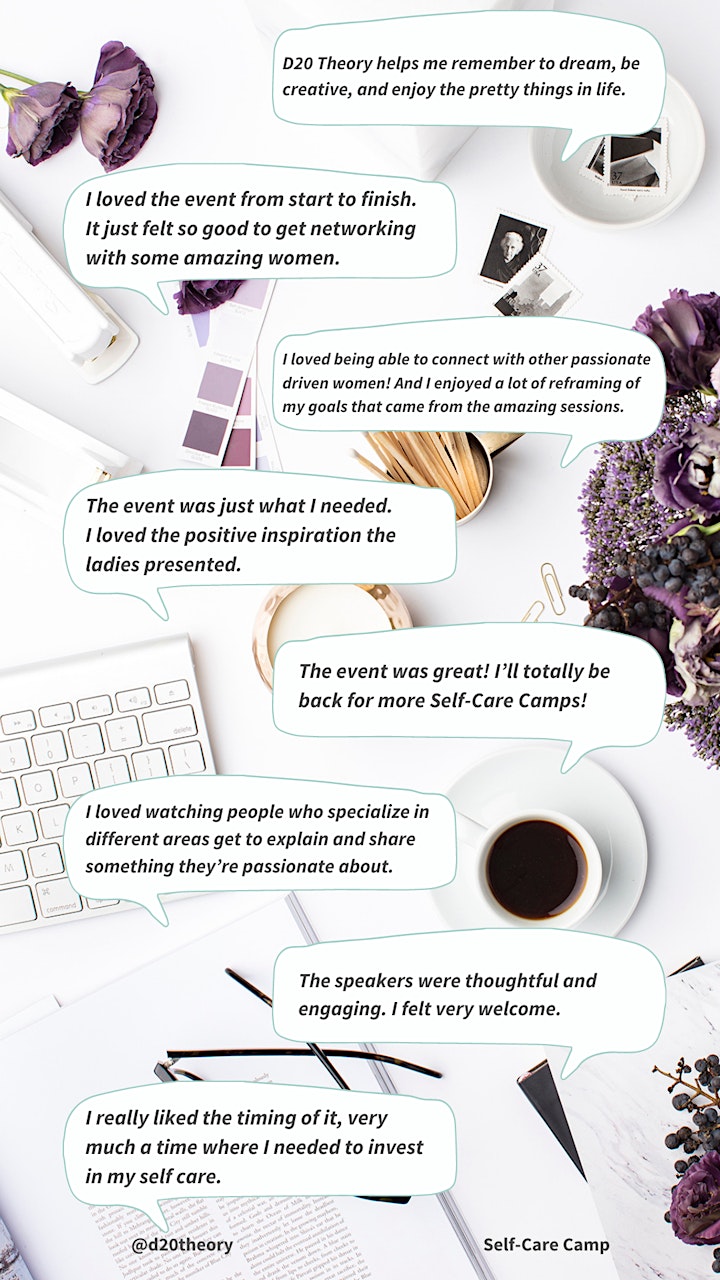 The Details
DATE + TIME
Sunday, January 2, 2022
10am - 1:30pm ET
-
LOCATION
virtual (Zoom)
Can't attend live? No worries! The three main sessions (Movement + Wellness; Productivity + Mindset; Multipassionate Lifestyle) will be recorded and shared via email within 72 hours of the event.
Pro tip: Prioritize self-care and block off time to participate in the live workshops, games, and giveaways throughout the day.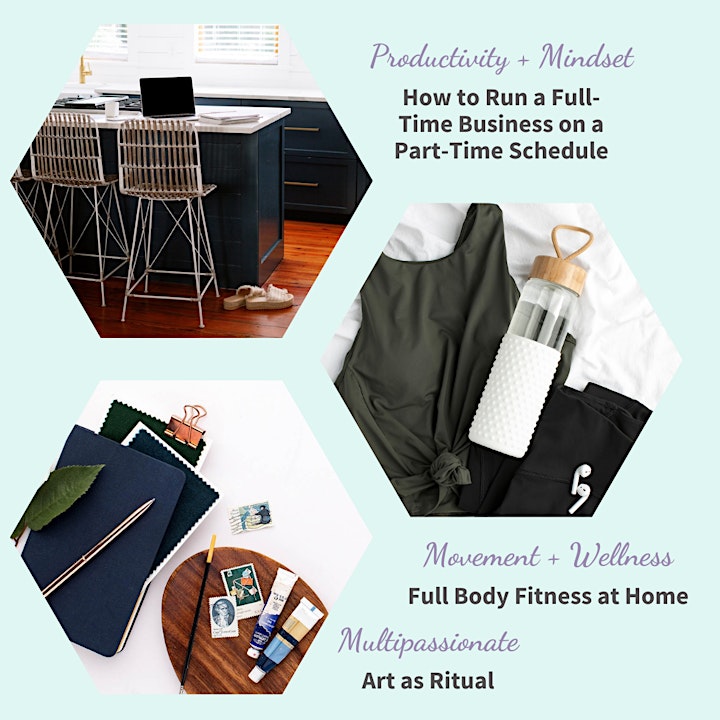 SCHEDULE
Welcome (10:00am ET / 9:00am CT)
-
Movement + Wellness (10:15am ET / 9:15am CT)
Full Body Fitness at Home with Steph Courter @StephCourter_FIT
In this 35min workout, you will feel the burn with minimal equipment and maximum results! Let's kick off your New Year's fitness goals with a fun, fast paced workout that you can do from the comfort of your living room!
Steph is a certified Nutrition & Fitness Coach and natural bodybuilder. She is the founder and head coach of F.I.T. Faith in Training by Steph, a fitness and lifestyle company for busy women who want to crush their goals without restrictions.
-
Productivity + Mindset (11:15am ET / 10:15am CT)
How to Run a Full-Time Business on a Part-Time Schedule with Holly Haynes @Holly_Marie_Haynes
Are you tired of feeling guilty for working 24/7 and not seeing the growth you want? What if you knew how to structure your week in a way that allowed you to grow and scale your business, attract the right clients and still have time to spend on yourself?
Picture this:
You start your week stress-free with your "CEO" day all mapped out
You don't wake up anxious and stressed about fitting in all the things
You have time to create content that aligns with your long-term vision attracting the right clients without spending hours scrolling.
You know what systems to create behind the scenes to support your biz
You had an income strategy to support your goals and time to review your finances to help you make the right decisions
You know how to build a community and it is actually fun. As in you enjoyed your business plan.
You had the right productivity routines in place so you actually could take a break and focus on all your VIPs (very important priorities), not just your business.
In this workshop, Holly shares the exact schedule, strategic tactics, and even time management tips she used to scale (and launch) a 6-figure business in 12 months during a pandemic while working full-time and even taking time off without burnout.(i.e. we are still scaling!)
Holly helps female entrepreneurs take back control of their time with proven productivity techniques, systems, and structure to create a business strategy that scales long term.
An industry expert, host of the Crush the Rush Podcast and featured Thrive and Entrepreneur author with a 20-year business consulting background with Fortune 500 companies, Holly runs her strategic coaching business and the Crush the Rush planner company while raising her twin daughters with her husband in addition to working for a non-profit in Columbus, Ohio.
-
Multipassionate Lifestyle (12:15pm ET / 11:15am CT)
Calling It In: Art As Ritual with Lauren Schwind @SubnormalChild
Participate in an interactive, creative workshop designed to help individuals reclaim their intuitive, creative voice, while focusing on process rather than product.
After being introduced to the concept and importance of "art as a self-care tool," participants will be led into creating their own original piece of art. This piece of art will be specifically focusing on what each participant is "calling in" (or manifesting) for themselves.
Starting with tracing their hand and taking part in a short meditation before being invited to create in whatever capacity feels best for them. At the end of the session, individuals will be given some final thoughts on how to incorporate this practice into their self-care tool belt.
Lauren helps creative individuals with artistic wounds or blocks move through those barriers and into their authentic flow. Through holistically reframing art as ritual, individuals are able to connect to their inner compass more intuitively, and with a focus on fulfilling our souls purpose.
-
Camp Bingo + Giveaways (1:00pm ET / 12:00pm CT)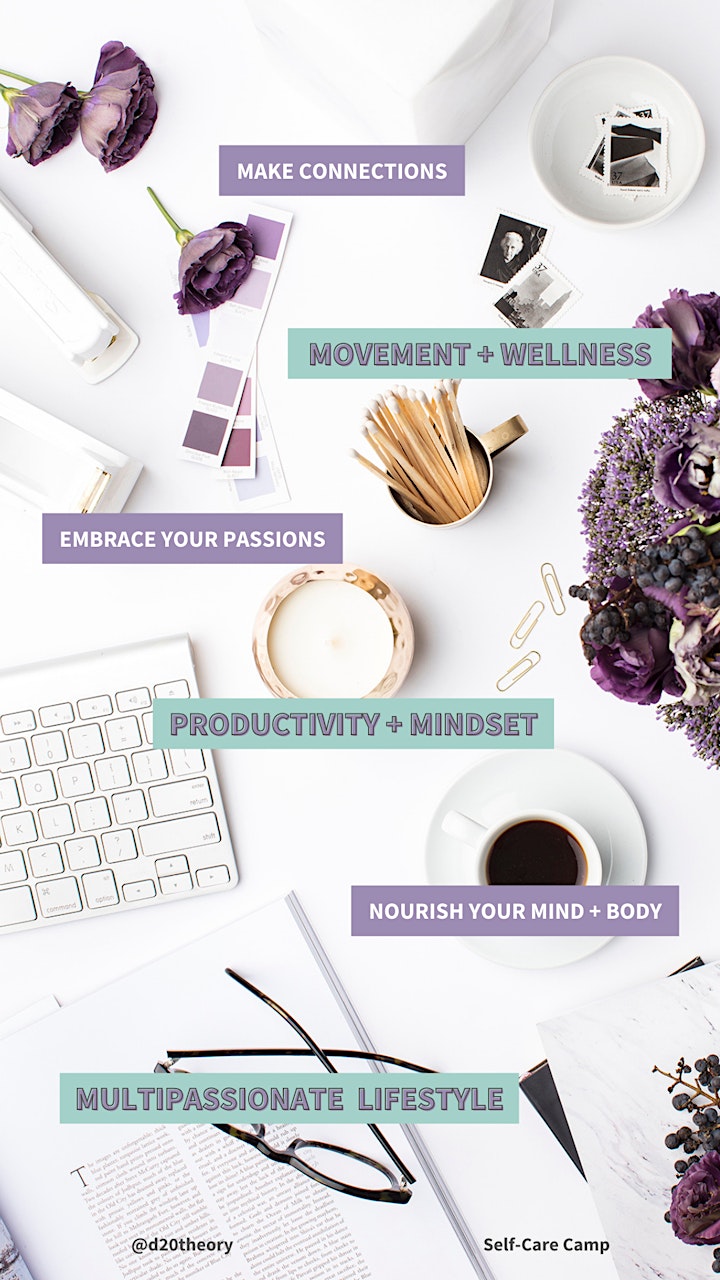 Date and time
Location
Refund policy
Refunds up to 1 day before event
Eventbrite's fee is nonrefundable.
Organizer of Self-Care Camp
Based in Philadelphia, D20 Theory is a lifestyle brand for multipassionate women who value quality products, memorable experiences, and opportunities for growth.
The D20 Theory blog and social media accounts feature content related to productivity + mindset, as well as a multipassionate lifestyle. Events bring this content to life and allow participants to connect with a tribe of like-minded ladies. Quarterly subscription boxes include thoughtfully curated products. Productivity + mindset coaching provides guidance and encouragement for multipassionate goal-getters.
D20 Theory is based on the premise that being well-rounded helps us to roll through life more easily. Embrace all your facets...like a D20 die!
- Kelly Courtney, Founder -
Are you interested in being a partner or sponsor for an upcoming event? Send me a message via Eventbrite or d20theory.com