Self-Care Camp is a retreat for multipassionate women to take a break from #adulting for a day to nourish their minds and bodies.
About this event
Self-Care Camp is a retreat for multipassionate women to take a break from #adulting for a day to nourish their minds and bodies, while building community with a tribe of like-minded ladies.
This quarterly event series reimagines all the things we loved about summer camp, field trips, earning Girl Scout badges, and YMCA programs as kids.
Take a break from the stress of the daily grind and connect with other multipassionate women who get it. Refuel your mind and body with three fun sessions: movement + wellness, productivity + mindset, and multipassionate... plus games and giveaways!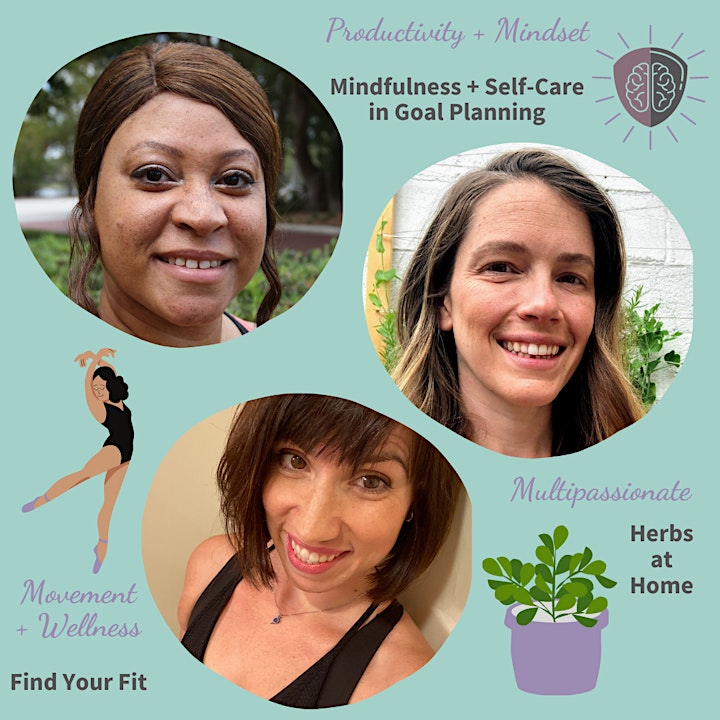 The Details
DATE + TIME
Sunday 3/28/21
10am - 4:30pm EST
-
LOCATION
virtual (Zoom)
Can't attend live? No worries! The three main sessions (Movement + Wellness; Productivity + Mindset; Multipassionate) will be recorded and shared via email within 1 week of the event.
Pro tip: Prioritize self-care and block off time to participate in the live games and giveaways throughout the day.
-
SESSIONS
Movement + Wellness (10am)
Finding Your Fit with Amanda Collins @DanceFitAmanda
Barre workout and fitness chat. It took me years to get healthy because I didn't enjoy fitness. I tried everything until something clicked and my whole life came into balance. I want to help you find your fit - mind & body!
Amanda's passion is helping people get healthy and happy by finding the area of fitness that works for them. She also stays tied to her creative background with a floral design business she started in the spring of 2020.
-
Productivity + Mindset (12pm)
Mindfulness + Self-Care in Goal Planning with Tameeka Leon @Coffee.Yoga.Life
There are plenty of people who talk about setting goals. And people who talk about self-care. And people who talk about mindfulness. But not many people walk you through identifying the self-care and mindfulness activities that you will incorporate into the action plan that you are creating to achieve your goal.
In this session, we'll discuss why mindfulness and self-care are the keys to your success, ways to incorporate mindfulness and self-care into your life, and we'll walk through a couple of exercises that you can do at home.
Tameeka is the founder of Coffee.Yoga.Life. and the Mindful Success membership. She helps high-achieving millennial women redefine what success means to them and create realistic action plans to feel more fulfilled in life and work.
-
Multipassionate (2pm)
Herbs at Home with Nicole Enders @PHL_BoxGardens
Explore how to begin growing herbs at home. We will discuss what materials you need to begin, how to care for your plants, how to harvest and what to do with your home grown bounty! A truly multi-passionate hobby gardening is a great gift to your mind, body and soul.
Philadelphia Box Gardens specializes in creating edible gardens in small urban spaces. Our mission is to share our knowledge and experience with our neighbors and help our community grow more food - simply. We believe life's greatest joys are grown in the garden and enjoyed around the table. Let's grow together!
-
Camp Bingo + Giveaways (4pm)
Sessions are 60-90 minutes each with the exception of the final 30-minute session with D20 Theory at 4pm.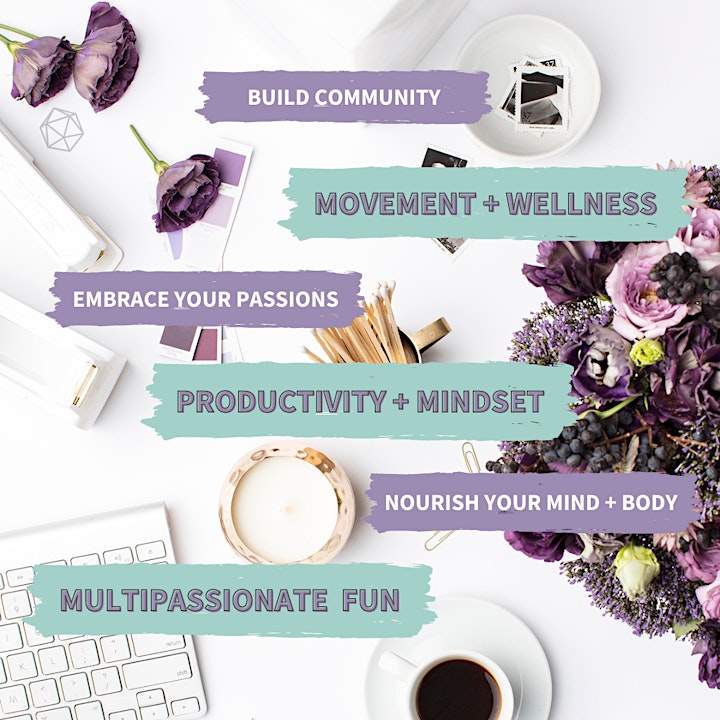 Organizer of Self-Care Camp
Based in Philadelphia, D20 Theory is a lifestyle brand for multipassionate women who value quality products, memorable experiences, and opportunities for growth.
The D20 Theory blog and social media accounts feature content related to productivity + mindset, as well as a multipassionate lifestyle. Events bring this content to life and allow participants to connect with a tribe of like-minded ladies. Quarterly subscription boxes include thoughtfully curated products. Productivity + mindset coaching provides guidance and encouragement for multipassionate goal-getters.
D20 Theory is based on the premise that being well-rounded helps us to roll through life more easily. Embrace all your facets...like a D20 die!
- Kelly Courtney, Founder -
Are you interested in being a partner or sponsor for an upcoming event? Send me a message via Eventbrite or d20theory.com