Self-Care Camp is a retreat for multipassionate women who need a break from #adulting for a day to nourish their minds and bodies.
About this Event
Self-Care Camp is a retreat for multipassionate women who need a break from #adulting for a day to nourish their minds and bodies, while building community with a tribe of like-minded ladies.
This quarterly event series reimagines all the things we loved about summer camp, field trips, earning Girl Scout badges, and YMCA programs as kids.
Take a break from the stress of the holiday season, and connect with other multipassionate women who get it. Refuel your mind and body with three fun sessions: movement + wellness, productivity + mindset, and multipassionate... plus a bonus mini-session with D20 Theory, camp bingo, and giveaways worth $500+.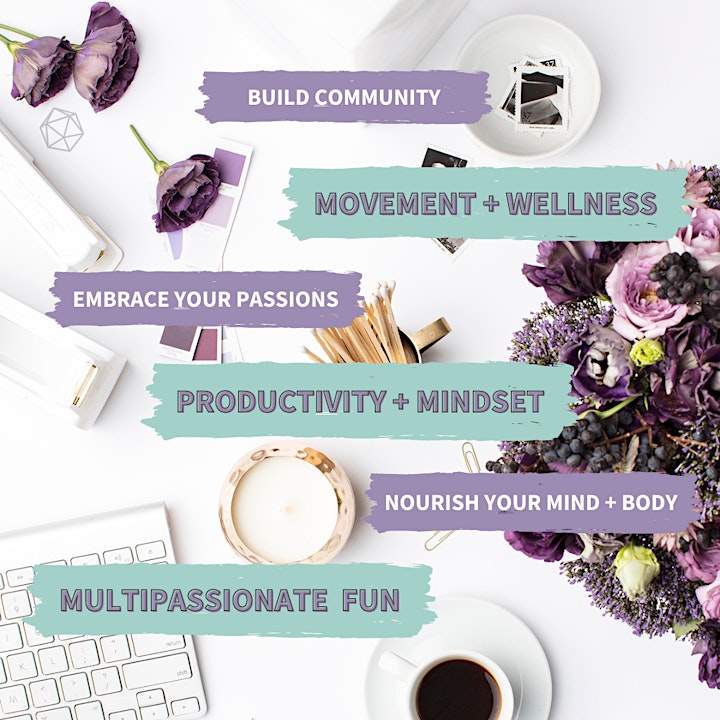 The Details
DATE + TIME
Sunday 12/27/20
10am - 4:30pm EST
We'll wrap things up just in time for the Eagles game!
-
LOCATION
virtual (Zoom)
Don't worry if you aren't able to attend live. Sessions will be recorded and shared with all registrants.
-
SESSIONS
Movement + Wellness (10am)
Activate Your F.I.T. with Steph Courter @stephcourter_fit
Do you want to add fitness and healthy living into your lifestyle for 2021? Home workouts and macronutrients are the place to start.
We're going to dive right in with...
» 30-minute booty building workout
» 30-minute "Intro to Tracking Macros" lesson
Steph is the founder and coach of F.I.T. Faith in Training by Steph, a fitness and lifestyle company for busy women who want to make being fit a sustainable lifestyle. She believes in a multi-tiered approach that includes understanding nutrition, exercise and faithfulness.
-
Productivity + Mindset (12pm)
Pretty Organized with Trello with Allie Bittner @kisscreativeco
As a graphic designer and Trello queen, Allie knows exactly how to transform your Trello board into something you actually want to look at. In this session, Allie shares her custom templates and tips to beautify your boards. If everything you do needs to be color-coordinated, then you need to tune into this session! You'll be "pretty organized" after spending an hour with Allie.
Allie is the owner and designer at Kiss Creative, where she helps solopreneurs and petite teams of two to create the branding of their dreams.
-
Multipassionate (2pm)
Holiday Style Session with Liz Fever @lizwearswhat
Excited to dive into holiday trends and cold weather must-haves? Want some tips on staying in self-love mode through the holiday dinners, family gatherings, and the hustle and bustle of this busy time of year?
We'll cover...
» ways to stay in a grounded and loving space through the holiday season
» closet clean-out ideas focused on all those bulky winter items… think sweaters, coats, and winter accessories!
» holiday style ideas and ways to embrace your favorite winter trends while staying true to you
Liz is a body liberation activist, self love focused stylist, writer, and creative based in Philadelphia. Her work is steeped in her own journey to body acceptance, and she strives to help all women feel confident and seen in their personal style.
-
D20 Theory Open House, Camp Bingo + Giveaways (4pm)
Sessions are 60-90 minutes each with the exception of the final 30-minute mini session and giveaway with D20 Theory.