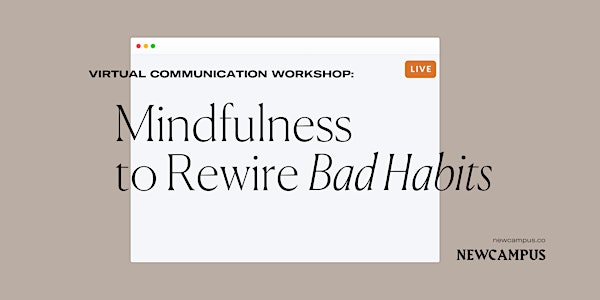 Self-Awareness Workshop | Mindfulness to Rewire Bad Habits
Learn how to be greatly aware of our thoughts and feelings in order to unlearn bad habits and relearn good ones.
Refund Policy
Contact the organizer to request a refund.
Eventbrite's fee is nonrefundable.
About this event
You are invited to join us in an intimate self-awareness workshop by Erin Lee, Founder and Mindfulness Coach at Mindful Moments.
COVID-19 Update: All NewCampus sessions will be conducted remotely via Zoom. A link will be sent upon confirmation.
This is not a webinar. All NewCampus remote workshops are live, interactive and energising 90 minute sprints dissecting a practical tool, framework or methodology. Small class sizes for an intimate and interactive experience. Always includes hands-on exercises to start applying the new skill immediately.
Community learning: Learn together with other curious professionals from around Asia (or the world), who will become your future collaborators, clients or co-founders, as part of your weekly routine.
Led by an expert: Our workshops are hosted by industry practitioners and thought leaders shaping their fields.
____________________________
TODAY'S WORKSHOP
Unknowingly, our mind often puts our habits—good or bad—on autopilot. While we are happy to keep our good habits, our mind and body can reinforce bad habits that make us less productive or effective. Rewiring these bad habits into good ones will help you succeed in your goals.
In this workshop, we use mindfulness techniques to unlearn bad habits we have unconsciously picked up.
By the end of this class you will be able to:
Understand how habits are formed and strengthened.
Learn to observe the mind and body for approach and avoidance modes.
Apply mindfulness techniques to break unhelpful habit patterns and strengthen helpful ones.
Today's Speaker:
Learn directly from Erin, the founder and mindfulness coach at Mindful Moments, who has taught mindfulness programs for corporate clients and organisations such as Dow Jones and the British Chamber of Commerce Singapore.
____________________________
ABOUT NEWCAMPUS
NewCampus is a modern leadership school. We help rising execs, entrepreneurs and game-changers around Asia Pacific, take on the challenges of the unprecedented era ahead through skills, resources and community.
We host weekly business, tech and cultural events with industry leaders from companies like Grab, IDEO and Netflix. We also send a regular newsletter with curated business, tech and macro insights collected from our experts.
For more information, visit newcampus.co or follow @newcampushq.