Selepri and The XI Project A Concert Crusade at the Brumder Mansion July 10 6pm $10

Sunday, July 10, 2011 from 6:00 PM to 9:00 PM (CDT)
Event Details
Selepri and The XI Project 
A Concert Crusade at the Brumder Mansion
July 10 6pm $10
EACH GUEST WILL BE ENTERED IN A DRAWING TO WIN A FREE NIGHT IN A WHIRLPOOL SUITE AT THE BRUMDER!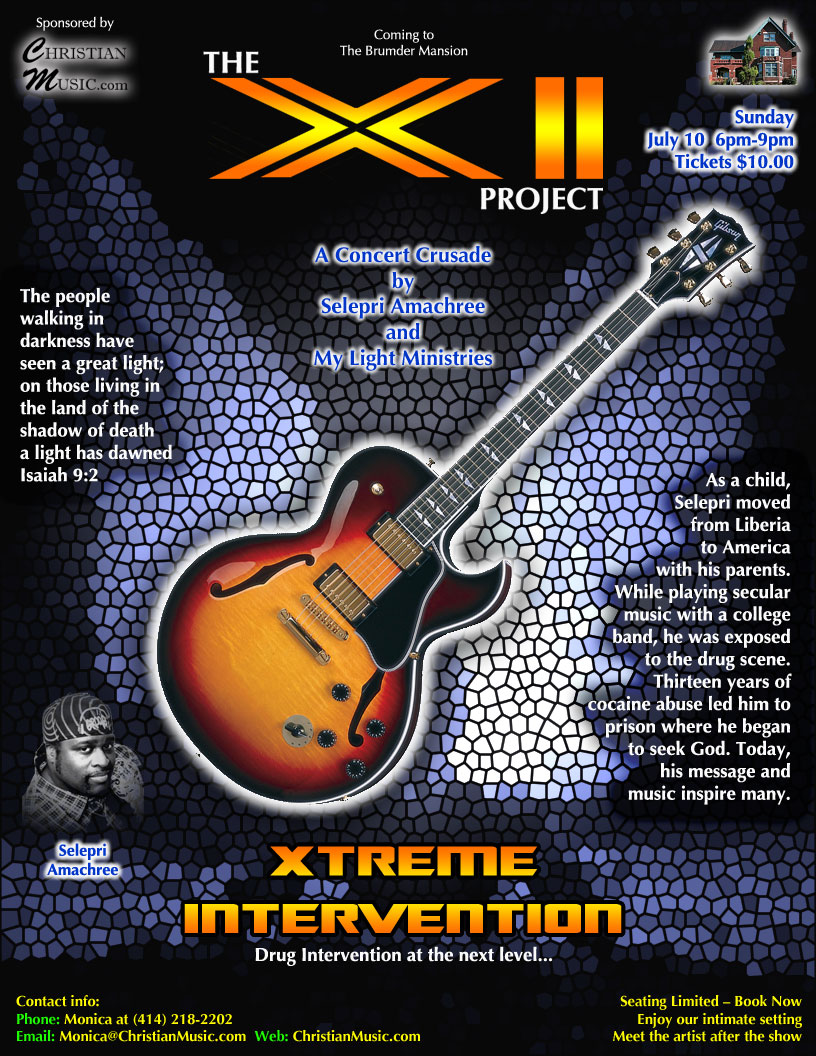 For ticket or Room Booking information call Monica Kelly 414/218-2202
My Light Ministry has unleashed the new "XI Project". A comfortable approach to Christian addiction intervention.

First of all, it's pronounced "ZY" like the Greek letter. (the XI Project) After researching how Jesus "intervened" in peoples lives, I learned that He did more than just heal...He connected, guided, loved on and patiently taught those whose lives he touched. I was a cocaine addict for 12 years so I understand the inability to break the cycle alone. As a student, staff person, then administrator for Teen Challenge, a Christian treatment organization, in Chicago Pennsylvania and Virginia, I saw the need for students to be prepared in certain areas that would have kept them from failing in the treatment experience.

Through the XI Project my aim is:
Giving addicted people a 1-on-1 intervention specific to their needs

Helping the addicted person to "See" their obsession and where God fits into solving the problem


Helping the addict through court and probation issues

Giving support to family members

Convincing and guiding the addict to get treatment

Preparing the addict for treatment in a very successful, long term, faith-based program

Standing with the family until the addict is in treatment (or the intervention is terminated)

Placing the addicted person into a program that best fits their personality and needs


Transporting the addict to treatment anywhere in the United States
The project is "Sponsor-Based", meaning that for the student, the intervention is FREE, but there is a family, business or church sponsor for the intervention process. After the intervention, Selepri transports the student to a facility that best fits their personality, character and needs...then pays to enroll them.

If you know of anyone who is struggling with an addiction to drugs or alcohol please call 757-503-0710 or log on at www.selepri.com...Help is on the way!! See Selepri interviewed on the Christian Television Network. As Brenda said, I'm also a christian recording artist, so I've attached one of my newest songs that expresses the heart felt knowledge of what God did in restoring my life from addiction.
New York Times Interview

NASHVILLE – Music City is no stranger to ex-convicts like Merle Haggard who went on to become top Country stars, but even Nashville hasn't heard a real-life story of Christian triumph against huge odds like Selepri's before.
Selepri (it's an African name pronounced Suh-LEH-pree) served time twice in Illinois on cocaine-related charges, was born again and found his songwriting voice in prison, and now counsels kids and adults facing similar obstacles through a faith-based program called Teen Challenge.
"For 12 years, I went through cocaine addiction," Selepri says during a visit to Nashville to record his newest single, "My Song." "God filled the hole in my life, and I started writing these songs in jail. I have no idea why God would give me these songs."
The new recording of "My Song" was made at MusicCity's famed Quad Studios and has already brought countless new listeners to Selepri's message and music. His musical combination of power and passion is a joy to behold, and Selepri's songs and Christian gifting are indeed a blessing.
Grade-school principal Paula Markley and her students recently heard Selepri for the first time. "Your songs are absolutely wonderful!" she said. "I didn't realize you were so talented. I also had no idea you have been thru so much, but I am thankful that you have found the Lord and are using your experiences to serve Him and others."
Worship leaders are among Selepri's biggest supporters. Sharon and Tyrone Seay of the Congregation of the Living Word said: "Thank you for coming to Keokuk and speaking a word in our lives. Not only did you give a word, but understanding as well . . . You have inspired a lot of people."
Selepri was born the son of two college professors in Liberia, the African nation founded in 1822 as a republic and safe haven for freed American slaves. Its capital (Monrovia, named for James Monroe) is the only world capital other than Washington, D.C. named for an American president.
His parents moved to the US to teach when Selepri was just 2 years old. Growing up in the Midwest, he played football in high school and was also a terrific guitarist in cover bands.
After college, he signed a deal with Platinum Plus Records and seemed on the way to a promising music career. But cocaine held a powerful sway over the young man. He eventually went to seven treatment centers in Illinois, served a pair of stints in prison on drug-related charges, and faced possible deportation back to Liberia by the Department of Homeland Security.
It's not been an easy path, to put it mildly.
"God has taught me to live every day as if it's my last," he told Pentecostal Evangel magazine in 2005. Selepri's home pastor, Rev. Victor Randle of Macomb (Illinois) Assembly of God, told the same magazine: "I see the accountability Selepri has put himself in with Teen Challenge. His is a transformed life."
His own transformation began in an Illinois prison cell on a very specific date: Dec. 31, 2000. He had just learned his ex-fiance was getting married – and married to a police officer, not the happiest of news for any man serving time.
"In my thoughts," Selepri recalled in February 2009, "that night I told God I was finished with Bible studies and with Him, if he didn't `tell me what I needed to do.' In that dark cell, alone and sobbing on New Year's Eve, I heard something. Papers shuffling? A breeze in my cell causing Bible studies under my bunk to move around? The noise stopped my sobbing. I felt a presence in my cell."
The breeze lifted a paper containing one of Selepri's unfinished Bible study lessons. `HAVE FAITH! GOD . . . tangible and real.' "That night changed my relationship with God forever," he says.
Meanwhile, his relationships with the teens and parents he was counseling flourished. He recently visited a teen in Michigan who had nearly overdosed on cocaine. "Where others see failure, I see progress," Selepri says.
It's been and continues to be a tough climb for Selepri. Now his music and Christian gifting enable him to help others avoid the mistakes he once made, and go on to successful and blessed lives.
http://christianmusic.com/selepri.htm
http://christianmusic.com/concert.htm
http://milwaukeebedbreakfast.com/concerts.htm
Have questions about Selepri and The XI Project A Concert Crusade at the Brumder Mansion July 10 6pm $10 ?
Contact BrumderMansion.com
When & Where

The Brumder Mansion
3046 West Wisconsin Ave
Milwaukee, WI 53208


Sunday, July 10, 2011 from 6:00 PM to 9:00 PM (CDT)
Add to my calendar
Organizer
BrumderMansion.com
If you have a large group call Monica Kelly for Group rate 414/218-2202
Selepri and The XI Project A Concert Crusade at the Brumder Mansion July 10 6pm $10