Description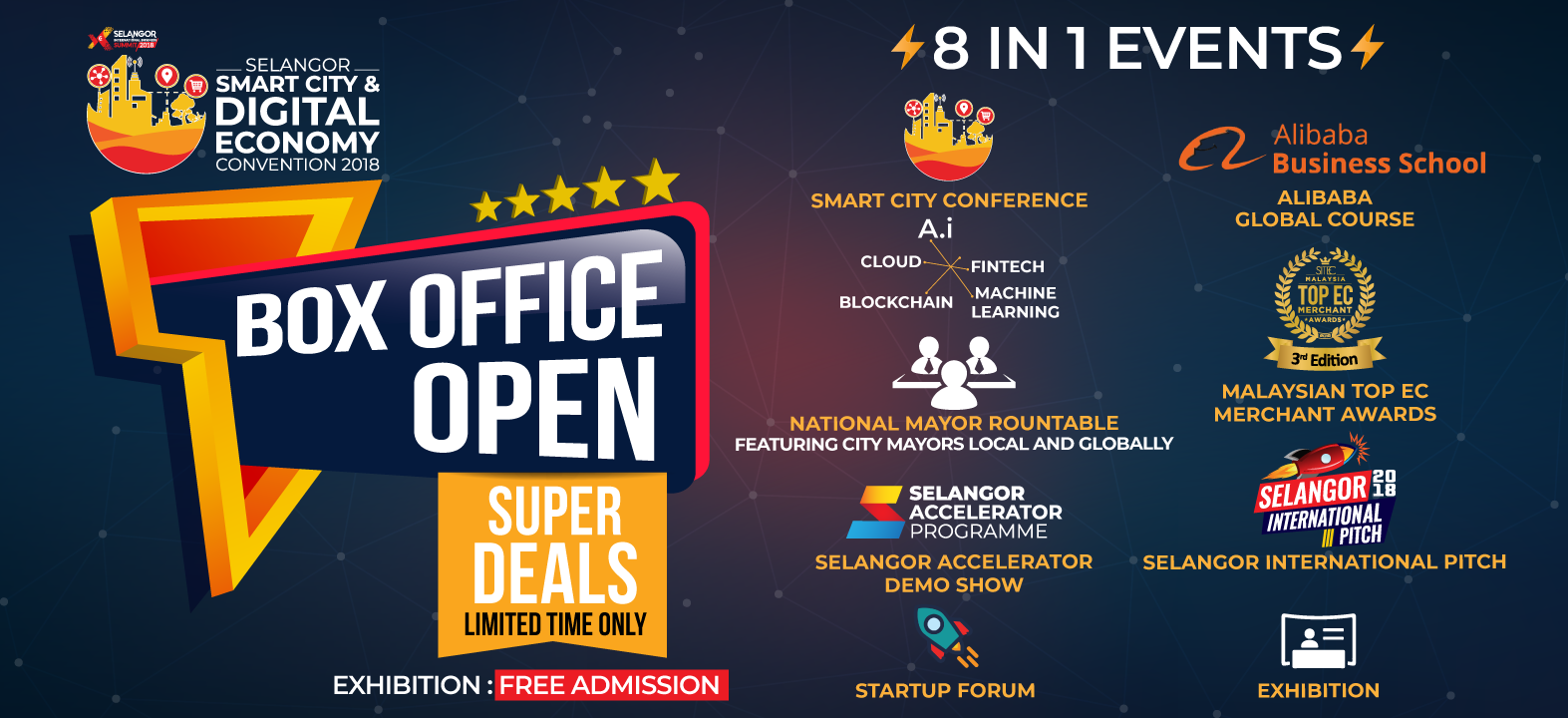 A global convention like no other, the Selangor Smart City & Digital Economy Convention 2018 is set to be Asia's hottest smart city and digital economy event for years to come! A hotbed of innovation, creativity and intelligence, with the theme of "Smart Manufacturing, National Mayor Roundtable, Retail Revolution & StartupFest", Selangor Smart City & Digital Economy Convention 2018 celebrates its third edition this year. This follows the success of the Selangor Smart City and Future Commerce Convention in late 2017, which was organised by Invest Selangor Bhd together with Barcelona's former Deputy Mayor (2011 - 2015) and current CEO of the City Transformation Agency of Barcelona, Mr Antoni Vives.


This year the convention focuses on 4 main elements:
1) Smart Manufacturing 2) National Mayor Roundtable 3) Retail Revolution 4) Startup Fest
Targeting over 5000 attendees, this is a uniquely curated 8-in-1 events will feature:
- Flagship Smart City Conference + National Mayor Roundtable
- Alibaba Group Global Course Malaysia 2018 *Conducted in Mandarin*
- Malaysian Top eCommerce Merchant Awards (TopECM)
- Selangor Accelerator Program SAP Demo Show
- Selangor International Pitch (SIP) - Prestigious International Pitching Competition
- Investors Speed Dating/Business Networking session
- Startup Forum@Forum Stage
- 180+ exhibition booths (Robotics, AR, VR, Fintech, Smart Devices, Blockchain, Intl' Startups)


*Only Smart City Conference & Alibaba Global Course is paid entry
*EXHIBITION ADMISSION (including side-events of SAP Demo Day, Startup Forum, SIP) is FREE (OPEN to ALL), kindly register here NOW : https://goo.gl/forms/M4yL3SocoNV26Vjx1


Programme Overview:
13th Sept (Day 1)
Main Conference Venue @mySpace(MPH 1) - Flagship Smart City Conference +
National Mayor Roundtable (by-invitation)
Concurrent session: [Selangor Accelerator Demo Show @Innovation Stage],
[Startup Forum @Forum Stage], [Exhibitor Demo@Forum Stage]

14th Sept (Day 2)
Main Conference Venue @mySpace(MPH 1) - Alibaba Global Course - Malaysia 2018 - *Conducted in Mandarin (Mandarin - English interpretation will be provided)
Concurrent Session: [Selangor International Pitch "Live battle" @Innovation Stage], [Exhibitor Demo@Forum Stage]

15th Sept (Day 3)
Main Conference Venue @mySpace(MPH 1) - Malaysia Top E-commerce Merchant Award (by-invitation)
Concurrent Session: [Investor Speed Dating@Business Lounge (by-invitation)], [Exhibitor Demo@Forum Stage]

[Business Lounge - Open For Use throughout 3 days]

Main & Concurrent Events Highlights:
Flagship Smart City Conference will feature a plethora of intriguing topics relating to mobilizing the AI, Blockchain Technology, Cloud Computing (ABC) of Industrial Revolution 4.0 (IR 4.0) to prepare cities & businesses towards digital economy success.

National Mayor Roundtable will be held in conjunction with the Smart City Conference to gather local & international mayors, decision makers from across the Asia-Pacific region to debate on how new technologies to transform smart city infrastructure, issues, and challenges.

Alibaba Group's Global Course Malaysia 2018: Launched 1st-time ever this year in Malaysia, bringing the most cutting-edge & latest online marketing strategies, trends, and secrets used by experts to conquer the online marketplace, gain market domination, and create infinite conversion.

The prestigious Malaysia's Top E-Commerce Merchant Awards (TopECM): TopECM makes a comeback this year on the 3rd day of the convention as we commemorate innovation, competition and excellence among local Malaysian digital commerce companies.

Startup Forum: Featuring the most promising Startups, collectively brings together a plethora of players, supporters, and enthusiast of the startup ecosystem to highlight the current trends, issues, popular topics.

Selangor International Pitch: An international pitching competition that brings together Asia Pacific leading startups for a "live on-stage" battle to distinguished judges. Only Top 30 pre-selected startups will have the opportunity to pitch and present their startup to you and the panel. The startups applicants currently are from Singapore, Indonesia, Thailand, Korea, Taiwan, China and Malaysia.

Selangor Accelerator Program Demo Show: Featuring the Top 10 emerging Startups among Top 30 qualifiers who has endured an intensive 4-month Acceleration Program in becoming the an highly "investible" or high-growth potential startup will showcase their products and wow the crowd.


---
This convention is part of the Selangor International Business Week organised by Selangor state government and Invest Selangor. The purpose is to make it one of the largest trade show and conference in Malaysia and regional.
The objective for this event is to establish a major Smart City Summit in the Asia-Pacific, as a gathering point for industry and intellectual leaders on the topics of Big Tech, IOT, Big Data, and IR 4.0, while building the bridge between local and regional tech startups with the rest of the world, in order to help them penetrate the international market.

The 3-day convention features a Investor Speed Dating Session/Business Matching that brings together qualified & promising Startups around Asia-pacific & globally to find quality investors and win key business partners while strengthening the startup community in Malaysia.
And throughout all three days, there will be a massive exposition with 180+ booths from service providers, vendors, tech giants, urban developers, and more from around the world and across Asia, right here in the heart of Selangor.


---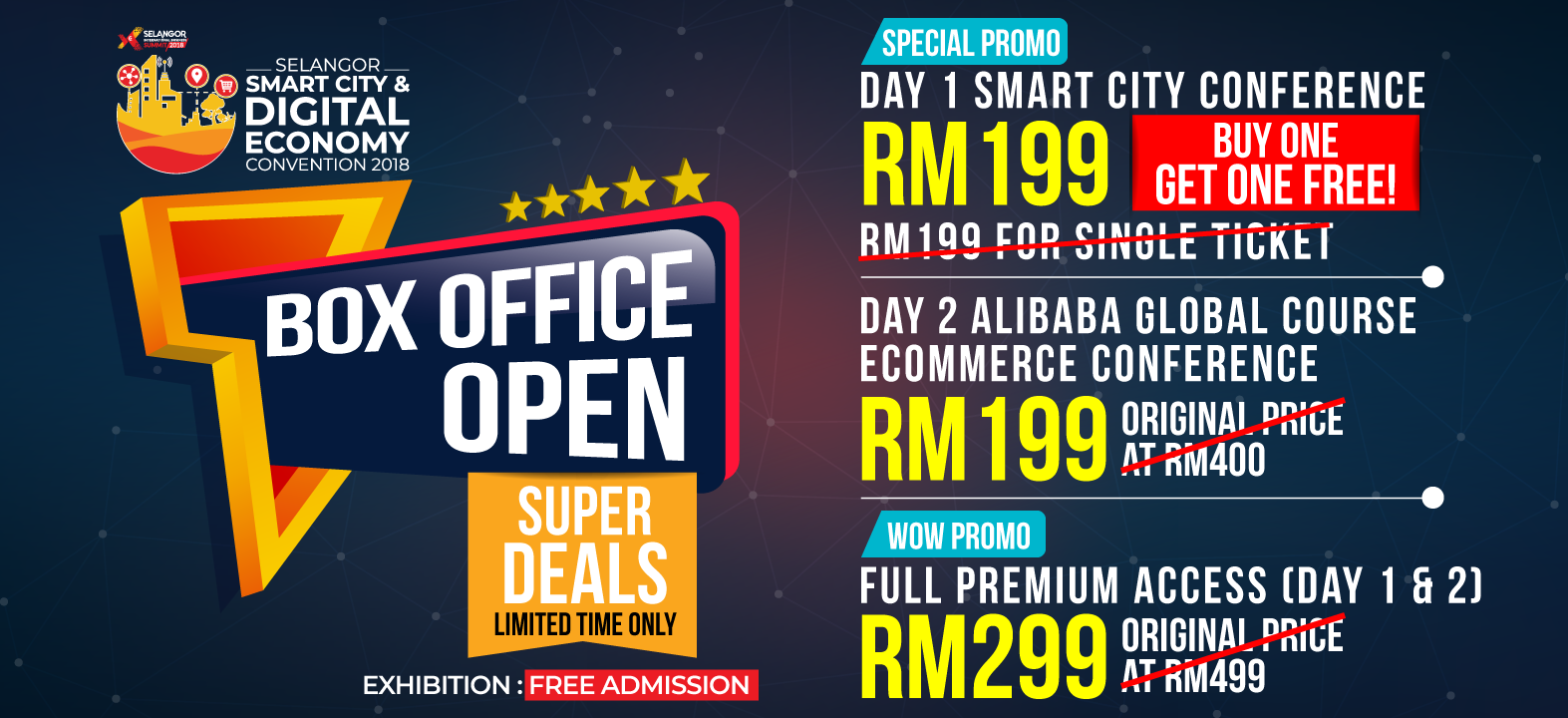 At Super Affordable Rates for Unbeatable Irresistible Value:
+ Day 1 Smart City Conference - Buy One Get One Free@RM199 (originally RM199/pass)
+ Day 2 Alibaba Global Course eCommerce Conference - RM199
+ [WOW Promo] Full Premium Access (Day 1 & 2) - RM299 Only!

Selling Fast? Yes We Are. As this is a Limited Time Offer & Limited to First 500 Confererence Passes ONLY. [EXTENDED till 10th Sept Only]
The Clock is Ticking, Take Action & Reserve Your Spot!

Alternatively, Exhibition is FREE Admission. Kindly register with the link below for Trade Exhibition Visitor Pass Registration: http://www.sdeconvention.com/
Organizer of Selangor Smart City & Digital Economy Convention 2018
Established under the secretariat of Invest Selangor by the Selangor State Government, the Selangor Information Technology and E-Commerce Council (SITEC) is chaired by Chairman of the Standing Committees of Investment, Industry & Trade, Small and Medium Industries (SME) and Transport; Selangor State Government EXCO. SITEC aims to develop Selangor as the regional trading hub for e-Commerce and to uplift the startup ecosystem within the state.
As such, it has undertaken a variety of initiatives, from the four core thrusts incorporating education and active participation, in order to boost and support the nascent e-Commerce and startup scenes in Selangor.
Under the guidance of the SITEC council members, SITEC has identified four main thrusts to drive economic activity in the two main industries, startups and e-Commerce:
- SITEC Apps 100
- SITEC Online 100
- Selangor Digital Creative Centre (SDCC)
- E-Commerce Education
SITEC has established a set of clear objectives to guide our aspirations in achieving our aims. Through two of our thrusts, Online 100 and Apps 100, we intend to steadily reach out to brick and mortar merchants in Selangor to get them onboard e-commerce as a supplement to their retail efforts. Additionally, we are gradually establishing ourselves as a key Digital Economy player through our strategic partnerships, reaching out to tens of thousands of individuals within the local e-commerce, startup and tech spheres.
As of December 2017, SITEC has:
- On-boarded 300 Selangor brick and mortar merchants to sell online via Online 100
- Produced 300 mobile apps for these Online 100 merchants
- Reached out to over 80,000 people in related areas locally and overseas
- Ran 58 e-commerce and startup educational classes
- Facilitated our Online 100 merchants in generating RM 7,300,000 in Gross Merchandise Value