Description

Presents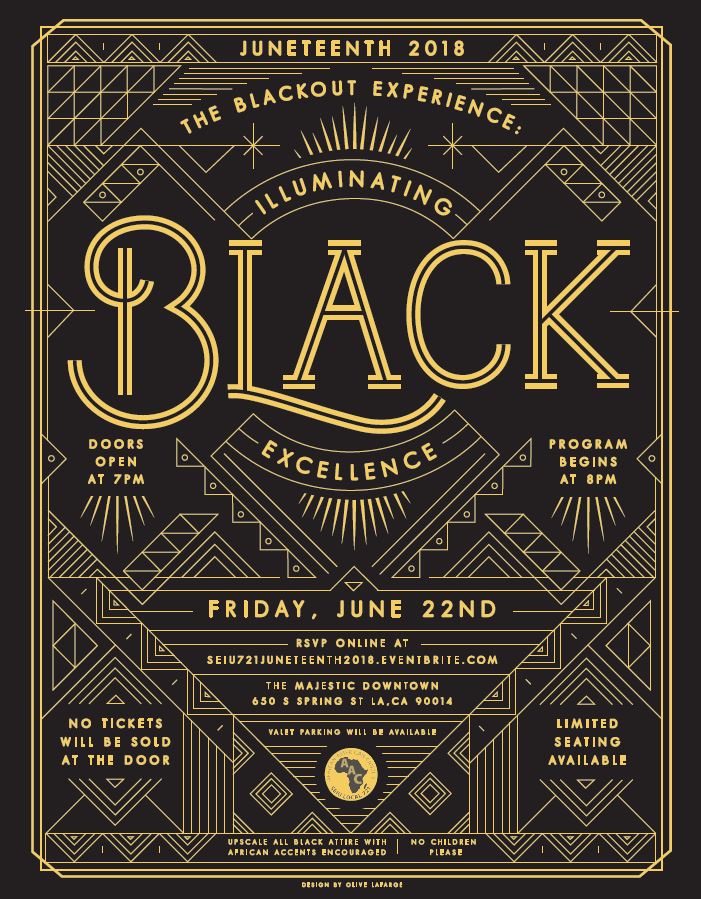 SEIU Local 721 African American Caucus is proud to host our 2018 Juneteenth Celebration entitled The Blackout Experience: Illuminating Black Excellence.
Have you ever wondered what our world would be like without the contributions of Black people? No street lights, no cell phones, no medicine, no music and even no Whitehouse! We would be living in a pitch black world devoid of the advancements and contributions that we take for granted every day. Come and celebrate these contributions and revel in Black Excellence at this year's Juneteenth Celebration.
We are encouraging our guests to come dressed in all black to this elegant affair to enjoy live music, great food and a celebration of Black Excellence. Get your tickets before we are sold out!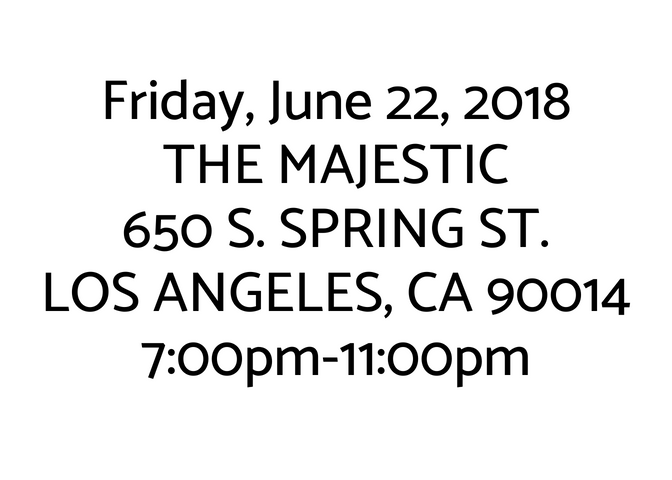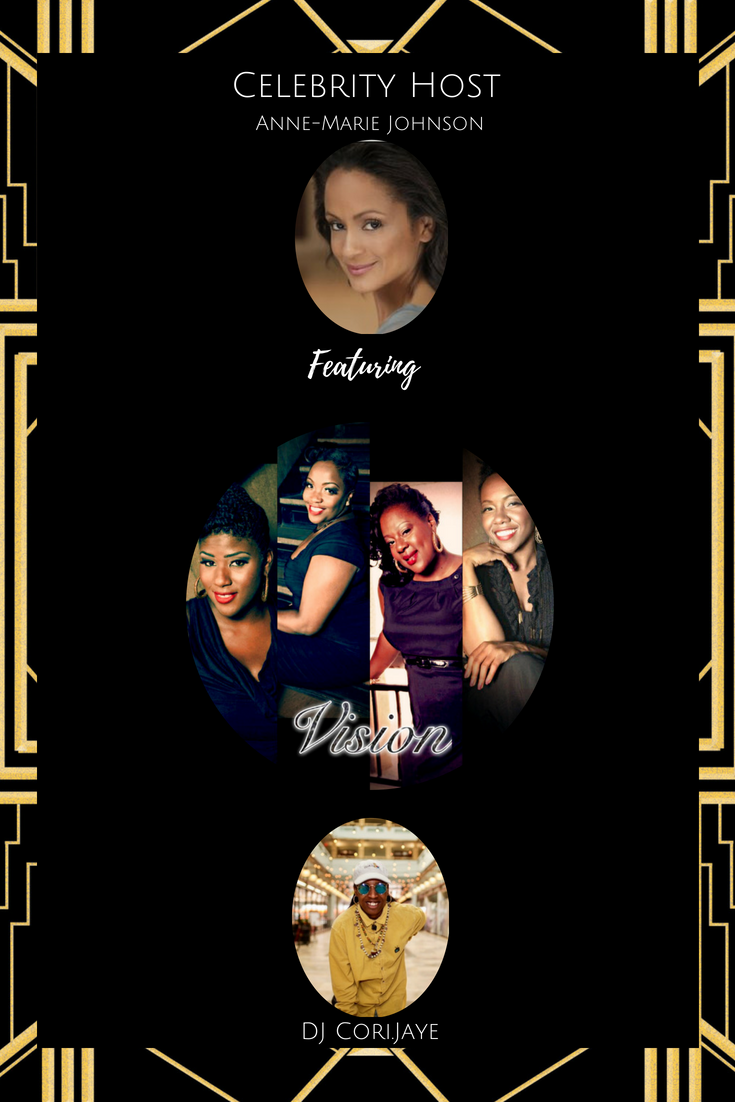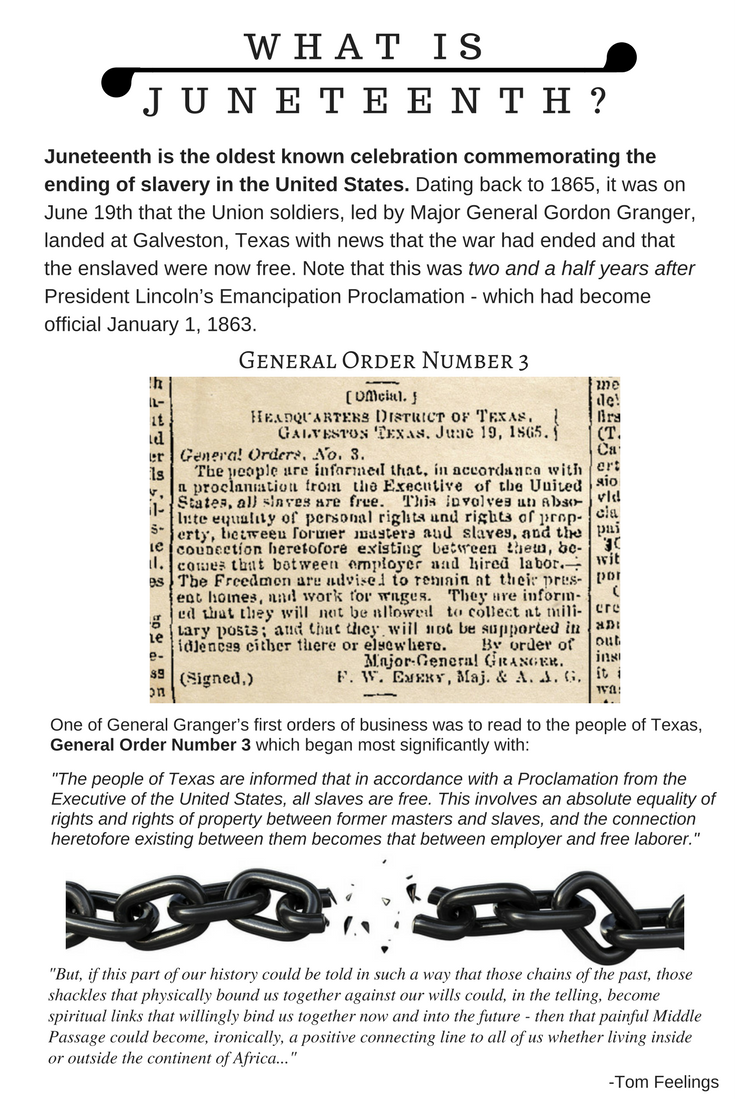 FAQ
1. Do I have to RSVP???
Yes. ANYONE that plans to attend the event must RSVP (members, staff, guests, performers etc.) with NO EXCEPTION. Even President Bob Schoonover will be RSVP'ing to this event so please follow his lead and make sure you reserve your ticket while they last! Failure to RSVP will result in denied entry to the event.
2. Will tickets be sold at the door?
NO. Those without tickets will be escorted off the premises by security.
3. Can I bring more than one guest?
Unfortunatly, we are only allowing ONE guest this year. In the past we have allowed members to bring a number of guests at no to low cost, but this got us into a little bit of trouble. The venue has a capacity that we must not surpass. It is also not fair to allow a member to bring 15 guests while a dues-paying member is denied access because all the tickets went to someone else's guest.
4. Why are guests $25???
This event is for members. For every guest that attends, that is one less space for a member. This is a red carpet gala with politicians and celebrity guests, live band, open bar and five star multi-course food menu. Where else can you attend such an event for $20???
5. How should I dress???
DRESS TO IMPRESS!!! This is a BLACK TIE event where we are encouraging our members to wear ALL BLACK. Come red carpet ready and be prepared to have your picture taken. You wear a uniform or business casual every day to work. Show up and show out in your Sunday's best for a celebration that happens only one time a year!
6. Can I bring children?
NO. Liquor will be served and we will not be able to allow children at this year's event.
7. Is there reserved seating?

There will only be seats reserved for those who pay for preferred seating ($45.00 for ONE MEMBER + ONE GUEST), otherwise ther is no reserved seating. Seats are given on a first come first served basis.


NO EARLY ENTRY. DOORS WILL OPEN AT 7PM.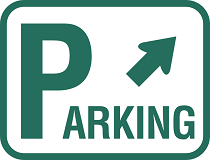 PAID PARKING ONLY. Valet service will be offered fpr $15.00.

Parking is available at the following locations (prices may vary):
545 Main St. -Garage

530 S Spring St. - Garage. 0.16 mi walking.
You can reserve and pre-pay for a parking space at the following website:
https://spothero.com/los-angeles/majestic-downtown-parking