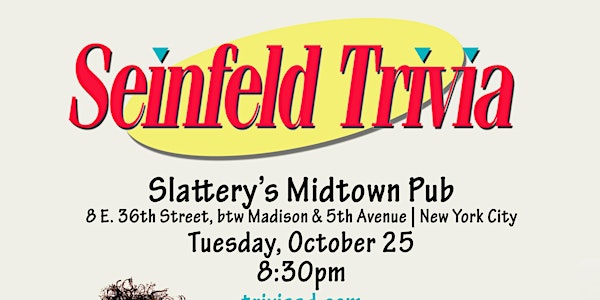 Seinfeld Trivia
When and where
Location
Slattery's Midtown Pub 8 East 36th Street Between Madison & 5th Avenue New York, NY 10016
Description
"You have the chicken, the hen, and the rooster. The chicken goes with the hen... So who is having sex with the rooster?"
Well, there's nothin' more sophisticated than diddlin' the maid and then playing Seinfeld Trivia at Slattery's Midtown Pub on Tuesday, October 25 starting 8:30pm!
Use your katra to dominate the dojo during all FIVE unique and challenging rounds on cockfighting, mail fraud, headfirst parking and pee-stained couches.
Reservations can be made by visiting; http://OctoberSeinfeldQuiz.Eventbrite.com
We ask all patrons to have something to eat and drink. There is a $15 per person minimum.
The best way to reserve tickets is by selecting a team captain and having them be in charge of tickets for ALL team members.
For example, if Jerry, George, Kramer and Elaine are a team and Elaine gets put in charge, she will then reserve tickets for herself, Jerry, George and Kramer = (4) in total.
PLEASE ONLY RESERVE SINGLE TICKETS IF YOU ARE PLAYING BY YOURSELF.
We will send a confirmation email to everyone closer to the event.
#FeelsLikeAnArbysNight