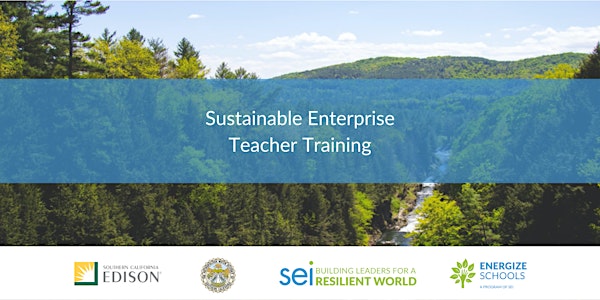 SEI Sustainable Enterprise Teacher Training
Join the Sustainable Enterprise teacher training to explore bringing sustainable business concepts into your classroom!
About this event
The Sustainable Enterprise teacher training introduces the concept of sustainable enterprise and explores how to achieve a good life for all within the limits of planetary boundaries. Through this curriculum, students learn to identify and evaluate sustainable enterprises, and gain skills directly applicable to starting or contributing to a sustainable business. In this 2 hour training, instructors will be provided with the tools and resources to integrate SEI's Sustainable Enterprise curriculum into their own classrooms. This training will be led by staff from SEI, an environmental nonprofit that builds leaders to drive sustainability solutions.
Training Details
Thursday, May 12th
Time: 4:00pm - 6:00pm
Location: Virtual
All high school teachers in California are eligible to attend at no cost.