About this Event
Will call patrons must present photo ID at the door.
Doors and box office open at 5PM for this show!
Buffet dinner option now available for this concert from 5:30-8:30pm!
When box office is closed tickets may be purchased at the front desk of the Graduate Athens Hotel.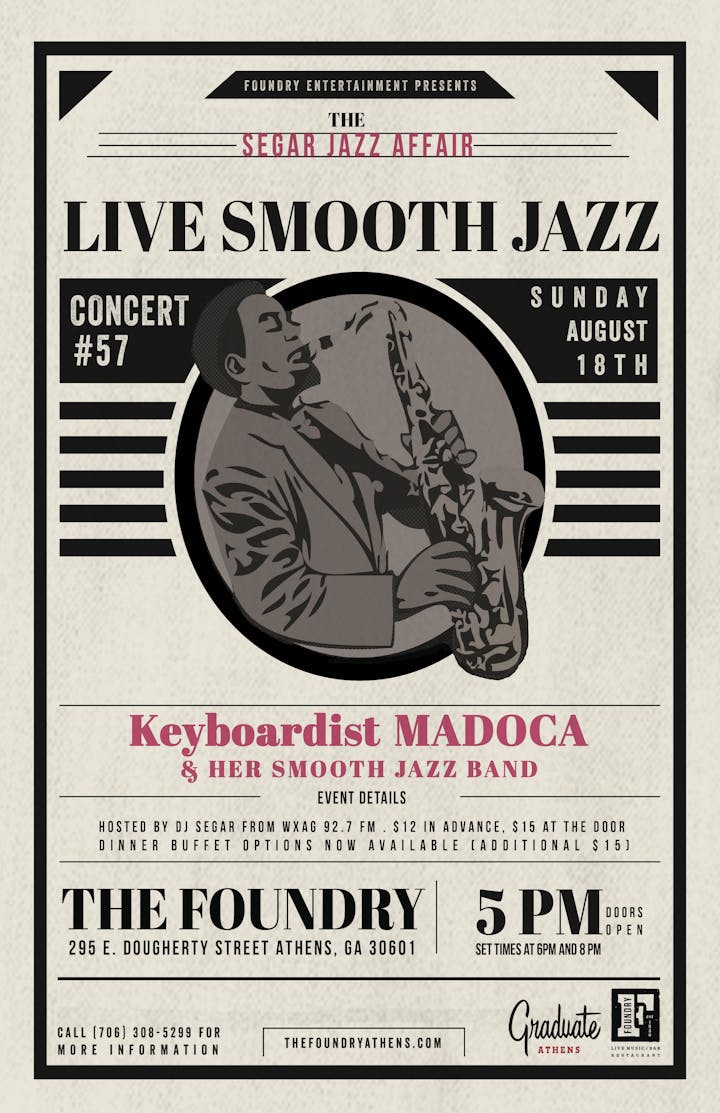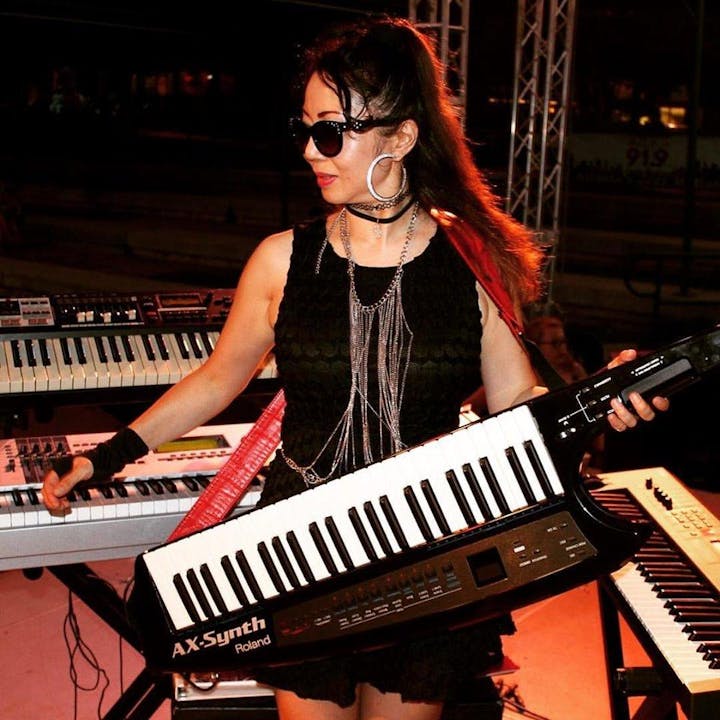 Madoca™ Kawahara a.k.a. MADOCA™ [pronounced "ma du ka"] is a world-class keyboardist and composer, Grammy voting member & publisher: ASCAP member, and national recording artist, whose latest release is on the Smooth Jazz Network Top 100 Charts. Her style is a fusion of contemporary/classic jazz, soul, funk, Latin and salsa -- providing musical sustenance for your mind and soul.
Her latest release, "Illusion of Love," is produced by award-winning producer, Bob Baldwin, and showcases the growth and maturity of this very talented Japanese/American international performer. Her style is smooth, as evidenced in the title track, but it can also heat up and explode on rhythmic songs like "Picadillo" and her sizzling remix of "Jasmine." On beautiful ballads like "Sentimentally Yours" and "Softly as in a Morning Sunrise," she holds her own in an acoustic piano setting
Madoca began studying piano/organ at the age of seven, played through her teenage years, and graduated from the Senzoku Music University in Kawasaki, Japan with a major in composition and piano. She had a 3-day live audition before earning her invitation to the Nemu Music Scholarship Program, where she furthered her studies in jazz piano, jazz theory, ensemble, composition, and arrangement. Her teaching exploits included an Education Partnership Program from Berklee College of Music in Boston.
Madoca got her first taste of show business in 1993, when she toured with Japanese national bands and also performed on NHK-TV in Tokyo/Osaka. She performed with several American Jazz/R&B bands in Tokyo, Yokohama and Yokosuka, which included some navy base and NCO club appearances. In 1994, Madoca moved to Hong Kong and from there she performed on world stages in Australia, France, The United Kingdom, and United States of America with several major Chinese artists, including PolyGram recording artists Jacky Chueng and Sandy Lam. Her selection, "I Don't Cry Anymore" was the winner of a contest called Song Writer's Quest, a competition organized by the Composer and Authors Society of Hong Kong.
Prior to moving to the U.S., she performed sideman work for several Asian pop stars. "Music is my Life," Madoca says, and she expresses both her music and her life with passion. In 1998, she began working with The Prince Project, during his tour of Hong Kong with Jason Bryant of the S.O.S. band. For a brief period, they traveled the world as a working unit.
In 2003, Madoca finally made the move to the U.S., where she settled in Atlanta, GA. She formed a band called Madoca & Company, and performed throughout the Atlanta area, including Centennial Olympic Park, Piedmont Park, Grant Park, The Infinite Energy Arena, Callanwolde Fine Arts Center, The Fox Theater, City Winery Atlanta and she has played at Philips Arena for the NBA's Atlanta Hawks. She has also performed at the Showcase of Atlantis Music Conference and Japan Fest.
Recently, Madoca headlined "Jazz It Up Concert Series" by The Jazz 91.9 WCLK's at St. James Live, Atlanta GA in September 2018. Madoca has also headlined at Jazz Matters Concert, "Celebrating Women in jazz" at the Wrens Nest, Atlanta GA in August 2018. She also performed her latest album, "Illusion Of Love" listening party at Velvet note in Alpharetta GA in 2018. Madoca has performed tribute concerts for music legends Joe Sample, Herbie Hancock, and Ramsey Lewis. She has also opened for Chris Botti, Rick Braun, Jonathan Butler, Richard Elliott, India Arie, Jean Carne, and Pamela Williams, to name a select few. She has also worked with Eric Marienthal, Paul Young and All 4 One.
Her musical influences include the aforementioned Hancock, Lewis and Sample, as well as Chick Corea, the Jeff Lorber Fusion, Jimmy Smith, George Duke, Donald Byrd, and Eddie Palmieri -- yet, her style is uniquely her own.
Her previous discs, Mysterious Ways, Amethyst, and her latest, Illusion of Love, are all available at iTunes, Amazon and Spotify. Her first single "Surrender" is catching fire across the country. "Surrender" was on the Billboard Smooth Jazz "Most Added" list in March 2018 and it was on the Smooth Jazz Network Top 100 Chart for April & May 2018. Madoca's second single "On the Beach (With You)" has been on the Billboard Smooth Jazz "Most Added" list in August 2018 and it is currently on the Smooth Jazz Network Top 100 Chart for November 2018. Madoca's third single "Illusions of Love," – the title song from her album was on the Billboard Smooth Jazz and Groove Jazz Music "Most Added" charts on June 17, 2019 and it is currently on the Smooth Jazz Network Top 100 Chart!
Madoca Kawahara is the real deal and deserves your immediate attention. Distributed by City Sketches Records (Via the Orchard / Sony Red Music digital platform).
Madoca became a Grammy voting member in April, 2018.