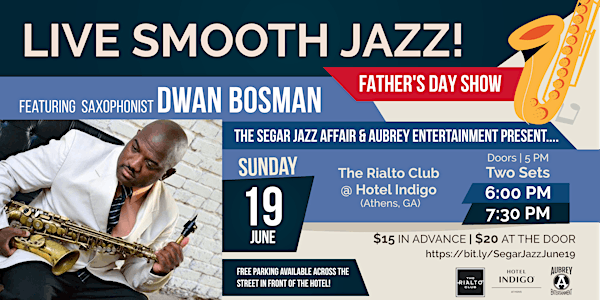 Segar Jazz Affair concert with Smooth Jazz Saxophonist Dwan Bosman
Presented by Segar Jazz and Aubrey Entertainment...
Location
The Rialto Club @ Hotel Indigo
500 College Avenue
Athens, GA 30601
Join us for a special Father's Day show with smooth jazz saxophonist Dwan Bosman @ Hotel Indigo's Rialto Club!
About this event
Join us for our next smooth jazz concert at the The Rialto Club @ Hotel Indigo on Father's Day with saxophonist Dwan Bosman!
Music, the universal language that continues to influence the masses, bridge gaps of all kinds and enhance lives, did not fall short of resonating it's benevolent nature when first encountering the likes of Dwan Bosman. After his initiation into the world of music which was ingrained in him before he took his first breath, Dwan Bosman would spend the majority of his life's journey studying and mastering the art form we love and know as Jazz.
While Jazz lies at the heart of his music DNA, this entertainment powerhouse spreads himself generously across the genre spectrum as evidenced over the last 3 decades of his professional career. Featuring undeniable raw talent and a love for the human connection, Dwan Bosman delivers an experience that fuses the soul with the epitome of music.
Doors open @ 5pm, Two sets @ 6pm & 7:30pm