Description
Please join Social Enterprise Greenhouse on April 20, 2017 for Providence Green Drinks with the EnergizeRI Coalition!
Each month we will highlight the work of organizations innovating in the environment sector, followed by discussion and networking over food and drink. This is a great opportunity to find out how you can get involved in a thriving community committed to creating jobs and making our RI communities more environmentally friendly!
The EnergizeRI Coalition is a broad group of Rhode Islanders working to pass a carbon pricing bill in the Rhode Island General Assembly. The EnergizeRI Act is a bill that creates a Clean Energy and Jobs Fund, paid for by a fee on fossil fuel polluters. Carbon pricing is a market-based solution to carbon pollution that will lower emissions while energizing the economy. At Green Drinks, we will be outlining the evolution of our coalition, summarizing our partnerships throughout the state, highlighting our progress in the Rhode Island legislature thus far, and sharing our vision for a clean energy future.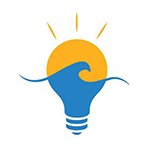 ---
These monthly events are made possible in partnership with: Cleantech Open Northeast, EcoRI News, New England Clean Energy Council/Navigate, and Slater Technology Fund