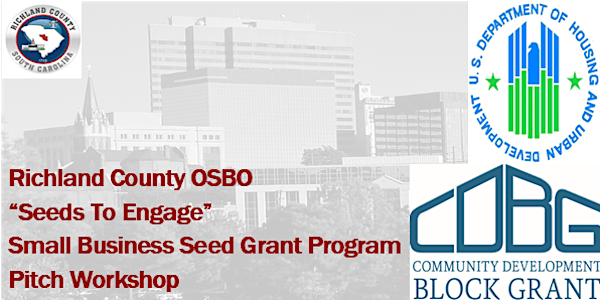 "Seeds to Engage" Seed Grant Application Pitch Workshop (January 13, 2022)
Location
Parklane Adult Activity Center
7494 Parklane Rd
Columbia, SC 29223
The $10,000 "Seeds to Engage" Seed Grant Requires a Business Plan and Business Pitch.
About this event
The Richland County "Seeds to Engage" Seed Grant has been established to assist small businesses with a one time $10,000 Seed Grant to advance and/or grow their Small Business.
Is your product ready to go to market?
Are you trying to persuade buyers to put your product in their stores or are you applying for a business grant?
This workshop will help you master persuasion, and learn how to pitch your product or services to potential investors, panel experts, or anyone looking to invest in the growth of your business.
The "Seeds To Engage" Seed Grant requires small businesses to have a Business Plan and Business Pitch.
Register to attend this exciting theory and practical workshop.
This Program is funded through a portion of Richland County's disbursement of Community Development Block Grant funding from the U.S. Department of Housing and Urban Development through the CARES Act.
**Please note: Space is limited. Only register for ONE In-Person Workshop**
**ATTENDING THIS WORKSHOP DOES NOT GUARANTEE FUNDING**
For more information log on to Richland County OSBO website