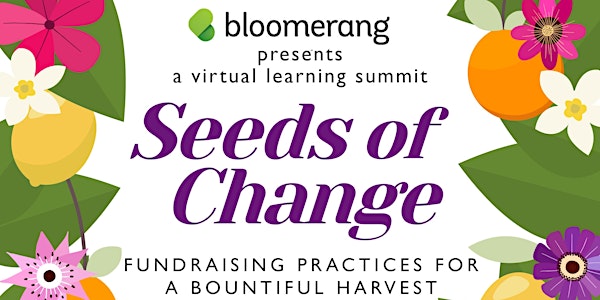 Seeds of Change Virtual Summit
Refund Policy
Refunds up to 1 day before event
Eventbrite's fee is nonrefundable.
Description
Seeds of Change is an exceptional virtual learning experience that brings nonprofits the strategies and skills necessary to thrive and grow in the coming months and beyond.
9 CFRE EDUCATION POINTS ARE OFFERED WITH THIS SUMMIT.
The time is ripe for organizations to prepare for the economic and philanthropic challenges ahead. This is the moment when updating systems and implementing new, smarter funding strategies will pay off the most. Now, more than ever, nonprofits will need excellence in communication strategies to maintain and build stakeholder engagement.
Join industry thought leaders Ligia Pena, Erica Waasdorp, Robin Cabral, Cherian Koshy, Antionette Kerr, Kristal M. Johnson, A.J. Steinberg, Chad Barger, Maureen Walbeoff, Chris Hammond, and Brittany LaGanke for a day of learning that will sow the seeds of change within your organization to help it bloom and grow!
Presentation Schedule - ALL TIMES ARE PACIFIC STANDARD TIME
7:00-8:00 a.m. Level Up Your Online Fundraising by Maureen Wallbeoff, Nonprofit Consultant
8:15-9:15 a.m. Connecting in Crisis & Beyond – Donor Engagement during COVID-19 by Kristal M. Johnson, FundJoy
9:30-10:30 a.m. Finding Your Social Media Sweet Spot by Chad Barger, Productive Fundraising
10:45-11:45 a.m. G.R.E.A.T. Media Relations for Challenging Times by Antionette Kerr, Bold and Bright Media
11:45-12:30 p.m. Take a break, grab a snack, check your email, relax!
12:30-1:30 p.m. Roadmap to a Successful Peer-to-Peer Campaign by Chris Hammond & Brittany LaGanke, Corporate Giving Connection
2:00-3:00 p.m. Growing Your Major Gifts Program in Any Sized Fundraising Shop by Robin Cabral, MA, MFIA, CFRE, Development Consulting Solutions
3:15-4:15 p.m. From Bud to Bloom – Preparing Boards to Grow by Cherian Koshy, CFRE, Des Moines Performing Arts
4:30-5:30 p.m. On the Road to Monthly Donor Success in 60 Minutes or Less by Erica Waasdorp, A Direct Solution
ON DEMAND PRESENTATIONS:
10 Ways to Start Your Legacy Giving Program by Ligia Peña, CFRE, MInstF Global Legacy Manager at Greenpeace Int'l
Opening Hearts and Wallets - The Art of Engagement by A.J. Steinberg, CFRE Queen Bee Fundraising