JAIA's "Seeds for Your Soul Saturdays" (each 3rd Saturday of the month) workshop series with Dr. Karen Lazarus
About this event
When: Saturday March 20th, 2021 @ 4:30 PM Where: Online Zoom
Dr. Karen Lazarus is a trauma-informed specialist in addiction medicine and a certified iRest Yoga Nidra meditation teacher. She has trained in integrative medicine and a variety of mind/body practices. She is especially interested in teaching about the effects of stress and trauma, and providing tools for regulating the nervous system. She has taught iRest as part of group counseling in the treatment of opioid and other substance use disorders. She has also taught mindfulness and iRest to students, teachers and parents in elementary education.
"Feeling stressed or anxious? Learn why these are normal reactions to our challenging times and some tools you can use to get through it and thrive. You will experience yoga nidra, a meditation that can be practiced lying down and can be deeply relaxing. No previous yoga or meditation experience is required."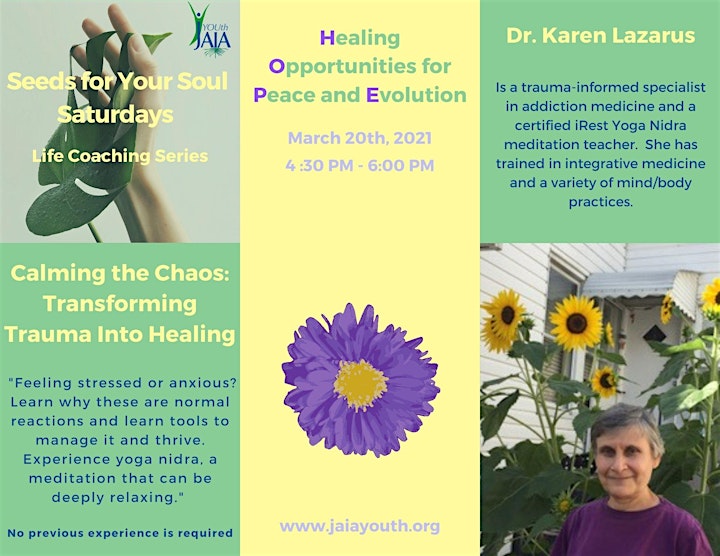 Organizer of Seeds For Your Soul Saturdays: "Transforming Trauma Into Healing"
While serving the NYC Public School system as a Teacher, District Liaison and Social Worker for 22 years, Gena also began her ministry as an ordained Interfaith Minister. In 2010 she began bringing social emotional and mindfulness workshops to youth across NYC through JAIA, Just as I AM YOUth Empowerment.
JAIA embraces youth/young adults of all cultures and ethnicities, sexual orientations, spiritual, religious and non-religious backgrounds, fostering a community of inclusion and oneness while encouraging each individual path.