Description
Introducing the Seedly personal finance festival 2019. Singapore's largest festival for young working adults to learn about personal finance in an unbiased no-sales manner. Designed for beginners to intermediate in your personal finances in Singapore.

(SOLD OUT) The Seedly team would like to thank you so much for your support. We sold out 1,200 tickets in just 24 hours. Please do join us for our waitlist for our future mega event later in 2019. Waitlist folks will get early access to future events. Cheers!
We will answer some of your toughest questions:
How to allocate your monthly salary and get more of it?

How to invest your first $10k in a volatile market in 2019?

How to organise your finances using a simple framework?

How to identify your debts and to clear them faster?

What insurance do you really need? (no BS salestalk here)

How to win the CPF game and achieve $1 million in CPF by age 65?

How to pick your first stock and start investing right away?

Is financial independence and retiring early really a dream in Singapore?
After the event, attendees would be able to have a good foundation for taking a DIY approach to managing their own money.

Here's a special promo code "EARLYSEED50" for 50% off all tickets (ends on 15 Jan 2019)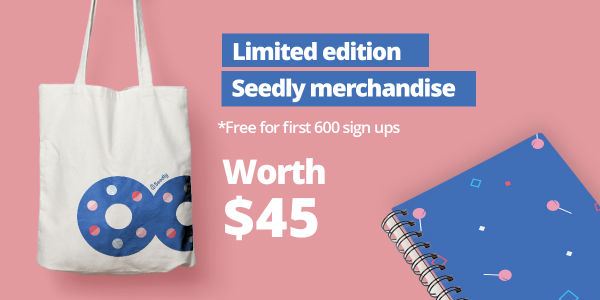 First 600 signups will get a exclusive limited edition goodie bag worth $45.
Find out more about who's speaking and what will be covered.
---

1) Opening (by Kenneth Lou, Co-founder Seedly)
Intro to the Seedly Money framework
2) Kickstart your Journey to financial freedom (by SGBudgetBabe)
Personal finance 101

Your route to becoming Debt Free

Using Credit cards - Yay or Nay?

Save, Protect and Invest

3) Your No B.S Guide to getting the insurance you need (by Christopher Tan, Executive Director, MoneyOwl)
Intro to type of insurance available in SG

Which type is truly essential?

How to choose a good advisor?


4) How to win the CPF game (by Loo Cheng Chuan, Founder 1M65)
Your CPF Scheme is simple. Here's why?

How should I make use of my CPF strategically?

The secret formula to getting getting $1 million in your CPF by age 65 (no joke)


5) Panel: How should I invest a % of my salary monthly? (by Autowealth, Funding Societies, SmallCapAsia)
How should you invest your first $10,000?

Intro to monthly investment methods (Regular Savings Plans, Robo-advisors, ETF Index, small cap stocks)

Ways to mitigate risk for beginners

Why should Singaporeans invest with your method?
6) Step-by-step guide to picking your first winning stock (by Alvin Chow, Founder DrWealth)
Introduction to stocks hunting (those who are below their intrinsic values)

Why everyone can embark on the game of value investing?

Step-by-step guide: How to spot a "CHEAP" stock

Value investing strategies you can use immediately
7) How to identify the right time to BUY or SELL? (by Joel Sim, MrFinanceSavvy)
The basics: Looking for the right time to enter the market & breaking down the jargons

Simple steps to deciding a good time to buy

Technical Analysis: Once you see it, you get it

Pros and Cons of using Technical Analysis for investing

8) Building your passive income - Shake leg collect money (by Victor Chng, Co-founder TheFifthperson)
The basics: Dividend Investing and growing your cash flow

Why everyone can embark on the game of dividend investing?

Step-by-step: Spotting a profitable income generating stock

How to build a bulletproof portfolio to maximise dividends from scratch
9) Financial Independence at a young age is not a dream! (by Christopher Ng, Tree of Prosperity)
The ultimate goal of investing

How Christopher Ng attained financial independence at age 39? (WOAH!)

Tips and hacks to building a portfolio to achieve this as soon as possible in life

10) Conclusion and Lucky Draw
What you can do immediately when you head home

Win a Nintendo Switch (worth $500) for ONE lucky winner
---
Here's what past attendees had to say:
"No selling involved! Learnt so much in just 4 hours of sharing… Will attend the next one for sure"
- C, 30 years old, Civil Servant
"Interesting to meet other like-minded young folks… Finally an unbiased sharing on investing"
- E, 26 years old, Graduate Analyst
A big thank you to our sponsors:
SILVER: POEMS, FSM, OCBC

BRONZE: SGX, ShopBack, Etiqa SG
And our partners:

MEDIA: PropertyGuru

EVENT: Tabula Rasa
---
FAQs
What should I bring into the event?
An open mind and hungry to learn. We'll provide basic writing materials but feel free to bring a laptop.
How can I contact the organizer with any questions?
You can contact us at support@seedly.sg. We'll be happy to help!
What's the refund policy?
The tickets are strictly non-transferable and non-refundable.